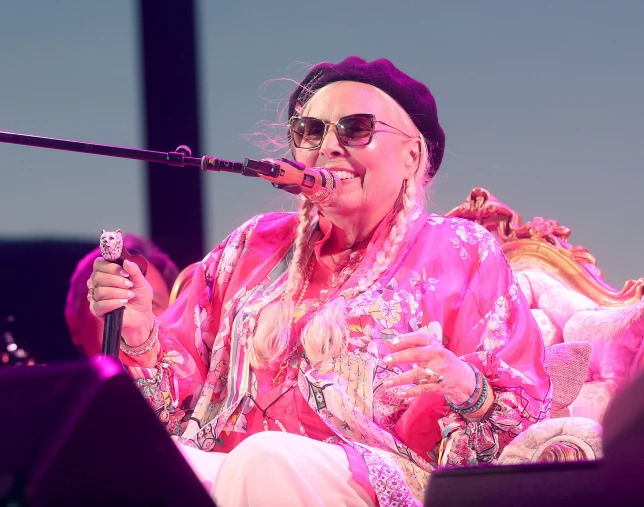 Joni Mitchell smiled from ear to ear as she returned to the stage for her first headline concert in 23 years, delighting fans around the globe.
The legendary 79-year-old singer, whose hits include Big Yellow Taxi and A Case Of You, performed at the Gorge Amphitheatre in Washington state on Saturday night, eight years after she survived a brain aneurysm.
Seated in a fancy armchair, Joni couldn't have looked happier as she looked out at the 25,000-strong audience while rocking her signature beret and sunglasses and clutching onto her cane.
Billed as Joni Jam, the artist was joined by her close friend and collaborator Brandi Carlile, who served as interview host and asked questions in-between songs.
They were also joined by the likes of Annie Lennox, Marcus Mumford, Celisse, Taylor Goldsmith, Blake Mills, Wendy and Lisa, Lucius, Allison Russell, and Sarah McLachlan.
Fans swooped to Twitter following the historic concert, with one posting: 'I just witnessed Joni Mitchell in concert and my heart is full.'
'I just saw a shooting star while sitting at The Gorge Amphitheater and Joni Mitchell is chatting about one of her songs like she's an old friend and we are all just hanging out together,' another said.
'Brandi Carlile you freaking genius. Thank you for bringing her to us in the canyon.'
And we could see more of Joni yet.
According to Brandi, straight after the gig, she said: 'I want to do another show.'
Joni rose to prominence in the late 1960s and early 1970s, achieving two top 10 albums and one top 20 single in the UK charts.
Her collection of works is regarded as some of the most influential and acclaimed in modern popular folk.