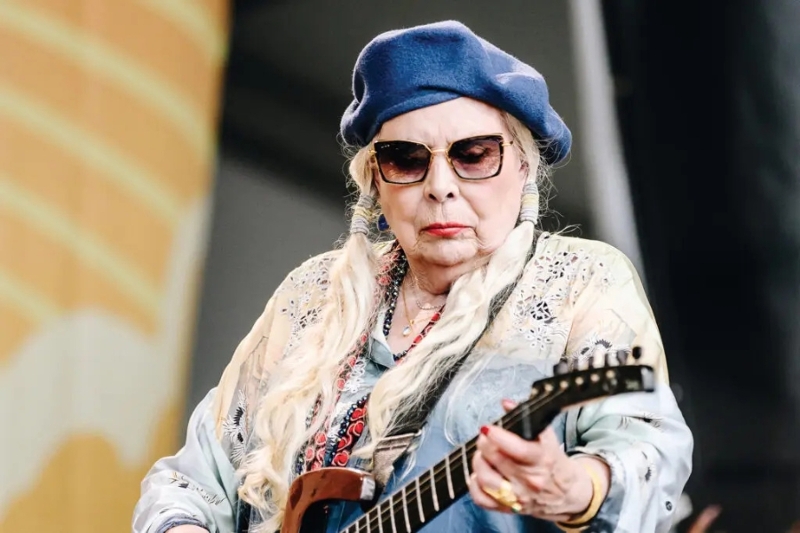 Ahead of the legendary songwriter's first full, preannounced show in more than 20 years, Joni experts and collaborators including Cameron Crowe and Allison Russell look back on her recent renaissance
On June 10, Joni Mitchell will perform at the Gorge Amphitheatre in Washington state. It will be her first official, ticketed headline show in more than 20 years - and it's been a lengthy, step-by-step process getting her back to the stage. Here's a look back at Joni's path during the past eight very eventful years.
A harrowing health scare
Mitchell is unquestionably one of the greatest songwriters in pop history, with a singular body of work that stands next to her contemporaries like Bob Dylan and Paul Simon. Fed up with the music business, though, Mitchell had stopped touring in 2000. Her final studio album was 2007's Shine, after which she made only occasional public appearances, choosing instead to focus on her painting. Then in 2015, she had a brain aneurysm, which required extensive physical therapy and rehab.
"The massive outpouring of concern and love went far beyond what usually greets such news about a celebrity," NPR Music critic and correspondent Ann Powers, whose book Traveling: On the Path of Joni Mitchell will be published next March, tells The Messenger. "Suddenly the intense effect Mitchell's music has had on millions of people became crystal clear."
Concurrent with the prospect of Mitchell's voice being silenced came a critical reassessment of her work. In 2017, Powers helmed an NPR project called Turning the Tables, which ranked the 150 greatest albums made by women; Mitchell's 1971 classic Blue came in at Number One.
Meeting Brandi
By November 2018, Mitchell's health had improved enough for her to attend a tribute concert honoring her 75th birthday, at which artists such as James Taylor, Graham Nash and Seal performed her songs. She came onstage for a singalong finale of "Big Yellow Taxi," but most crucially, she met the young singer-songwriter Brandi Carlile.
"I acted a fool and she'd never remember me," wrote Carlile in her book Broken Horses, but in fact they did stay in touch, with two significant outcomes: Carlile decided to recreate the Blue album in full onstage, and Mitchell asked the younger singer to come by her Laurel Canyon home and bring some other musicians to jam. The first gathering was a low-key affair, just Carlile and her band and the Irish singer Hozier - until Chaka Khan and Herbie Hancock showed up and joined in, and Mitchell sang in front of people for the first time since her aneurysm.
"Brandi Carlile meeting Joni was pivotal," writer-director Cameron Crowe, a longtime friend of Mitchell's who is currently collaborating with her on a biopic, tells The Messenger. "Her recovery came as music returned to her life, often through the younger musicians Brandi brought into her circle."
Carlile's Blue performances - in October 2019 at Walt Disney Concert Hall in Los Angeles, and then in November 2021 at Carnegie Hall - were also impactful. "It opened up Joni to a whole new generation of young artists and fans," singer-songwriter Allison Russell tells The Messenger. "I have five beloved young friends who did not know Joni until they heard Brandi do that - which was shocking to me. But that's what happens, right? It was 50 years ago."
Meanwhile, honors and tributes kept piling up. In 2020, when Rolling Stone updated its 500 Greatest Albums of All Time list, Blue climbed from its previous ranking at Number 30 all the way up to Number Three. Her five-CD collection Joni Mitchell Archives Vol. 1 - The Early Years (1963-1967) won a Grammy for Best Historical Album. At the end of 2021, Mitchell was recognized with the Kennedy Center Honors.
"Her career is continually being reassessed," Powers says. "Her catalog is so varied and deep and her influence so wide that despite her central position in music history it always feels like she's being underestimated. It's really difficult to capture the 'full Joni,' and that means she never receives the full credit she is due."
Return to Newport
The "Joni Jams" continued regularly, with musicians from Paul McCartney to Harry Styles to Bonnie Raitt stopping by to participate. As Mitchell's recovery progressed, Carlile had the idea to bring the legend to the 2022 Newport Folk Festival, an event she had first played in 1969, as an unannounced special guest.
The resulting 15-song set on July 24 was Mitchell's first public performance in nine years. Surrounded by guests including Marcus Mumford and Wynonna Judd, she played covers and originals like her classics "A Case of You," "Both Sides Now" and "The Circle Game." (A recording of the concert, titled At Newport, will be released on July 28.)
"Newport was just a transcendent experience," says Russell, who was part of the accompanying group. "It really felt like all of our molecules were being rearranged. Nobody knew how strong she was, and it's like she gathered strength through the set."
Afterward, Mitchell told Carlile, "I want to do another show - I want to play again," and in October, they announced that a second Joni Jam would be the centerpiece of Carlile's three-night stand at the Gorge. (In addition to Mitchell's appearance on June 10, the series, called Echoes Through the Canyon, features Carlile on June 9 and country supergroup the Highwomen along with Tanya Tucker on June 11.) Russell reports that at a recent rehearsal at Mitchell's home, "She's just on fire, and we're all running in her footprints."
Joni's strength
As the accolades continue to roll in - Mitchell was honored as the 2022 MusiCares Person of the Year by the Recording Academy, and this March, she was given the prestigious Gershwin Prize for Popular Song - and we celebrate the return of this towering figure, we also need to remember the sheer physical demands she has endured.
"I think Joni's openness and the grit that's got her through many life crises primed her to go beyond what most people in her position might be able to do," says Powers. "But I also think it's important that we acknowledge the grueling work we as fans will never see: the strength she had to conjure to learn to walk again, to play guitar again. It's extraordinary."
"I would credit her indomitable spirit," adds Crowe. "I'm not sure the word 'no' has any meaning to her."
And while the support and encouragement of her friends and the many musicians she inspired - most crucially Brandi Carlile - have assisted these efforts, make no mistake about who is leading the way. "The circle of loving care that has very intentionally been surrounding Joni has been helpful, inspiring, encouraging," says Russell, "but Joni has been the arbiter and the prime mover of her own recovery.
"You don't tell Joni Mitchell what to do," she adds. "She tells us what to do. As it should be."