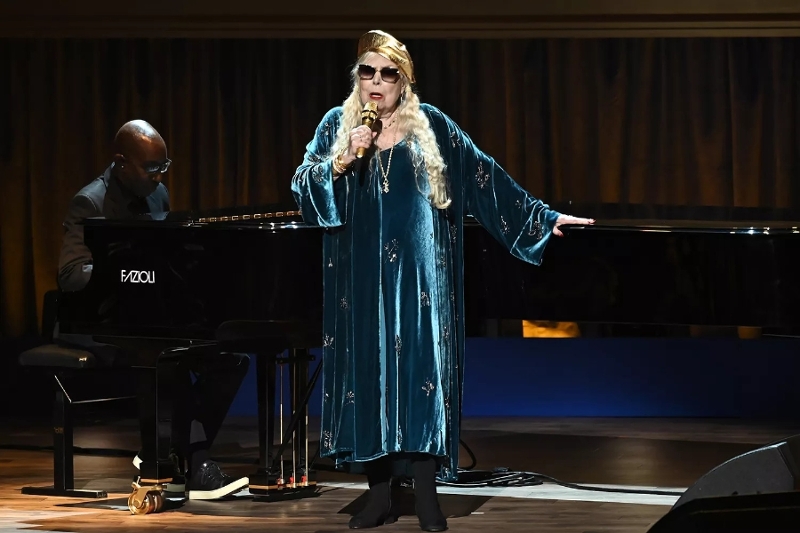 Joni Mitchell is being recognized for her profound impact on music.
The Canadian-born singer accepted the Gershwin Prize for Popular Song at the Library of Congress in Washington, D.C., on Wednesday, surrounded by friends and fans effusive in their love for her.
"My God, it's overwhelming," Mitchell, 79, said as she appeared onstage to accept the award. "It's just a beautiful event for me. So many people that I care about are here tonight from different parts of my life. New friends, old friends. It's just kind of thrilling. Thank you all for coming."
The award "celebrates the work of an artist whose career reflects the influence, impact and achievement in promoting song as a vehicle of musical expression and cultural understanding," according to the Library.
Mitchell's appearance and two-track performance - she first sang "Summertime," a nod to the award's namesakes Ira and George Gershwin, and then was joined by friends to perform "The Circle Game" - marks her first since surprising a crowd at the Newport Folk Festival last July.
Never miss a story - sign up for PEOPLE's free daily newsletter to stay up-to-date on the best of what PEOPLE has to offer, from juicy celebrity news to compelling human interest stories.
Librarian of Congress Carla Hayden called Mitchell a "musical genius" in a statement ahead of the award ceremony.
"Joni Mitchell's music and artistry have left a distinct impression on American culture and internationally, crossing from folk music with a distinctive voice whose songs will stay with us for the ages," Hayden said.
She added in the statement, "Joni Mitchell's music has so many artists and music lovers all singing her tunes. We are honored to present the Gershwin Prize to this musical genius."
After years out of the spotlight following a 2015 brain aneurysm, Mitchell has slowly begun a return to the limelight. In April of last year, she was named the MusiCares 2022 Person of the Year, with Elton John, Billy Porter and Richie, 73, sharing their love and admiration for the "River" singer.
"You've influenced me so much with your chord changes and ability to surprise and delve further into songwriting," John, 75, said in a vignette. "Not many people dared to do that, but you did."
In November 2022, the nine-time Grammy Award winner announced that she'll be releasing a new live album based on her surprise Newport Folk Festival performance - which was her first full set live for an audience in more than 20 years.
"I've never been nervous about being in front of an audience," she told CBS News of the set. "But I want it to be good. And I wasn't sure I could be. But I didn't sound too bad tonight!"
Following the surprise performance, Mitchell told Brandi Carlile she was keen to perform again. The two are now set to perform at the Gorge Amphitheatre in George, Washington, this June.
"No one's been able to buy a ticket to see Joni Mitchell play in 20 years, so this is enormous," Carlile, 41, said during an October 2022 appearance on The Daily Show with Trevor Noah. "And she's so excited, because it's close to Canada and some of her Canadian fans."
"I can't believe it's happening, but it's happening, and she is going to crush it," Carlile added. "So if you can get there, get there."