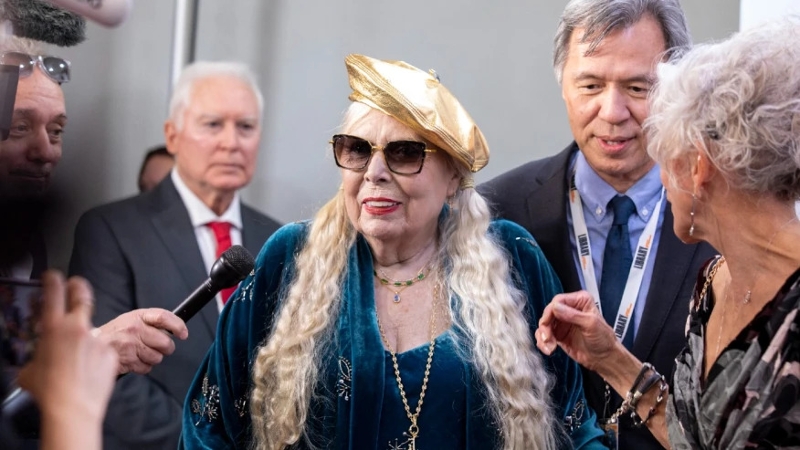 Joni Mitchell brought "Both Sides Now" of the political aisle together, as lawmakers and musical artists celebrated her life and career at the Library of Congress's Gershwin Prize for Popular Song.
The "Big Yellow Taxi" singer and songwriter was honored Wednesday in a star-studded ceremony at D.A.R. Constitution Hall in Washington.
The annual honor from the Library of Congress, named after George and Ira Gershwin, is considered the "nation's highest award for influence, impact and achievement in popular music."
Mitchell's music, Librarian of Congress Carla Hayden told the packed audience at the tribute concert, "hits you straight to your heart, down to your soul."
As a bipartisan group of lawmakers, including Speaker Kevin McCarthy (R-Calif.), Sens. Amy Klobuchar (D-Minn.), Susan Collins (R-Maine), Patty Murray (D-Wash.) Jack Reed (D-R.I.) and Rep. Bryan Steil (R-Wis.) surrounded Mitchell onstage as she was recognized, Hayden quipped, "You got both sides now!"
Seventy-nine-year-old Mitchell, on the road to recovery following a 2015 brain aneurysm that left her unable to walk or talk, surprised the crowd by taking to the stage for a rare performance.
"It's overwhelming. It's just a beautiful event for me," Mitchell said to a standing ovation. "So many people I care about are here tonight, and from different parts of my life - new friends, old friends."
"It's just really kind of thrilling," she said, before singing "Summertime" and her 1966 song, "The Circle Game."
Among the entertainers who performed at the concert: James Taylor, Brandi Carlile - who is poised to sing with Mitchell at a pair of shows in June, Cyndi Lauper, Graham Nash, Annie Lennox, Diana Krall, Herbie Hancock, Angelique Kidjo, Ledisi and Marcus Mumford.
Asked if some of Mitchell's sometimes-politically charged songs have inspired her own songwriting, Carlile told ITK, "She has always had an acute, alarming, uncomfortable finger on the pulse of what's happening in the world and where it's all headed.
Hancock credited music with being able to bring people together - even politically divided members of Congress.
"It does have the power," Hancock said. "We will [see] in the news, we will see as things progress, how much the arts have affected the way things are moving."
Klobuchar called Mitchell the "most well-deserved recipient ever" of the Library of Congress honor.
But could Mitchell's music actually unite warring Democrats and Republicans?
"Yes," Klobuchar told ITK with a smile. "I saw the Speaker's here again, so this is great."
The "Joni Mitchell: The Library of Congress Gershwin Prize for Popular Song" concert is scheduled to air on March 31 on PBS stations.