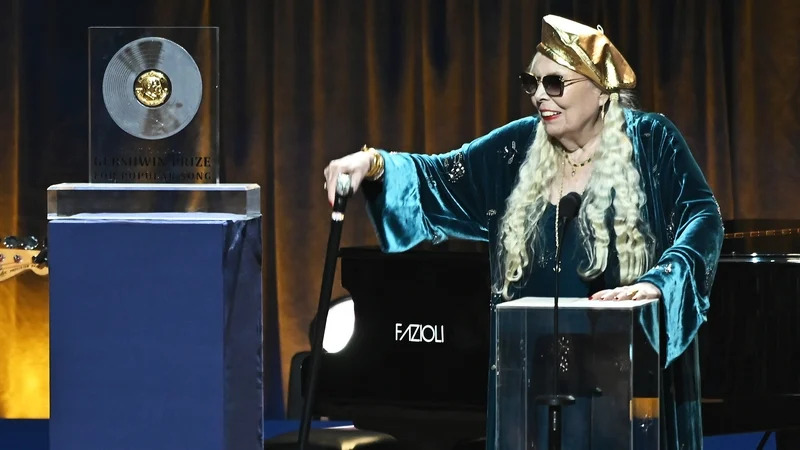 James Taylor and Graham Nash performed at a gala concert in honour of Joni Mitchell as she received the US Library of Congress' Gershwin Prize.
The pioneering singer-songwriter behind poignant hits including A Case Of You joins an elite coterie of composers including Stevie Wonder, Paul McCartney, Tony Bennett and Carole King who have received the special honour, which is named after the brothers behind American standards such as I Got Rhythm and Rhapsody In Blue.
Wearing a newsboy cap, Taylor perched on a stool with an acoustic guitar to perform the song from her seminal 1971 album Blue.
The 79-year-old kept the beat with her cane, donning oversized sunglasses along with a metallic gold beret and a long, bedazzled teal dress.
"Her music, it gets into you, and it sort of becomes part of the mix," Taylor said on the red carpet prior to the event in Washington.
Blue saw Mitchell mine her own heartache, including breakups with Taylor and Nash, to produce the record that's a regular on critics' all-time-best lists.
Nash later took the stage for a rendition of A Case Of You - another song on Blue, which many people believe she wrote about him.
"It's a very simple song," he told journalists prior to the event. "I think it's very profound in what it says."
"I loved it from the day that I first heard it and I'll sing my ass off tonight."
After accepting the award Mitchell performed Summertime, an aria George Gershwin composed for the opera Porgy and Bess.
"This is overwhelming," she said onstage, the crowd giving her a standing ovation. "There's so many people that I care about in here tonight, from different parts of my life."
"New friends, old friends... it's thrilling!"
Mitchell has experienced something of a renaissance over the past year, making a return to public life after she suffered a brain aneurysm in 2015 that left her temporarily unable to speak.
She has since undergone extensive physical therapy that's allowed her to return to performance, which at one point seemed a long shot.
Last summer she delivered her first full set in more than 20 years, surprising attendees at the Newport Folk Festival alongside folk-rocker Brandi Carlile.
"Her resilience is palpable," said Carlile before the gala. "There are huge elements of her voice and vibrato that are back."
"Joni was the first woman that I really related to as a singer-songwriter - as a creative woman," said Annie Lennox on the red carpet. "There wasn't anything like her."
"She was this ethereal beauty that had this deep, profound insight into the world."
Lennox gave the room chills with a performance of the ballad Both Sides Now.
She later collaborated with Angelique Kidjo, Cyndi Lauper and Carlile to perform Mitchell's environmentally conscious classic Big Yellow Taxi.