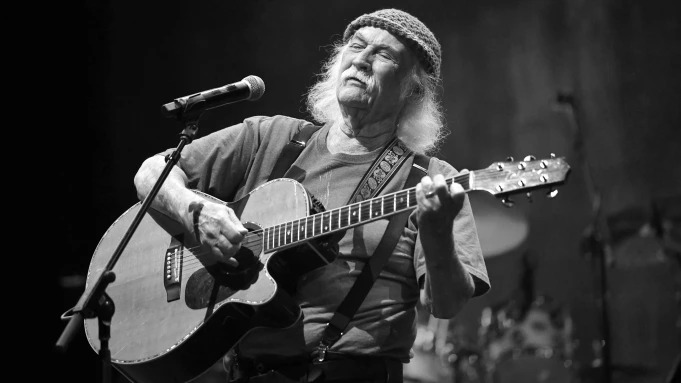 Singer-songwriter-guitarist David Crosby, a founding member of two popular and enormously influential '60s rock units, the Byrds and Crosby, Stills & Nash (later Crosby, Stills, Nash & Young), has died, his representative says. He was 81 years old. A cause of death has not been revealed.
The death came as a surprise to those who followed his very active Twitter account, which he'd kept tweeting on as recently as Wednesday. One of Crosby's final tweets the day before he died was to make a typically jocular comment about heaven: "I heard the place is overrated... cloudy."
Former CSNY partner Graham Nash, who had been estranged from Crosby in recent years as their group went its separate ways, paid tribute on his social media. "It is with a deep and profound sadness that I learned that my friend David Crosby has passed," Nash wrote. "I know people tend to focus on how volatile our relationship has been at times, but what has always mattered to David and me more than anything was the pure joy of the music we created together, the sound we discovered with one another, and the deep friendship we shared over all these many long years.
"David was fearless in life and in music," Nash continued. "He leaves behind a tremendous void as far as sheer personality and talent in this world. He spoke his mind, his heart, and his passion through his beautiful music and leaves an incredible legacy. These are the things that matter most. My heart is truly with his wife, Jan, his son, Django, and all of the people he has touched in this world."
Eight months ago, Crosby made headlines when he said he was done performing live, declaring, "I'm too old to do it anymore. I don't have the stamina; I don't have the strength." But he said he was recording as busily as possible: "I've been making records at a startling rate. ... Now I'm 80 years old so I'm gonna die fairly soon. That's how that works. And so I'm trying really hard to crank out as much music as I possibly can, as long as it's really good... I have another one already in the can waiting." Crosby subsequently backtracked about doing concerts, saying recently that he'd changed his mind and expected to be out playing live again.
Crosby reentered the public consciousness in a big way in 2018 with a theatrical documentary, "David Crosby: Remember My Name," narrated and produced by Cameron Crowe. Crosby spoke about his own mortality in the film, and Crowe remarked on that in an interview with Variety, saying the singer was thinking about "'telling the truth in my last huge interview that I'll probably ever do'..."In the second question of the first interview we did with Crosby, he came right out with 'Time is the final currency. What do you do with the time you have left?' ...What's great is, he's got more energy than all of us. He's gonna outlive us all. He's batting his eyes like he's on his deathbed. He ain't on his deathbed at all! Maybe it all is a con job, like he says at the end. You don't know."
With bandmates Roger McGuinn, Gene Clark, Chris Hillman and Michael Clarke, Crosby set down the template for '60s L.A. folk-rock in the Byrds during his stormy 1964-67 tenure in the group.
Bonding with Stephen Stills of Buffalo Springfield and Graham Nash of the Hollies amid the glitter of L.A.'s late-'60s Laurel Canyon scene, Crosby launched CS&N, whose multi-platinum 1968 debut inaugurated rock's supergroup era.
The addition of another volatile member, Stills' erstwhile Buffalo Springfield colleague Neil Young, added to the act's commercial luster. However, a constant clash of egos within Crosby, Stills, Nash & Young, fueled by the rock excesses of the era, toppled the act during the '70s, though its members would regroup sporadically over the years as a recording and touring unit. Crosby's most stable association was with Nash: The duo recorded and toured regularly into the new millennium.
While never the principal songwriter in either the Byrds or CSN&Y, Crosby was an integral part of the densely layered harmony front line that launched both those acts' multiple chart hits.
The hedonistic personification of the '60s sex-drugs-and-rock 'n' roll lifestyle, he grappled with addiction for many years. His sensational 1982 arrest in Texas on drug and weapons charges led to a five-month prison stay in 1986. Wracked by years of cocaine and alcohol abuse, he underwent liver transplant surgery in 1994.
Though he never returned to the popular eminence of his early years, Crosby recorded and toured profitably into the 2000s.
He was inducted into the Rock and Roll Hall of Fame twice, as a member of the Byrds (1991) and Crosby, Stills & Nash (1997).
Crosby was a child of Hollywood privilege. He was the son of cinematographer Floyd Crosby, who won an Oscar for his work on F.W. Murnau's 1931 feature "Tabu." Raised in L.A. and Santa Barbara, he was an indifferent student who gravitated to acting and music at an early age.
Dropping out of Santa Barbara City College to pursue a career in music, he became involved in the commercial folk music scene via brief membership in Les Baxter's Balladeers, a Limeliters-styled unit organized by the well-known composer-arranger.
He began working the L.A. folk clubs as a solo act; at a set at the Troubadour, his crisp tenor voice attracted the attention of Jim Dickson, the house engineer at Richard Bock's L.A. label World Pacific Records. Dickson began demoing Crosby as a solo artist, but those sessions ultimately culminated in the formation of a band.
L.A.'s nascent singer-songwriter scene was then coalescing around the Folk Den, the front room at the Santa Monica Boulevard club the Troubadour. One evening in 1964, the headstrong Crosby inserted himself into a jam session involving two well-traveled young folksingers. McGuinn (then known by his birth name, Jim; he soon changed his name to Roger after joining the spiritual movement Subud) had previously worked with the urban folk outfits the Limeliters and the Chad Mitchell Trio, and had met Crosby during a Santa Barbara tour stop by the former act. Clark had been a member of another clean-cut folk act, the New Christy Minstrels.
Though McGuinn was wary of Crosby's outsized, opinionated personality, he was under the sway of the Beatles and envisioned the formation of a new group; Crosby's access to free studio time at World Pacific led to first sessions by McGuinn, Crosby and Clark under the collective handle the Jet Set.
Under the name the Beefeaters, the trio issued a flop single on Elektra Records, but soon reformulated themselves as a full-blown rock quintet that reflected the influence of the Beatles' '64 debut feature "A Hard Day's Night." The lineup was filled out with the addition of neophyte bassist Chris Hillmen, formerly mandolinist with the bluegrass-oriented World Pacific group the Hillmen, and the unskilled but photogenic drummer Michael Clarke.
Rechristened the Byrds in obvious emulation of the Fab Four, the act was signed to Columbia Records in late 1964 on the basis of promotional efforts by Dickson, who was now managing the band. Momentously, the well-connected Dickson urged his act to cover a new song penned by one of his friends, folk star Bob Dylan.
Issued as the Byrds' first single, the harmony-laden version of Dylan's "Mr. Tambourine Man" leaped to No. 1 on the U.S. singles chart in early 1965; the eponymous debut album reached No. 6. By that time, the group was the reigning attraction on Hollywood's Sunset Strip, thanks to a high-profile residency at Ciro's. For the next two years, Crosby's group would reign as American pop's answer to the Beatles, and influence a host of like-styled folk-rock acts. All of their Columbia albums during that period reached the U.S. top 25.
Though Crosby's pure, soaring voice was a key component of the unit's sound, he took a back seat as a writer to bandmates McGuinn and Clark, who were responsible for the group's hit originals. The Crosby-penned singles "Lady Friend" and "Why" failed to catch fire. The departure of the emotionally unsettled Clark from the group in 1966 only served to exacerbate tensions between McGuinn and Crosby.
Strife within the Byrds came to a head in 1967. That June, the band appeared at the historic Monterey Pop Festival in Northern California; the politically outspoken Crosby infuriated McGuinn with some of his onstage remarks, and further enraged his bandmate by sitting in with Buffalo Springfield for most of their set. In a move that could be considered payback, McGuinn vetoed the release of a new Crosby composition, "Triad," about a sexual ménage a trois; the song would ultimately find a home on "Crown of Creation," a 1968 album by Crosby's San Francisco friends Jefferson Airplane.
Finally, in October 1967, McGuinn and Hillman drove their Porsches to Crosby's Beverly Glen house and fired him from the Byrds.
Amid the then-burgeoning musical colony in L.A.'s idyllic Laurel Canyon, the newly cashiered Crosby began jamming with his friend Stephen Stills, whose L.A.-based band Buffalo Springfield had recently imploded amid internecine strife, and Graham Nash, who had met the other two during a 1966 U.S. tour by his Manchester, England-bred group the Hollies. After a deal brokered by David Geffen freed the three musicians from their outstanding contractual obligations, Crosby, Stills & Nash was signed to Atlantic Records.
The group's self-titled album was released in May 1969; it sported three notable Crosby compositions - the ballad "Guinnevere" (a love song inspired by his girlfriend Christine Hinton and his ex-paramour Joni Mitchell, who had subsequently entered a relationship with Nash), the apocalyptic "Wooden Ships" (co-written with Stills and Paul Kantner, and covered the same year by Kantner's group Jefferson Airplane) and the stormy "Long Time Gone."
The harmonious album vaulted to No. 6 on the U.S. chart, and was ultimately certified for sales of 4 million copies. In August 1969, already ubiquitous on the American airwaves, the group made its second concert appearance - with new member Neil Young in tow - before half a million people at the Woodstock music festival in Bethel, N.Y.
Young's addition to the lineup, now billed as Crosby, Stills, Nash & Young, ramped up the group's already formidable commercial clout. The superstar quartet's 1970 album "Déjà Vu" rocketed to No. 1 and ultimately sold 7 million copies; 1971's "4-Way Street," a two-LP live set drawn from their subsequent U.S. tour, also claimed the top slot and went quadruple-platinum.
However, Crosby's personal problems escalated at the height of CSN&Y's popularity. Already an enthusiastic consumer of cocaine, he turned to heroin after Hinton was killed in a 1970 car accident. Though by no means a stranger to drug use himself, Young was appalled by Crosby's behavior and the constant tension and disorder within the group, and withdrew to focus on his solo career, though he would return to tour with the other members in 1974.
Despite his eroding condition, Crosby released a 1971 solo debut, "If I Could Only Remember My Name," which peaked at No. 12 in 1971; he received all-star backing from Nash, Young, Joni Mitchell and members of Jefferson Airplane, the Grateful Dead and Santana.
In 1972, a reunion of the original Byrds lineup of Crosby, McGuinn, Clark, Hillman and Clarke was engineered by David Geffen for his Asylum label, and McGuinn, who had led the act following Crosby's exit, disbanded the then-current edition of the group. However, while the 1973 release "Byrds" managed to reach No. 20 on the U.S. album chart, the set was largely dismissed critics, and the members went their separate ways. No other new material was ever released under the Byrds' name.
Graham Nash was Crosby's reliable partner and stabilizing collaborator through the '70s: Together they issued the duo recordings "Graham Nash/David Crosby" (No. 4, 1972), "Wind on the Water" (No. 6, 1975) and "Whistling Down the Wire" (No. 26, 1976). However, the pair were odd men out in what began as a 1976 CSN&Y studio reunion: Their vocals were stripped from the project, which was issued as "Long May You Run," billed to the Stills-Young Band, in 1976.
Nonetheless, CS&N managed to bury the hatchet long enough to record "CSN" (No. 2, 1977) and "Daylight Again" (No. 4, 1982). But Crosby's personal life unraveled very publicly the year the second album was released.
In April 1982, he was arrested in a Dallas nightclub and charged with possessing a .45-caliber handgun and a pipe he used to freebase cocaine. Convicted in 1983, he finally served five months of a five-year sentence in 1986 - the year after another bust for drunk driving in Northern California. He later credited the Texas conviction for ending his addiction to cocaine. (His run-ins with the law continued in later years. He was convicted and fined for marijuana and firearms possession in 2004. In 2015, he hit a jogger with his car in Santa Ynez, Calif., but was not charged in the incident.)
Crosby, Stills, Nash & Young reunited for a performance at Farm Aid in 1985. In 1986, they appeared for the first of seven times as headliners at the Bridge School Concert, a benefit event organized by Neil Young and his then-wife Pegi for a Northern California school serving disabled children.
Crosby maintained his solo career with the albums "Oh Yes I Can" (No. 104, 1989) and "Thousand Roads" (No. 133, 1993). His most unusual collaborative effort, the drolly named CPR, was founded in 1996, after he reunited with his son, pianist James Raymond, who had been born in 1962 and given up for adoption by his mother after a brief relationship with Crosby. The band, which also included guitarist Jeff Pevar, released four independent albums from 1998-2001. Crosby and Nash cut a self-titled duo release in 2004, reaching No. 142.
Crosby returned to acting during the '90s with appearances on "The John Larroquette Show" (as the star's Alcoholics Anonymous sponsor) and "Roseanne" and in the films "Hook" and "Thunderheart." He also voiced two cartoon cameos on "The Simpsons."
With Carl Gottlieb, he authored two memoirs, "Long Time Gone" (1988) and "Since Then: How I Survived Everything and Lived to Tell About It" (2007). In 2000 he published "Stand and Be Counted," a history of activism in music, with David Bender.
His last album to be released during his lifetime, "For Free," named after the Joni Mitchell song he covered, came out in July 2021. Crosby kept busy in the studio, releasing six studio albums in the last decade. He also put out live albums, including one, "David Crosby & The Lighthouse Band Live at the Capitol Theatre," that came out just over a month ago.
Crosby is survived by his wife Jan Dance, their son Django, son James Raymond, and two daughters, Erika and Donovan, from previous relationships.
In 2000, it was revealed by singer Melissa Etheridge that Crosby was the biological father of two children born to Etheridge's then-partner Julie Cypher via artificial insemination. One of those biological children with Etheridge and Cypher, Beckett Cypher, died at age 21 of drug addiction in 2020. "I didn't get to raise that kid... but he was here many times," Crosby said following the death. "I loved him and he loved me and he was family to me."
Crosby's last interview with Variety was a tearful, touching testimonial to Jerry Garcia, on the 25th anniversary of the Grateful Dead guitarist's death, published in August 2020. "Of all of the people that I can think of that I've really loved as musicians - and then there are some stunners in there that I miss; I miss (Jimi) Hendrix, I miss Janis (Joplin), I miss my friend Cass (Elliott), I miss a lot of people that I lost - yeah, I probably miss him the most," Crosby said. "If I had had to pick somebody to represent musicians to the world and to the universe, I would have picked him. He cared about the right things. ... He did not play music for money. You can start your list of things about Jerry Garcia with that: he wasn't there for the money. He didn't give a shit. He was there chasing the notes. He wanted the music - really, really badly. He would go to great lengths; he would suffer indignities [laughs] to get to the point where he could make some music."
Crosby spoke of how Garcia drew him back into music when his girlfriend had tragically died. "I do think that Garcia deliberately did me a kindness. I think he knew that I was in terrible shape, and he knew that that the music was the one thing that was working, and he came in and just maxed that right out. ... Just say that I love him, man. I loved him and I will always love him in my heart. He was a wonderful man."
Crowe shared his five favorite underrated David Crosby tracks with Variety when their documentary came out in 2019. In a separate article, Crowe talked about working with producer Greg Mariotti on the picture. "'Years from now,' Greg would say, 'aren't you going to be really happy that you did this while Crosby was alive and wanted to do this project and was ready to talk?' So we went all in, and it became a thing you always try and get into a feature, which is that it transcended your original purpose and became an emotional thing."
Crosby's very last public statements on Wednesday, the day before he died - on Twitter, the platform he had so taken to to communicate with his fans late in life - were against the far-right wing of House Republicans and in praise of Greta Thunberg's activism and Paul McCartney's "Eleanor Rigby."