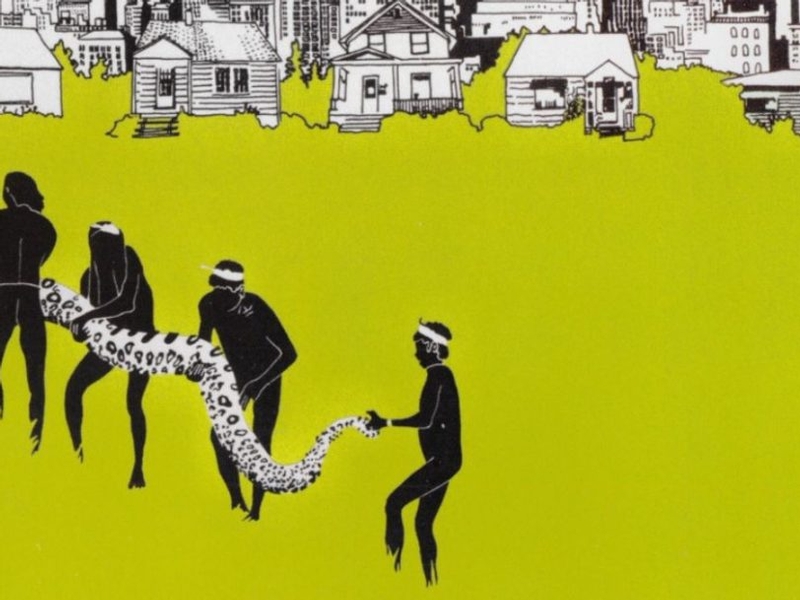 On 1975's The Hissing Of Summer Lawns, Joni Mitchell created a strange, cynical, ambiguous album. It began, in her own words, with the journey of "moving away from the hit department, to the art department". And, in the process, it might just have created the missing link between yacht rock and sample culture... But by this stage of Joni Mitchell's career, anything now seemed possible.
THE "HISSING" OF SUMMER LAWNS INDICATES THEIR MALIGN INTENT
By the mid-70s, wide commercial success had finally arrived in Joni Mitchell's garden. Court And Spark, released in 1974, had been hugely successful in the US, Canada and Europe. Straddling adult-oriented rock with adventures in jazz, the album was the expression of Mitchell at her most accessible: it found a tender spot between her folk past, her experimental future and the current singer-songwriter zeitgeist. Expectations, particularly from her record company, were that she would replicate the sound and the sales with her next album.
To do this, Mitchell was expected to catch at least some of the current trends and, by 1975, these were sleekness and expense. The singer-songwriter field had very much shifted from pioneering early and earthy albums, such as Carole King's Tapestry and Mitchell's own Blue (both 1971). Eventually, a branch of the genre would mutate into "yacht rock", moving decisively from its roots in the 60s folk clubs to become associated with high production values, musicianship, cocaine, apolitical lyrics and a general lack of sharp edges.
"IT'S A HYBRID, BUT TOGETHER IT MAKES A WHOLE TRUTH"
Try telling Joni Mitchell to blunt out her sharp edges. She had indeed clocked the growing smoothness of adult-oriented rock, but instead of riding it, she yearned to snag it. Mitchell had been around too long by this point (she was 31, and The Hissing Of Summer Lawns was to be her seventh studio album) not to be hyper-aware of the transience of fashion and her own need to create apart from it.
The lawn of the album's title, then, directly relates to the moneyed lifestyle of Los Angeles' successful musicians. Inspired by a visit to José Feliciano's house, Mitchell was struck by the manicured, irrigated, bottle-green lawn outside. She reimagined it as a prison for a wife. Such a lawn becomes, in Mitchell's hands, the symbol for a relationship in which luxuries are designed to keep a woman captive and pliant. The lawn hisses its malign intent and suffocates freedom.
Edith And The Kingpin tells of another LA prison: one where pimps clinically assess the commercial potential of women, keep them working, and use hard drugs to quell any arguments. "Part of it is from a Vancouver pimp I met and part of it is Edith Piaf," Joni has said. "It's a hybrid, but together it makes a whole truth." Consciously using Piaf in this way suggests Mitchell wasn't only thinking about prostitution via sex work. Just as on her For The Roses album, where she sang You Turn Me On, I'm A Radio in response to requests for a hit from her label, she makes the parallels between the music business and selling sex clear. (The only really radio-friendly track on The Hissing Of Summer Lawns is its sole single, In France They Kiss On Main Street.)
STRUCTURAL AND MUSICAL INNOVATIONS EXPRESS THE DISLOCATION OF MITCHELL'S CHARACTERS
Because of songs such as its title track and Edith And The Kingpin, The Hissing Of Summer Lawns is sometimes known as "dark yacht rock" - an exploration of how the wealthy LA lifestyle is sustained on the back of hypocrisy and lies. And, in making this point, Mitchell used structural and musical innovation, in addition to her lyrics, to express the dislocation of her characters. It is because of this that Mitchell became interested in using a technique originating in musique concrète - sampling.
The Jungle Line, the second track on the album, samples Ensemble De Tambours, a performance piece by drummers from Bukirasazi, Burundi. Michel Vuylsteke, the French ethnomusicologist who recorded the drummers in 1967 for the album Musique Du Burundi, noted that "the Ingoma drum, an instrument symbolising power, was used in the past solely at the court of the king, or in the big chiefdoms", and that "the privilege of playing these drums was handed down from father to son".
Mitchell's use of the field recording is undeniably pioneering, yet it underpins a difficult listening experience - which is perhaps what Mitchell intended for a track which has since been hailed as one of the best Joni Mitchell songs. In one reading, The Jungle Line is a powerful musical evocation of undercurrents in society and the unacknowledged Black influence in music and culture, via a mediation on the paintings of Henri Rousseau. On the other, it uses problematic language of "savages" and "cannibals", playing into racist stereotypes. A song's narrative intent shouldn't be conflated with the private opinions of a song's creator; Mitchell was presumably trying to highlight white fears about Black culture, rather than believing directly in the primitivism she describes. Her love for jazz and collaborations with Black musicians (including on this album, and subsequent records such as Don Juan's Reckless Daughter and Mingus) suggests this interpretation, yet The Jungle Line contains images that shock, and this effect has only increased in the years since it was written.
A COMPLEX ALBUM THAT MAY BE JONI MITCHELL'S BEST
For Mitchell, The Jungle Line was clearly a key track on The Hissing Of Summer Lawns, as she drew from its theme for the album's cover: Black figures carrying a snake through the grass of a Beverly Hills neighbourhood. Mitchell herself is found on the inside gatefold sleeve, luxuriating in a bikini in her own swimming pool. This is a direct reference to Harry's House-Centerpiece, a savage portrait of a man who resents the fact his wife is no longer the pert, bikini-clad girl she was, and instead has become another woman trapped behind a perfect suburban lawn. She withers; he lusts after younger models.
Joni Mitchell's undeniable beauty, shown to full effect in the bikini picture, is also the subject of Sweet Bird. Named partly for Tennessee Williams' Sweet Bird Of Youth, the song sees Mitchell mediating on the fleeting nature of female attractiveness. "I lay down golden in time," she sings on the track, "and woke up vanishing." The public disappearance of ageing women, a process which starts around the age Mitchell was at this time, is well-known, but it can still be hard to accept it when it happens. The song harks back to The Circle Game, on her second album, Clouds, but is notably less optimistic.
Originally released in November 1975, The Hissing Of Summer Lawns is a complex work, and many think it's Mitchell's best (including Prince, who loved it; Madonna fans might also note that the album's closing song, Shadows And Light, has a somewhat Live To Tell quality). But her record company, Asylum, were underwhelmed by its sales. It seems Mitchell really was moving from the sales department to the art department. As the 70s progressed, she would become even less interested in shifting back.