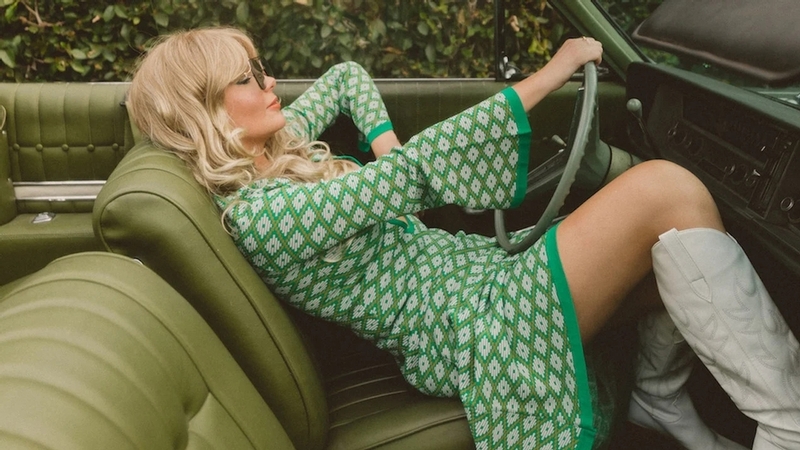 Music Feeds' Love Letter to a Record series asks artists to reflect on their relationship with the music they love and share stories about how it has influenced their lives. Here, Australian songwriter and producer GEM confesses her love for Joni Mitchell's 'Blue' from the album of the same name (1971).
GEM released her latest EP, Healing Feelings, in September 2022, featuring the single 'Ruins'. The intimate, stripped-back release was born of heartbreak and self-discovery and represents a time of healing and authentic growth for the Australian producer and DJ. "I wanted the EP to reintroduce myself, starting with the parts that I hide the most," said GEM.
GEM: Even listening to this song again today, I'm instantly transported to my teeny-tiny childhood home in Wamberal, NSW, where this haunting melody would fill the house. Although I distinctly remember sitting on the carpet wondering why this song felt so sad, it wasn't until many years later that I truly understood the depth of the lyrics, that honest kind of aching that you just can't fake.
Fast forward to 2021, I'm living in Los Angeles and was coming home from a recording session. I parked my car and was walking to the elevator when a car drove past and I heard that old familiar tune escaping from the windows. It stopped me in my tracks. Suddenly, one hundred little memories washed over me all at once and I understood the melancholy - and I understood it deeper than I'd like to.
This moment changed me, and my music, because artists like Joni paved the way with their vulnerability and raw human emotion. She felt like an old friend, calling out to me to crack my heart wide open and approach big topics like mental health, depression and heartbreak. These dark moments are so important because they shed light on experiences, making us feel connected.
Standing in that car park, I felt frozen, whole and broken all at the same time. It felt eerily familiar, like a dream or an episode of déjà vu. That song buried deep from my childhood rang true as I realised that the most sincere gift I could give myself that night was writing my own healing. An unveiling of myself.
It's because of 'Blue' and the sheer weight of those beautiful lyrics that I felt okay to write 'Ruins'. I'd heard it a lot before, about cutting yourself open to really feel it, to heal it. Never had it struck such a genuine chord. That night, in that car park flooded with 'Blue', suddenly I knew why songs have to be written. Why tears have to be shed. You don't have a choice; they choose you and they don't care if you're ready or not.
That song made it okay to talk about the hard stuff. The scars. The broken parts we try to hide. Just like she said, "Songs are like tattoos". 'Blue' is most definitely etched into my skin and bones. I'll spend forever trying to be comfortable with being uncomfortable and to inch myself a little closer to the honesty and soul shared in 'Blue'.