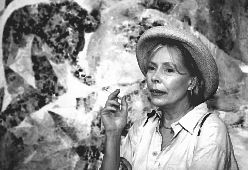 Canadian icon Joni Mitchell's first art show is a roaring success

SASKATOON - When singer Joni Mitchell is having a "mystical" moment, she grabs a rolling pin or perhaps some fruit juice jars and uses these unusual implements to smear paint on a canvas.

At least, that's what Saskatoon's favourite daughter did a few years back, she confessed yesterday, when she was painting abstracts.

Now, she's more into figurative, highly autobiographical work in the rough circular brush strokes reminiscent of the 19th century Dutch painter Vincent van Gogh.

These are the kinds of images we have seen for years on her album covers not even realizing they were created by the musician herself. And now, we can see the originals of those album covers, other van Gogh-like images and the rolling pin abstracts in Ms. Mitchell's first-ever art exhibition in her native Canada.

The much ballyhooed retrospective, entitled "Voices," opened yesterday at the Mendel Art Gallery, in hometown Saskatoon, amid fanfare normally reserved for a monarch or the Pope.

The show contains more than 80 paintings and photographs and finally allows Canadians an opportunity to view both sides of the singer-artist, whose latest CD of torch songs is, appropriately, called Both Sides Now.

The art, along with personal appearances (but no musical performances) by the 56-year-old artist, has spawned a long weekend of what the local daily, The Star-Phoenix, has branded "Mitchell-mania." There are tales of 80-year-olds driving from New Brunswick to see the paintings and reports of fans flying in from practically every state and province.

Streets around the Mendel were closed hours in advance of the opening to accommodate the 5,000 people expected to line up yesterday evening for a peek at the paintings and the artist. A party outside the Mendel, on the bank of the South Saskatchewan River, was scheduled to last until midnight. Premier Roy Romanow and various other bigwigs planned to attend.

Ms. Mitchell arrived diva-like and a fashionably 30 minutes late for the exhibition's pre-opening news conference. Journalists had been forbidden from viewing the works until Ms. Mitchell arrived because she wanted to "tweak" something in the exhibition space, a gallery official confided.

Ms. Mitchell immediately demanded an ashtray so she could smoke in the gallery despite strict rules forbidding such a practice. An ashtray was quickly found. It was soon filled with butts.

For an hour, Ms. Mitchell was alternately witty and snarky. She was, at times, self-deprecating about her art, recalling a badly done van Gogh-like portrait she once painted of singer Leonard Cohen. ("I gave it to a friend and his house burned down.") Sometimes, she compared herself to Picasso, as she is constantly seeking new "periods" to reinvent her art, both visually and musically. And to one young journalist who asked about prairie influences in her work, Ms. Mitchell snapped that anyone who looked at her art could see those influences. She perhaps forgot that the journalists had not yet had an opportunity to view her work.

Ms. Mitchell dabbled in art since childhood but did not really become serious until 1977.

"In the early '70s, I was given a camera by (singer) Graham Nash, a good camera -- a Leicaflex," Ms. Mitchell writes in the exhibition catalogue. "After that I put down the sketchbook and photographed everything in sight -- even the cross fades in movies. I didn't paint again until 1977 when a serious illness put me in the hospital for about a month and predatory doctors threatened to take out some things that I really needed. In protest, I ordered art supplies to be sent to my hospital room and I painted a series of works I call The Delirium Paintings ... some of which I don't understand."

We are told by Ms. Mitchell that she considers herself a visual artist first and a singer second. ("I've got a hundred paintings in me as we speak -- more than songs.") Well, we know she can sing. But can she paint?

Some of the rolling pin abstracts are stunning and can hold their own against most of the competition out there, although some are done in garish, luminescent tones that seem more nouveau riche than high art. The more recent figurative works are perhaps best left on album covers but, as objects of curiosity, can't be beat, considering who painted them and that many are self-portraits. Two self-portraits used on the CD Both Sides Now are among the best figurative works. One shows Ms. Mitchell's face, the other her back. Shown side by side, they are quite unforgettable.

One figurative work, Idle, shows a lone figure perched on a rock pondering a sunset. It looks like Maxfield Parrish trying to paint like van Gogh and is quite silly, really.

And then there's B.C. Forest, which looks like Emily Carr on a bad day. Nevertheless, this will likely be one of the best attended art shows in Canada this summer. And, despite it's flaws, is more interesting and far fresher than one more blockbuster exhibition of French impressionist retreads.

Voices continues until Sept. 17. The gallery is free and open daily. There is a possibility of a national tour but it seems that could be a year or more away.