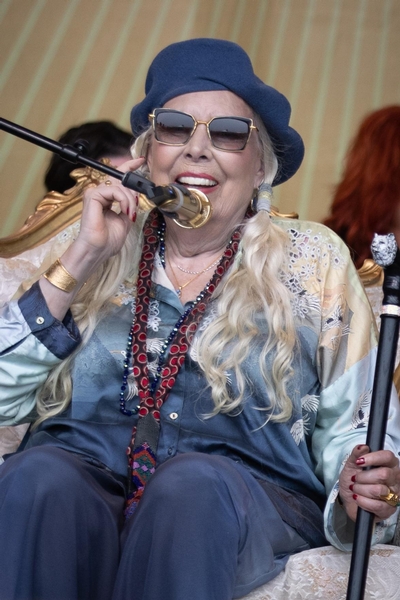 So there I was at the Newport Folk Festival on Sunday, taking in the history at the Fort Adams State Park and seeing a couple of bands, when Joni Mitchell made her live comeback. It has been two decades since she played any concert of note. Nobody thought this would happen again. Someone near me dropped their ice cream in shock.
The legend of Laurel Canyon, who retired from touring in 2000 and in 2015 suffered a brain aneurysm that left her unable to walk or talk for a time, is largely wheelchair-bound, so her appearance felt otherworldly to the small crowd of the luckiest people on Earth. It was like crossing off the bucket list something that had long since been removed because, well, what was the point in holding out hope?
It was a masterclass in delivering and maintaining surprise. The gig, billed as "Brandi Carlile and friends", was good - Carlile is a soulful-voiced American singer with a collection of the kind of liberal rock-folk songs the festival built its name on in the 1960s. It was here that Bob Dylan went electric in 1965. So they like a show-stopping event, and as Carlile wrapped up a cover of Somewhere Over the Rainbow she announced with a quiver that something big was about to happen. "Please stick around!" The couples who left for their cars at that point are now figuring out how to get a divorce.
Those who waited - and it is a small festival of about 10,000 tickets - tried to guess what was about to happen. Someone thought Dolly Parton. One man in his seventies suggested Dylan. I knew what was coming, but when a lady sitting on her deckchair - they love a deckchair at Newport - begged me to spill the beans, she flatly refused to believe me. "Joni does not sing any more!" she cackled. She apologised later.
So how did this happen? To cut Carlile's long introductory story short, Mitchell hosts "Joni jams" at her house in southern California. She sits in her living room with her cats and a margarita as various musicians play. Carlile is one of the regulars. As is Marcus Mumford, who was on stage with Mitchell at Newport as well. Even Elton John turns up from time to time - he once played Your Song to Mitchell, looking right at her. Who else? Paul McCartney. Apparently, Carlile explained, nobody is meant to pass Mitchell a joint.
The idea, Carlile said, was to create these Joni jams on stage. But as she and Mumford, plus the vocal group Lucius and others, took their positions, many thought that would be it: covers. A nice diversion. Little more. However, a couple of people spotted armchairs on stage. Who would sit there?
Well, why not Mitchell, appearing at Newport Folk Festival for the first time since 1969? The crowd went as wild as a crowd who do not quite believe their eyes can. Somewhere between elation and confusion. Also, the stage at the Fort Adams State Park slopes down in a way that means visibility is not great. And everyone was sitting. Plus we were struck with a dose of coastal fog so dense it made a few nearby sailing boats disappear.
Still, if you stood on your toes or watched the screens, there she was, beaming. In her beret, shades and an elaborate coat. She started on Carey, from Blue, as various people burst into tears. It was not a solo show by any stretch; Mitchell is 78, and the supporting cast, as they do in her home, are there to help. For the second song, Come in From the Cold, her vocal contribution felt meagre. But her being there was enough. Musicians on stage took turns to say how wild this was for them too.
Then it all kicked off. A Case of You is Mitchell's finest song - an evocative and timeless ballad for the intoxication of love - and it left those gathered feeling a little drunk. She took part. Her voice is deeper now. Quite croaky and much slower, but that is not to say it is worse, just different. And unlike some performers of a similar age, she knows when and where to use it. Mumford helped her out on A Case of You, as did Carlile, but when she hit a line, the entire place lifted off. The festival is different now. There was, let's say, very little evidence of cannabis. But that felt like a high.
Next? Big Yellow Taxi, Mitchell growing in her confidence and taking on faster, harder lines. Soon she was jamming dissonant, stoned noises out of an electric guitar like someone in their twenties.
Both Sides Now and The Circle Game finished the show, but started the questions. Is that it? Will there be more? The teatime legends slot at Glastonbury? It is hard to tell. Mitchell is someone who is frail and in love with music - that is why the Joni jams started. She wanted music back in her life. Is she able to take it live again? I would not hold your breath. This felt like a one-off, to scour through on mobile phone videos taken by we lucky few who were there, witnessing the festival's finest moment since Dylan played that noisier-than-usual gig.