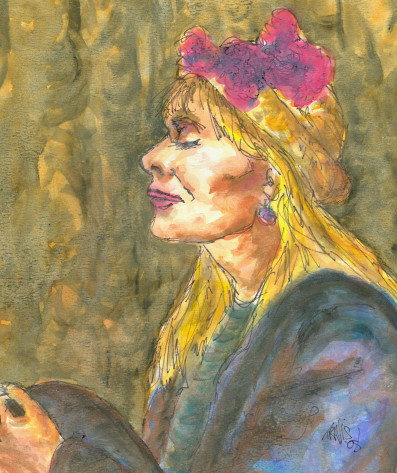 It was about three thousand years ago when, as Talent Coordinator of LA's infamous Troubadour folk-rock club during the peak of its golden years in the late 60s and early 70s, I was responsible for finding and booking raw undiscovered talent. I was tipped by the manager of a friend that I had to check out his newest client, a reserved Saskatchewan protégé of David Crosby who sang her own tunes and played her acoustic guitar some Sundays in the backroom of McCabe's Guitar Shop in Santa Monica.
Although I loved my Sunday afternoons spent as far away from the music scene as I could possibly manage, I reluctantly folded up my towel early, shook out the Venice Beach sand, and puffed on a little inspiration as I headed east up Pico to McCabe's. The small gaggle of already ardent fans gathered there was beginning to collectively shift on the impromptu club's unmerciful folding chairs when an ethereal, hesitant lass in her early 20s stealthily made her way to the stage.
Peeking out warily from beneath exaggerated bangs cut into long, gravity-challenged blonde hair, on first impression this bashful flowerchild seemed an unlikely candidate for musical stardom to me, but as she quietly launched into the first bars of "Song to a Seagull," the readjusting of uncomfortable backsides against metal stopped, replaced by stunned attentive silence and, if I myself was any indication, a few dropped jaws.
During my tenure at the Troub I received close to a hundred demo tapes each week and sat through the sets of many, many hopeful performers with drastically varying degrees of aptitude who waited - sometimes overnight - to sign up for our über-popular amateur "Hoot Night," which took over the stage each Monday evening at the club. I had learned one thing from those windmill chasers determined to poke their heads above the surface in the shark-filled waters of the music business: there are a lot of talented people out there, but only a few courageous enough to try something new.
Innovation had become the key to getting my attention, the ability to create something different from the standard fare that had made successes of the current crop of superstars. Sitting that night in McCabe's, I knew this shy young Canadian playing her sad little guitar a few feet in front of me had that quality in spades.
Not long after, Roberta Joan Anderson came to play the Troubadour for the first time and, as they say, the rest is history. I learned right then and there to trust my friends, especially since it was the late-great Laura Nyro who turned me on to Miss Anderson's music and the manager both groundbreaking music business icons were prophetically to share was David Geffen.
Although Roberta Anderson had set out in life to be a painter, the distinctive style and immeasurably unique gifts she exhibited as a singer and songwriter were to be the stuff of which legends are shaped. The career-interrupted kid who'd begun her musical journey busking on the streets of Toronto to augment her income while trudging through art school - and who had so quickly managed to mesmerize me in McCabe's backroom that fateful night - soon became one of the most influential musical geniuses of the 20th century: the inimitable Joni Mitchell.
Joni's first appearance at the Troub signaled the beginning of a remarkable career that has now spanned 40 years, her 21 albums to date winning nine Grammys and seven additional nominations between 1969 and this year, including their Lifetime Achievement Award in 2002. In the 1990s, she was inducted into the Rock and Roll Hall of Fame and chosen fourth on VH-1's list of "The One Hundred Most Important Women in Rock." Last year, the face of demure little Roberta Joan from the farming province of Saskatoon, Alberta, graced a Canadian postage stamp.
Joni's 1971 album Blue, listed by Time Magazine as among the "All-Time 100 Albums," instantly makes me reminisce about our youthful days when she would barrel into my office at the Troub in a "state" as she looked for her erring ex-beau David Blue, whose dubious inspiration may be the reason that album is regarded as a culmination of her earliest message to the masses: a disheartened view of the world juxtaposed with a fervent belief in the redemptive power of romantic love.
This rather amuses Joni these days from her tranquil media-shunning existence on her secluded country estate near Halfmoon Bay, somewhere north of Vancouver on British Columbia's gorgeous Sunshine Coast. "At that period of my life," she admits freely looking back on our action-packed younger days, "I had no personal defenses. I felt like a cellophane wrapper on a pack of cigarettes. I felt like I had absolutely no secrets from the world and I couldn't pretend in my life to be strong."
But Joni has proven both strong and uncompromising throughout her career. At the height of her success, she took a drastic turn from reigning folk-pop goddess to concentrate on jazz and blues. The first of her boldly noncommercial explorations into experimental music was 1975's The Hissing of Summer Lawns, which Rolling Stone was reported to have dubbed the "Worst Album of the Year." In truth, it was noted by the magazine only as the year's worst album title, but the publicity didn't help the already contentious relationship between Joni and Rolling Stone, initiated when an earlier issue featured a "tree" illustrating all of her alleged romantic partners, something Joni admits "hurt my feelings terribly at the time."
Still, Joni has survived intolerance for her musical and personal experimentation over the years and doesn't care much anymore what critics say. Perhaps a lot of this is due to the fact she's always considered herself a "painter first and a musician second," evidenced by continuous gallery and festival exhibitions of her work, as well as the fact she has created the art for many of her own album covers.
Obviously, Joni paints exactly as she creates music, saying both mediums "involve putting down layers until something fully formed emerges." Her passion here, too, is obvious: "You do your preliminary sketch, you build your skeleton," she carefully explains, "then you start overdubbing an additional area. You put your first mark on your canvass. It's the same way you lay your first bed whatever it might be, a drum part or bass part. It's exactly the same process."
Joni easily and unapologetically confesses she's always thought of herself as a fine artist "derailed by circumstance" in her amazingly successful life, even during the peak of worldwide musical fame. "I'm really a painter at heart and I can say this now. Music was a hobby for me at art school, but art was serious. Art was always what I was going to do."
Joni's paintings, which seem influenced in equal parts by Matisse and Gauguin - with a hint of the folksiness and humor of Grandma Moses thrown in - have been exhibited in galleries in the States, Tokyo, London, and Canada. In the last couple of years, she has switched media, creating fascinating collage constructions from photographs, including many of her own. A series of enormous photographic panels she calls her "Green Flag Song" debuted in a West Hollywood gallery last year and traveled this summer to the Galway Arts Festival immediately following its mounting at Luminato 2008 as part of the recent Toronto Festival of Arts and Creativity. The annual event also presented the return of Alberta Ballet's celebrated The Fiddle and the Drum, the much-heralded anti-war dance performance piece created around Joni's music that premiered last February in Calgary and Edmonton.
A longtime environmental and political activist, with both The Fiddle and the Drum and "Green Flag Song," Joni has completed a stunning lasting statement about the consequences of war and the prevailing human condition as she sees it, creating a poetic visual dialogue on humanity's struggle with itself. "Green Flag" utilizes photographic images familiar in our saturated media, which she twists to mock the reactions they're meant to induce, presenting them instead as evidence of what she sees as the "nightmarish realities of the world we live in." This signature body of work protests the skewed power of political entitlement as it cries out about our current national and global mess born from aggression and fear.
As usual, Joni has offered contemporary society a gentle yet fervent wake-up call with her art. Her activism has never wavered over the course of the past four decades, but it has shouted its loudest in recent years. She considers Shine, her 2007 album clearly reflecting her social and theological consciousness, as well as presenting a heartfelt plea for the health of the planet, to be "as serious a work as I've ever done." This sentiment was surely strengthened earlier this year when the song "One Week Last Summer" from Shine afforded Joni her fourth Grammy, this time for Best Pop Instrumental Performance of the Year.
Not bad for someone who announced not too many years ago that she was retiring from the music business, eh? Joni explains her indecisiveness with a laugh: "There's a certain kind of restlessness that many artists are cursed or blessed with, depending on how you look at it. Craving change, craving growth, seeing always room for improvement in your work."
Martha Graham expressed it best in a letter written many years ago to Agnes deMille: "There is a vitality, a life force, a quickening that is translated through you into action... Keep the channel open. No artist is pleased. There is no satisfaction whatever at any time. There is only a queer, divine dissatisfaction, a blessed unrest that keeps us marching and makes us more alive than the others."
That declaration reinforces everything that makes Joni Mitchell a great artist, something that will be reflected for posterity in her music, in her paintings, in her photographic constructions. It's an ongoing process of invention for her and, luckily for the world around her, her restlessness - be it a curse or a blessing - continues to enrich us all.