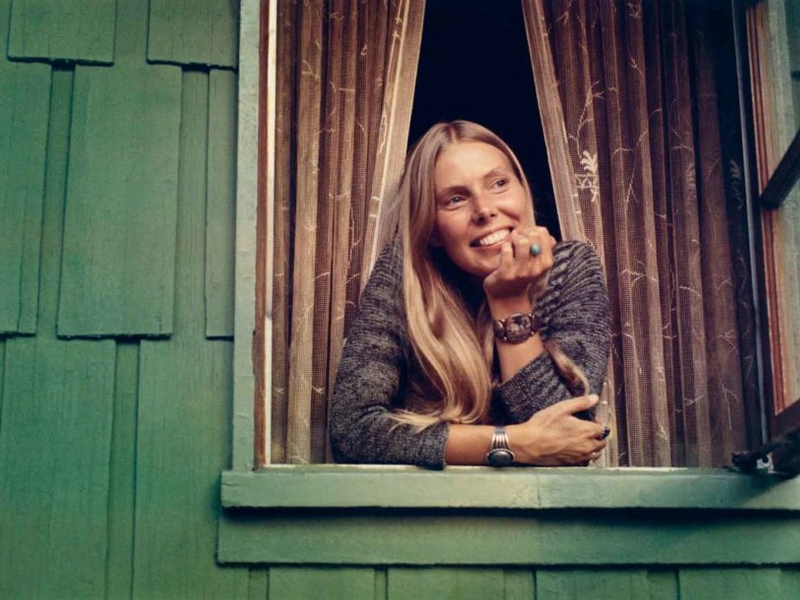 With her fourth album, Blue, Joni Mitchell looked inwards for inspiration, and stripped her sound back to produce an album that laid the blueprint for generations of singer-songwriters to come. An artist unafraid to mine her own personal life for songs as intimate as diary entries, Mitchell also had a rare talent for making her work universal. The songs on Blue were tough, romantic, cynical, witty, self-aware and brutally honest, and their emotional intensity connected with a huge audience that made the album Mitchell's first to sell more than a million copies.
While Blue would become synonymous with Los Angeles' Laurel Canyon scene - an early-70s hotbed of sensitive singer-songwriters - it came about as a result of Mitchell breaking away from the US all together. While her relationship with Graham Nash had seemed like the epitome of the hippie ideal (see Nash's Our House, from Crosby, Stills, Nash And Young's Déjà Vu album), it had fallen apart in late 1969, and Mitchell fled to Europe. There she lived what she saw as a more authentically bohemian life, feeling a genuine freedom that eluded her back home.
Spending an extended period in Crete, Mitchell met Carey Raditz, a North Carolinian copywriter who had embraced laidback life on the island. Mitchell wrote a song named after him, and played it for him on his birthday - a present and parting gift. It sounds breezy and lovestruck, but the lyrics see Mitchell conflicted, aware that she's not entirely cut out for this new way of living: "My fingernails are filthy, I got beach tar on my feet/And I miss my clean white linen and my fancy French cologne." Her wanderlust took her next to Paris, then onto Spain and Ibiza, where she wrote the dizzyingly homesick and gorgeous California.
Rather return to the West Coast, Mitchell first travelled to Canada, where she played Toronto's Mariposa Folk Festival in July 1970. There she met singer-songwriter James Taylor, also on the bill. The two soon became inseparable, with Mitchell joining Taylor on the set of Two-Lane Blacktop, the cult road movie in which Taylor took the lead, before the pair travelled to Chapel Hill, North Carolina, to spend Christmas with the Taylor family. The festive break, in a place where, unlike her native Canada, "It don't snow here, it stays pretty green," is said to have inspired the heart-stopping piano ballad, River, one of Blue's most beloved songs.
In early 1971, Mitchell took the material she'd amassed during her time away from the spotlight and began sessions for what would become Blue at Hollywood's A&M Studios. The nature of these songs, not to mention Mitchell's frame of mind at the time, demanded that the sessions were intimate. Most were recorded solo, and only four other musicians appeared on the album - pedal steel guitarist "Sneaky" Pete Kleinow, percussionist Russ Kunkel, Stephen Stills and James Taylor - and they were used sparingly.
Mitchell explained her frame of mind in the 2003 documentary Woman Of Heart And Mind: "During the making of Blue, I was just so thin-skinned and delicate that if anybody looked at me, I'd burst into tears. I was so vulnerable, and I felt so naked in my work. My individual psychological descent coincided, ironically, with my ascent into the public eye. They were putting me on a pedestal, and I was wobbling. So, I took it upon myself that, since I was a public voice and subject to this kind of weird worship, that they should know who they were worshipping."
Blue not only saw Mitchell documenting her recent adventures, but digging deeper into her past to reveal more of herself. This was most startling on Little Green, a song started back in the mid-60s, around the time that Mitchell gave her child up for adoption. In it, she reflects upon her experience before imagining her daughter's future. Importantly - especially considering the stigma around such things back then - she says of herself, "You're sad and you're sorry, but you're not ashamed," before wishing her child a "happy ending".
Mitchell later considered her motives in writing such personal songs: "I was demanding of myself a deeper and greater honesty. More and more revelation in my work in order to give it back to the people, where it goes into their lives and nourishes them and changes their direction and makes lightbulbs go off in their head, and makes them feel, and it isn't vague; it strikes against the very nerves of their lives and, in order to do that, you have to strike against the very nerves of your own."
Released on 22 June 1971, Blue has been striking nerves ever since - the way the title track turns listless depression into something blissfully, well, blue; the swooning restlessness of This Flight Tonight; and, last but certainly not least, the peerless closing double-whammy of A Case Of You and The Last Time I Saw Richard, evocations of stormy past relationships in the form of beautifully bruised ballads. Mitchell wouldn't make another album quite like Blue - perhaps she feared opening herself up like that again; perhaps she felt, having mastered the form, there was no need - but we can all be thankful that, back in 1971, she gave so much of herself to her music.