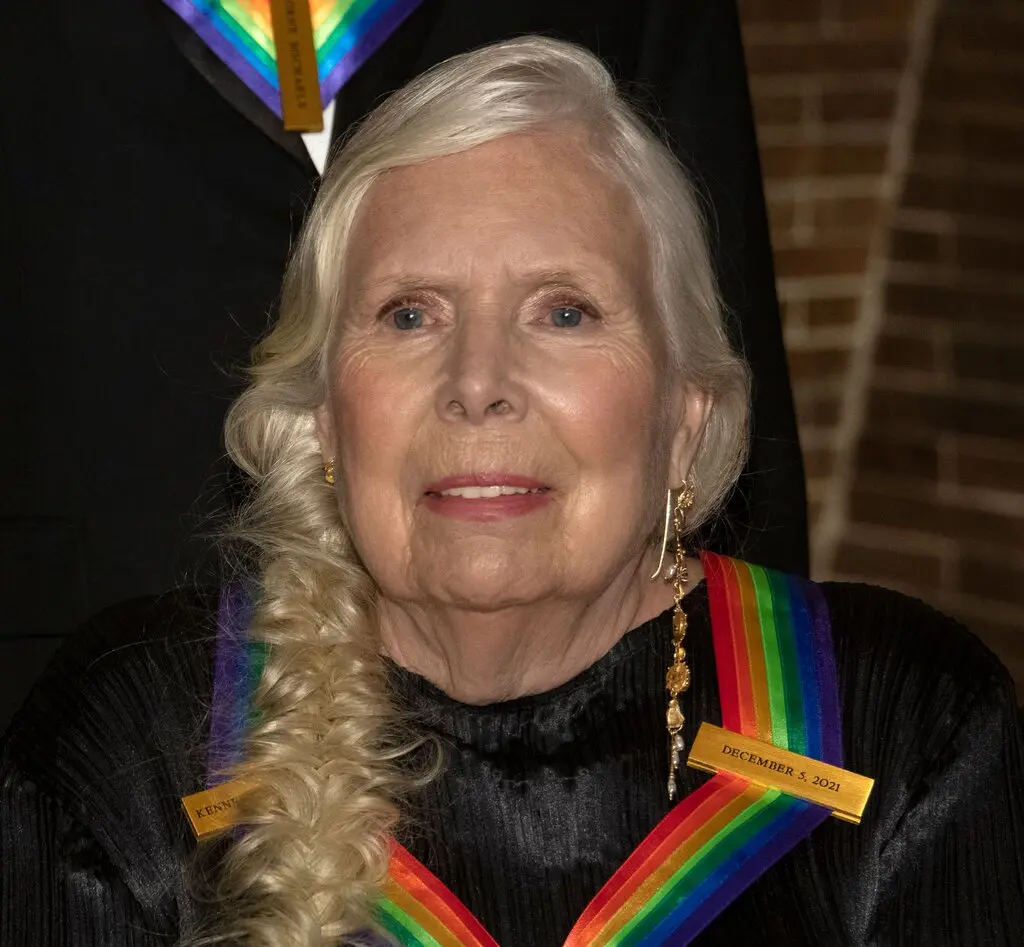 When viewers tune in to the 64th annual Grammy Awards on Sunday night, they will see some familiar celebrities at the microphone as presenters, including Megan Thee Stallion, Questlove, Dua Lipa, Lenny Kravitz and Jared Leto.
And one surprising one: Joni Mitchell.
It will be a rare public appearance for Mitchell, 78, the revered singer and composer from Canada who was one of the defining figures of the singer-songwriter movement of the 1960s and '70s. Never one for the limelight, Mitchell has kept a very low public profile since she had an aneurysm in 2015, and spent subsequent years in gradual recovery.
The last year or two has brought a wave of recognition for Mitchell. Her 1971 album "Blue," which had little commercial impact upon its release but was long a connoisseur's favorite, was widely celebrated last year, upon its 50th anniversary. In December, she was awarded a Kennedy Center Honor, and a sampling of her songs, like "Big Yellow Taxi" and "Both Sides Now," were performed by Brandi Carlile, Brittany Howard and Norah Jones. In a speech during the White House reception for the event, she addressed her health, saying, "I'm hobbling along but I'm doing all right." She even joked in an on-camera interview on the red carpet, "I'm old enough to have been honored before."
The singer-songwriter questioned everything on her fourth album. Twenty-five musicians speak about the LP's enduring power on its 50th anniversary.
In a taped interview last year, for a virtual Grammy gala hosted by the music executive Clive Davis, she gave an overview of her career, saying that the folk music world of the mid-1960s was "territorial" about repertoire, and that she learned "the only way around this dilemma is to begin to write your own songs." She also told Davis that she had only recently realized the breadth of her influence; for years, she said, "all I was aware of were bad reviews."
Mitchell last released an album of new songs in 2007. In January, she asked Spotify to remove her music after Neil Young did the same, as a protest against the streaming service over its role in giving a platform to Covid-19 vaccine misinformation.
On Friday, Mitchell will also be the honoree in a gala for MusiCares, a Grammy-affiliated charity that helps needy musicians, with Cyndi Lauper, Stephen Stills, Herbie Hancock, Jon Batiste, Sara Bareilles, Beck, Carlile and others performing her music.