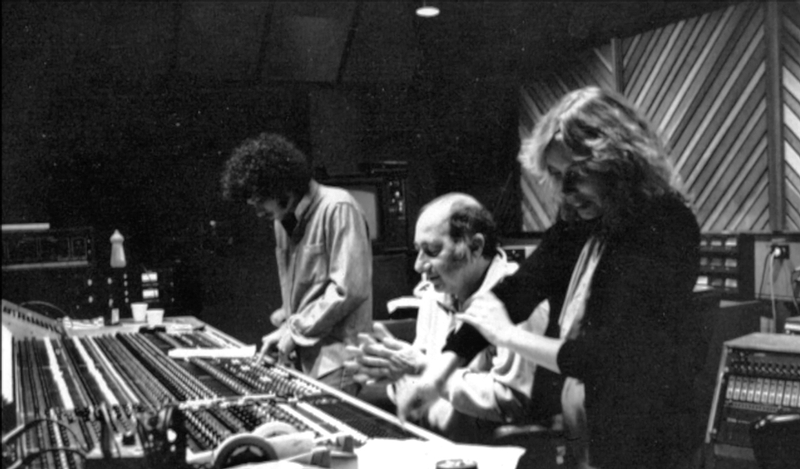 A look into the producer/engineer behind classics like Joni Mitchell's Blue and Judee Sill's Heart Food.
We've touched on Henry Lewy's work in the past, but even then we didn't fully connect the dots between these landmark records and this little-known shadow figure behind them. A full feature documentary on Lewy entitled The Man Behind the Music has been in the works for a few years now and awaiting funding. The film documents an elusive musical powerhouse with a harrowing past. Lewy narrowly escaped Nazi Germany by leaving the country on the eve of Hitler's 1939 invasion of Poland, was drafted after Pearl Harbor and did multiple tours during WWII. After surviving the chaos, he wound up in sunny Southern California and eventually studied under Lou Adler and produced some of the '70s best. 
Lewy engineered almost every record on A&M in the early days, working with David Crosby, Mamas & the Papas, the Monkees, Joe Cocker, Sergio Mendes and Burt Bacharach, to name a few. Propelling the breezy folk sound of Laurel Canyon, Lewy played a part in the rise of the singer-songwriter movement while pushing the genre into ethereal jazz-infused territories via his 14 album partnership with Joni Mitchell. 

Below, some production highlights from Lewy's prolific and varied career.
Flying Burrito Brothers – The Gilded Palace of Sin, Deluxe (1969)
Shortly after his first solo producing credit on John Braden's debut in '69, he produced the first two now classic albums by The Flying Burrito Brothers. The Bakersfield-inspired country rock group propelled Gram Parsons' career. Here's the final song on "Burrito Deluxe," a cover of the Rolling Stones' "Wild Horses." 
Neil Young – The Needle and the Damage Done (1972)
Although it may be just a live take that Neil didn't feel like re-recording, it's worth noting Lewy produced this bonafide Young classic and is his sole production credit on the worshipped 1972 album Harvest. He was also responsible for recording Neil's landmark "Live at the Cellar Door" performance.
Judee Sill – Heart Food (1972)
Lewy produced both Judee's incredible self-titled debut as well as her follow-up — and unfortunately, final — record, Heart Food. Lewy was said to be a little overwhelmed by Sill's insistence on an insane amount of overdubs on Heart Food, but the end result is gorgeous. You can hear his lush, ethereal approach, especially on the standout "Kiss." It's a sneak peek at the misty production techniques he'd further develop with Joni.
Batteaux – Batteaux (1973)
Although it didn't see the success of any of the other albums listed here, Batteaux is a long-treasured and notoriously under appreciated 70's underground folk-funk classi — a perfect mix of Balearic, blue-eyed soul and Lewy's west coast folk sound. A precursor to the popular AOR styles of the later '70s, it features highlights like "High Tide," "Tell Her She's Lovely" and the heavenly ballad "Living's Worth Loving."
Paul Horn – Visions (1974)
He's most known for his guitar-based projects, but Lewy first started working in music through jazz. His first instrument was the french horn, and his first gig was at Downbeat magazine. A publication dedicated to "Jazz, Blues, and Beyond," the influential magazine afforded him friendships with stars like Louis Armstrong. One of the few jazz albums he worked on as a head producer was Paul Horn's Visions, which also features an instrumental jazz cover of the Batteaux cut mentioned above, "High Tide."
Leonard Cohen – Recent Songs (1979)
Recovering from the mayhem that was "Death of a Ladies Man," where Leanord was at peak debauchery and a consistently drunk Phil Spector pointed a loaded gun at him between takes, Cohen decided he needed a more accommodating producer for his next go-round. According to Cohen, Lewy helped Cohen "return to form."
Joni Mitchell – Blue, Clouds, Court and Spark, The Hissing of Summer Lawns, Hejira
Van Morrison, Cohen and Mitchell have each noted Lewy's most crucial trait: He could make the studio feel like magic — a hospitable environment in which he digs for "the soul and essence" of the artist and the song. 
If you'd like to follow Lewy's bloom as a producer, it can easily be found through the work of Joni's definitive years displayed throughout their albums together, starting with 1969's Clouds and ending in 1985 with Dog Eat Dog.
Lewy recorded Joni without her knowing it for "Big Yellow Taxi." Having just written the classic song, Joni wanted to rehearse it and play it to Lewy in the studio, and he stealthily hit record. The final mix is a little obscured by the overdubs, but you can feel a sense of casualness in her vocals and guitar playing. It's completely candid–  and we have those sweet giggles at the end.
Lewy says of Joni: "What I love about her is that she never sits still for a second. She's always moving forward. She grows with every album, which is, ironically, one of the things that turns some fans off. They get used to her doing one thing, and then she changes. She soaks in things constantly. She has a real appetite for new ideas."
And in turn, Joni spoke of Lewy in the same 1979 interview: "There's more than a working relationship, there's a sense of passion, there's a sense of heart, and there's a sense of the sensation."