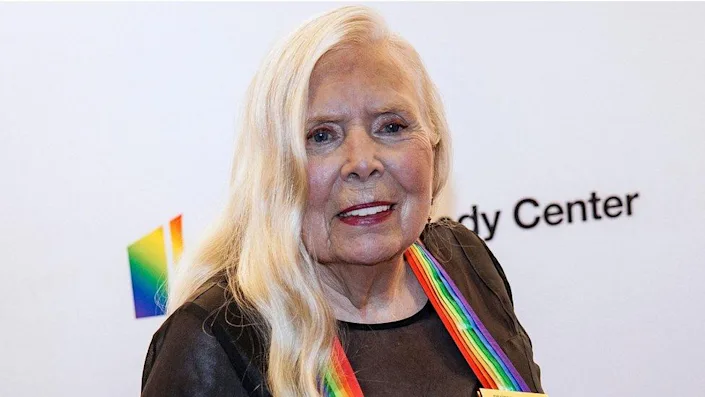 Legendary Canadian singer Joni Mitchell made a rare public appearance on Sunday to receive one of the most prestigious honours in US arts.
President Joe Biden also attended the Kennedy Center Honors, after previous incumbent Donald Trump skipped proceedings during his four-year term.
The ceremony saw singers including Norah Jones and Brittany Howard perform some of Mitchell's classic songs.
Actress Bette Midler and Motown founder Berry Gordy were also recognised.
Stevie Wonder, who was one of the many acts discovered by Gordy, headlined the star-studded four-hour gala in Washington, DC.
Smokey Robinson, who was also discovered by Gordy as a teenager, performed a song he wrote for the music mogul.
"I think I'm in a dream... and it's a wonderful dream," Gordy told reporters on the red carpet.
In honour of Mitchell, Howard performed the veteran singer-songwriter's Both Sides Now; Jones sang The Circle Game and A Case of You; and Brandi Carlile performed River.
Mitchell's appearance came six years after she suffered a brain aneurysm.
"I think the polio was a rehearsal for the rest of my life," she said after receiving her medallion.
"I've had to come back several times, for one thing, and this last one was a real whopper. But you know, I'm hobbling along there. I'm doing all right," she told the audience, receiving a big round of applause.
Others to receive honours at the ceremony included Saturday Night Live creator Lorne Michaels and opera singer Justino Diaz.
Trump did not attend during his presidency after several recipients threatened to boycott the gala in his first year in office if he was present.
"It is quite nice to see the presidential box once again being occupied," comedian and past honouree David Letterman told the audience.
President Biden held a black tie reception for the recipients at the White House, declaring: "To all of the Kennedy Center honorees past and present, thank you for sharing your gift with the nation and with the world."
Midler joked to reporters: "I'm a low end performer. I'm someone who tells terrible jokes and rides around in a wheelchair in a fishtail. That's what I do. And yet people like that. They really enjoyed it. So hey, I'm beloved!"
Paul Simon sang America for his friend Michaels, while soprano Denyce Graves performed excerpts from Carmen and Faust in honour of Diaz.
The 2020 gala was cancelled due to the coronavirus pandemic.
In May, the centre held a series of smaller, socially-distanced events for last year's honourees, who included folk singer Joan Baez and actor Dick Van Dyke.