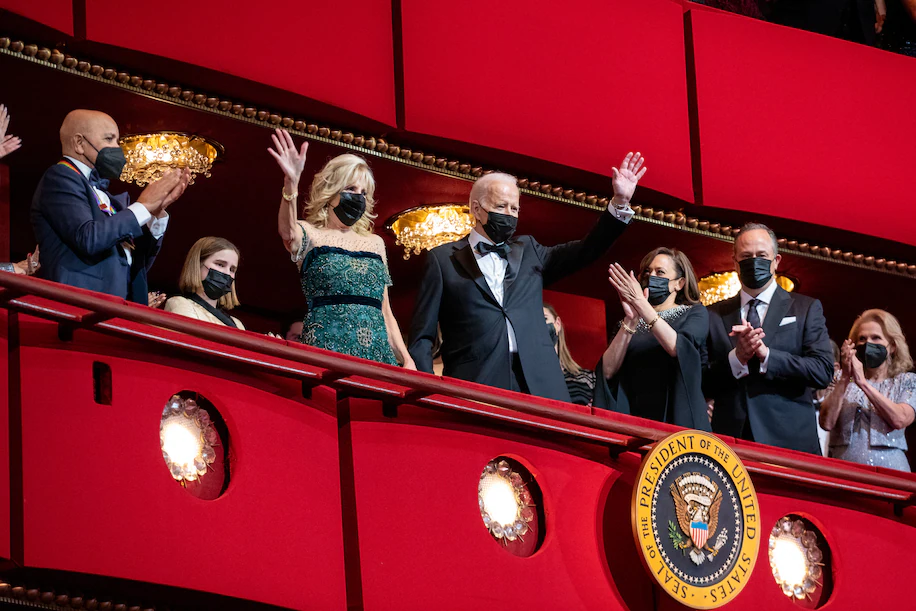 With a stellar slate of honorees watching alongside President Biden, the Kennedy Center Honors sparkled back to full festive life on Sunday - after years of disruptions in tradition caused by both a pandemic and politics.
A nearly four-hour performance in the Opera House toasted the high points of the careers of the Honors recipients: actress Bette Midler, comedy impresario Lorne Michaels, singer Joni Mitchell, Motown producer Berry Gordy and opera bass-baritone Justino Díaz. Before a packed audience that included Biden, Vice President Harris, several Cabinet secretaries, House Speaker Nancy Pelosi (D-Calif.) and a horde of celebrities, the evening's medal winners were serenaded and saluted in a Washington tradition that goes back 43 years.
The evening, which will be broadcast by CBS on Dec. 22, was the most high-powered entertainment event in Washington in years. That was partly owing to the attendance of Biden and first lady Jill Biden, the first "first couple" to attend in person since Barack and Michelle Obama in 2016. During President Donald Trump's tenure, a presidential boycott meant no chief executive or first lady in the president's box. The pandemic-delayed 2020 ceremony, held in May, was mostly presented virtually.
The crowd for this year's return to something like normal, wearing black tie and masks, filled the 2,360-seat Opera House. A starry gallery of presenters streamed across the stage, representing music (Norah Jones), movies (Scarlett Johansson), TV (Jimmy Fallon) and theater (Chita Rivera). The gathering felt relievedly and consolingly like old times - nostalgic speeches, schmaltzy production numbers, teary tributes and all.
The production, as is traditional, consisted of five segments celebrating the careers of the award winners. This year's show, directed by Glenn Weiss, with music direction by Rickey Minor, was as sharp and lively an installment as the franchise has seen in years. It had a passel of prize moments: Brandi Carlile gave resonant lilt to 78-year-old Mitchell's "Big Yellow Taxi," and Brittany Howard and Herbie Hancock united to perform her eternal "Both Sides Now"; mezzo-sopranos Grace Bumbry and Denyce Graves offered heartfelt tributes to the 81-year-old, Puerto Rican-born Díaz. And for the tribute to Michaels, 77, a series of hosts over the decades of "Saturday Night Live's" venerable "Weekend Update" segment - Kevin Nealon, Amy Poehler and Seth Meyers, and Colin Jost and Michael Che - appeared on a mock-up of the television set to make a hilarious target out of their former (or current) boss.
"If it weren't for you," Nealon said in summation, "I wouldn't have gotten that lucrative blood thinner commercial."
Broadway star Kelli O'Hara was tapped to fete Midler, 76, with a silky version of her 1988 hit "Wind Beneath My Wings," from the movie "Beaches."
The evening of encomiums began with Yo-Yo Ma playing a moving opening cello solo of the national anthem and offering an inspirational boost: "The land of the free and the home of the brave," he declared. "This is who we are." An irreverent follow-up occurred with David Letterman's appearance. "It's nice to see the presidential box once again being occupied," he observed. After an ovation subsided, he added dryly: "And the same with the Oval Office."
Political commentary was not high on the menu this night, however. The proceedings moved in polished fashion through the first tributes, to Mitchell and Díaz, but a technical problem required one of the final numbers of the evening, with Stevie Wonder, to be restarted. Seated at a piano, Jones performed a medley of Mitchell songs, including a fine version of "The Circle Game." The Díaz segment featured a chorus led by Graves, Christian Van Horn, Ariana Wehr and Hannah Shea in the Toreador Song from Bizet's "Carmen." And it closed with Van Horn, Anna María Martínez and Matthew Polenzani in the finale of Gounod's "Faust."
The Michaels set consisted of a parade of SNL stalwarts - Kristen Wiig, Kate McKinnon and Kenan Thompson among them - getting an opportunity to give it back to Michaels. Steve Martin led the way, announcing that the SNL producer was "the only Canadian not in the cast of 'Schitt's Creek.' " Wiig, more lovingly, invoked a long-running character played by the late Chris Farley, when she observed, "Without you, Lorne, I think it would be safe to say we'd be living in a van down by the river."
Midler's tribute included a trio of actors from her hit 2017 Broadway revival of "Hello, Dolly!" - Beanie Feldstein, Kate Baldwin and Taylor Trensch - singing a Midler favorite, "You Gotta Have Friends." Goldie Hawn, Melissa Manchester and Barbara Hershey - the last her co-star in "Beaches" - provided warm anecdotes. And emulating Midler from her early, campy performances, actor Billy Porter emerged from a clam shell to sing a knockout version of her "From a Distance."
Gordy, 92, described early in the evening by Letterman as the man who "bridged a racially divided nation with the Motown sound," was hailed by an old friend, Motown legend Smokey Robinson, as well as by the cast of the Broadway musical "Ain't Too Proud: The Life and Times of the Temptations." They rose to the occasion with a signature song, "Ain't Too Proud to Beg."
The show went so long that Letterman quipped at night's end, "I'm being told that it's still Sunday." Still, an all-star finale featuring Andra Day, Ellie Goulding, Porter and Howard delivered a high-energy "Higher Ground" - and even after four hours of performance, brought the house to its feet.
The honorees seemed overcome in the presidential box at times, with Díaz wiping away tears after his daughters, Natascia and Katya, sang in Spanish "En Mi Viejo San Juan." It seemed a thoroughly emotional weekend for them all.
The lifetime achievement medals had been presented to the honorees on Saturday night in a black-tie dinner for 210 donors, politicians and the recipients' families and friends at the Library of Congress. Normally the banquet is hosted at the State Department, but covid-19 safety restrictions necessitated a shift in venue. In welcoming remarks that night, Secretary of State Antony Blinken noted the vital role culture can play in advancing international understanding.
The dinner accords the honorees their chance to say a few words of thanks. Referencing her struggles with illness, Mitchell struck a tone of optimism: "I'm hobbling along but I'm doing all right!" she said, in brief remarks. Midler offered more extensive thoughts, paying tribute to singers she fell in love with, such as Tina Turner, Aretha Franklin and Janis Joplin, and talking about how driven she became. "I worked like an animal," she said. "I was simply compelled."
For his part, Díaz chose to sing his gratitude, choosing an apt refrain of Iago's from the Verdi opera "Otello": "Beva, beva con me!" he boomed. In other words: "Drink with me!"
Biden, at a separate White House ceremony, got to turn the tables on Michaels. "Finally," he said, "I get to say something about him!" He added good-naturedly as he gazed at the SNL creator, "If you can't laugh at yourself, you're in real trouble. And you make me laugh at myself a lot."