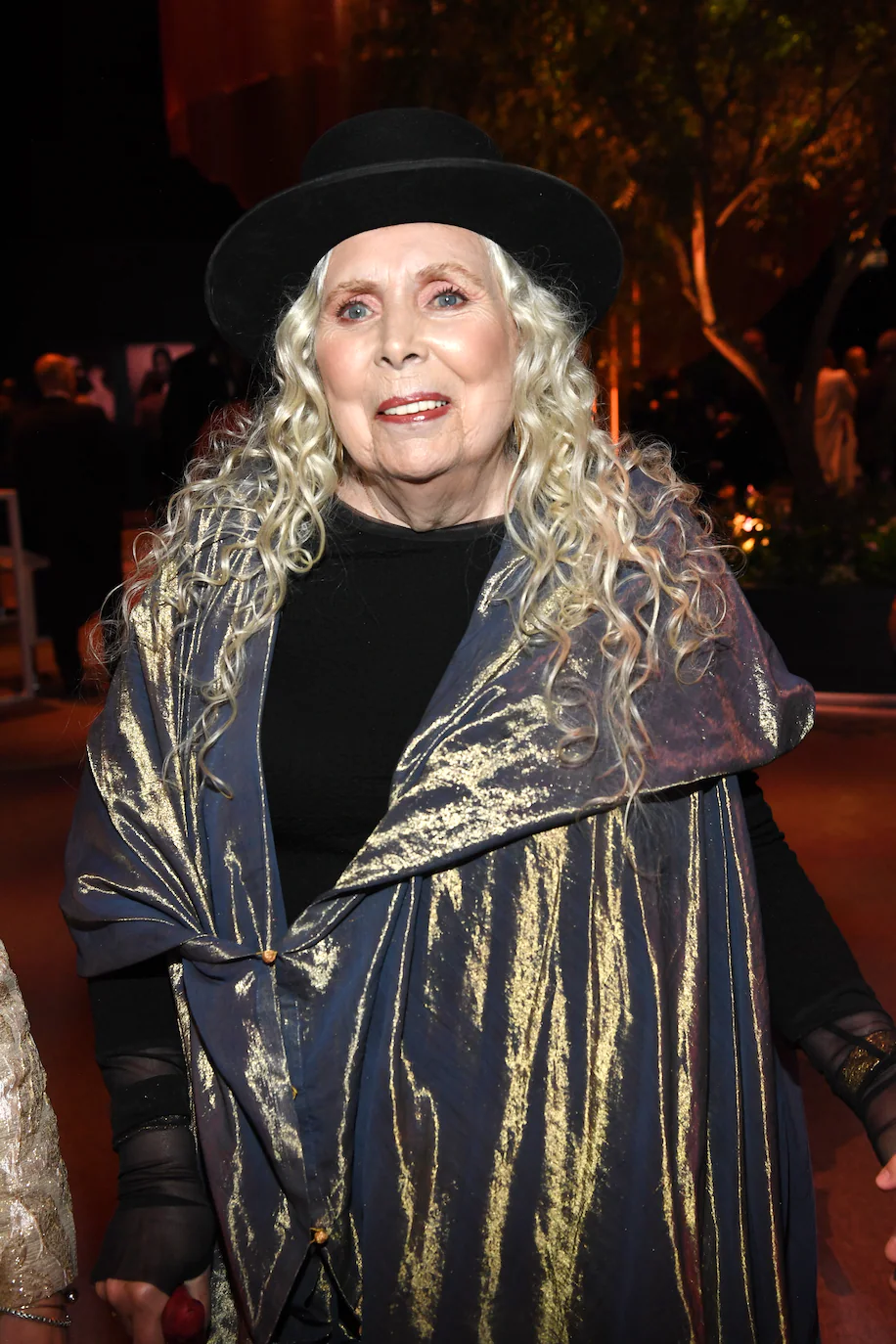 Joni Mitchell, who grew up to be one of pop music's most poetic lyricists, was not particularly keen on literature as a kid in Alberta.
"The only time I read in school was when it was compulsory, like for a book report," she told an interviewer in 1969.
But at that point, as she was settling into the Laurel Canyon home in Los Angeles she had just purchased with Graham Nash (yes, the very, very, very fine "Our House"), Mitchell was expanding her intellectual horizons. She was immersed in Herman Hesse, the visionary German Swiss author of "Steppenwolf" and "Siddhartha." Her favorite poet was her fellow Canadian Leonard Cohen, whose songs - most famously "Hallelujah," with its secret chord and its holy dark - explore not only love and loss but religion, politics and depression.
Despite all this, the interviewer described Mitchell almost dismissively, as a "wispy 25-year-old blonde" and a "girl who's so obviously perched on the verge."
That would change, forever, with the release two years later of "Blue," widely regarded as one of the great folk-rock albums of all time.
For many, perhaps most especially those of us who grew up in the vinyl records era, "Blue" will always matter, and it will always resonate. To this day, we wish we had a river we could skate away on. Even now, we could drink a case of you and still be on our feet. We'll still put on our finest silver; we'll laugh and toast to nothing and smash our empty glasses down. "Blue" has been widely celebrated during this, its 50th anniversary year, including with Carnegie Hall live performances of all its songs in order, by her devoted fan and friend Brandi Carlile.
But for my money, Mitchell's masterpiece was the one that came three years later, in 1974: "Court and Spark."
More experimental and more complex, "Court and Spark" was not only close to perfect in its own right, it also anticipated what Mitchell was becoming, where she was headed.
If "Blue" was her "Rubber Soul" - the sparkling apex of the Beatles' artistic first phrase - then "Court and Spark" was her "Revolver."
Granted, we experience music personally, and timing matters.
When "Blue" came out, I was a kid with brush-burned knees playing pickup basketball with my two older brothers in our Lackawanna, N.Y., driveway. As we listened to albums in the wood-paneled basement rec room, one brother was more inclined toward Simon & Garfunkel's "Bookends" and the other toward the Allman Brothers' "At Fillmore East." And they owned the record collection, which included almost nothing by women, at least that I recall, though Joan Baez's "Diamonds and Rust" eventually joined the likes of "Exile on Main St.," "Blonde on Blonde" and "Quadrophenia."
But "Court and Spark" was my album. By 1974, I was in high school, a teen who took my tortured emotions seriously, writing them down in my journals, composing free verse and looking for some help in understanding myself.
So this album, with its sand-colored cover that featured Mitchell's perfect little painting "The Mountain Loves the Sea," spoke to me. (The artwork "was done in a moment of whimsy" in Vancouver, B.C., Mitchell said, calling "the way they embraced each other" a metaphor, fitting for the album's themes of unsettled love that advances and recedes like crashing waves.)
When Mitchell sang "Twisted," I nodded, since the authority figures in my life, too, "just couldn't understand the idiomatic logic that went on in my head."
As for romantic anguish, I had my first boyfriend but was secretly infatuated with his best friend, so I could feel the pain of "listening to the sirens and the radio," waiting in vain for that "Car on a Hill." I was beginning to know how "it always seems so righteous at the start, when there's so much laughter, when there's so much spark, when there's so much sweetness in the dark."
Life was complicated, troubled, joyous, intense - and so was "Court and Spark."
None other than Madonna had much the same experience, she told an interviewer: "In high school, I worshiped Joni Mitchell and sang everything from 'Court and Spark,' my coming-of-age record."
I talked recently about this with my colleague Ann Hornaday, The Washington Post's movie critic, who not only agrees that it is Mitchell's best, hands down, but even now frequently goes to her piano to play its songs. She loves the album's complexity, its precisely calibrated production and the expertise of its backing band, the top-shelf session cats known as the L.A. Express.
The spareness of "Blue," Hornaday ventured, is like "a cool drink of pure water." But "Court and Spark," with its layers, its glossy California-tinged sound and its ability to intoxicate, offers something different. "It's like a perfectly mixed tequila sunrise," she told me.
We admirers of "Court and Spark" were legion.
Sales numbers are no predictable measure of greatness, but "Court and Spark" was Mitchell's most commercially successful album, going gold in five weeks. It produced two rare-for-her hit singles, "Help Me," with that haunting line, "We love our lovin' but not like we love our freedom," as well as "Free Man in Paris," another ode to being "unfettered and alive."
In 1974, "Court and Spark" sounded like the future, and it was. Her landmark jazz-inspired album, "Hejira," written after a series of road trips, couldn't have come straight from the spare folk-rock of "Blue." It needed to pass through "Court and Spark," just as the Beatles' revolutionary "White Album" needed "Revolver."
Not to mention the worlds it opened for other female singer-songwriters. Could Amy Winehouse's searing "Back to Black" exist without it? Maybe not. Nor "Jagged Little Pill" by Alanis Morissette, Liz Phair's "Exile in Guyville," or, as recently as in 2019, Lana Del Rey's "Norman Fucking Rockwell."
These days, Mitchell is 78, and she has struggled with health issues, including a grueling recovery from a brain aneurysm several years ago. She turned down an interview related to the Kennedy Center Honors she is expected to receive Dec. 5 in recognition of her lifetime contributions to American culture.
"She's capable of anything," her assistant told me by phone, explaining that her refusal to be interviewed was not related to her health - she simply doesn't like interviews with strangers.
Certainly, she endured the kind of media dragging in the past that might easily have stifled a far more extroverted performer, from the fans of her early albums who rejected her more experimental work, to the misogynistic rock press that gossiped about her supposed celebrity paramours, to the critics who chastised her for appearing on the cover of her 1977 album, "Don Juan's Reckless Daughter," in male drag and blackface (evoking her self-described alter ego, a Black hipster). Why risk an interview dredging up any of that?
Mitchell has tried to make it clear: For her, it is all about the art. She often has said that she defines herself more as painter than musician. On her live album "Miles of Aisles," hearing the audience clamoring for their favorite songs, she muses about the difference between the two, making it clear which she favors.
"A painter does a painting, and he paints it, and that's it, you know. He has the joy of creating it, it hangs on a wall, and somebody buys it, and maybe somebody buys it again - or maybe nobody buys it, and it sits up in a loft somewhere until he dies. But ... nobody ever said to Van Gogh, 'Paint us "Starry Night" again, man!' "
She offered a more poignant explanation in a rare 2000 interview with Toronto's Globe & Mail: "I sing my sorrow and I paint my joy," she said.
When Mitchell was broke and barely out of her teens, she gave birth to her only child, a daughter, whom she gave up for adoption - a lingering heartbreak that, she realized in hindsight, propelled her as a songwriter.
Mitchell holds two Grammy Awards at in 1996 in Los Angeles. (JEFF HAYNES/AFP/Getty Images) "It wasn't until I gave up this child and made my bad marriage [to her first husband, Chuck Mitchell, a few months later] that I began to suffer enough, which is the only thing that ever made me write - seriously write, secretly write. And the music kind of joined it," she told the Globe & Mail.
And so, she is "a painter derailed by circumstance," as she described it. But talking with her friend, the writer-director Cameron Crowe, for the Los Angeles Times last spring, Mitchell seemed to understand how important her songs have been.
"I'm always so moved when people tell me how the music has affected them," she said. "It's amazing to me that after everything, in spite of the criticism, that the intimacy paid off big time. It really did help people face their own intimacy, you know?"
I was disappointed not to have the chance to hear Mitchell's thoughts in person and ask her about her life and career. But I try to think about it more generously.
After all, in the more than four decades since I forked over a few of my babysitting dollars for "Court and Spark," Joni Mitchell has repaid me a thousandfold.