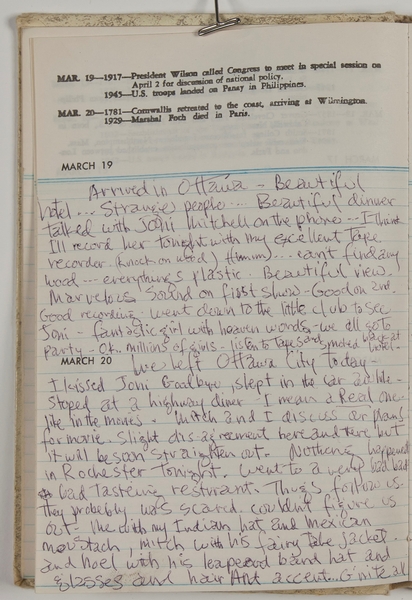 LOS ANGELES - On March 19, 1968, a 24-year-old Joni Mitchell was in the midst of a two-week residency at Le Hibou Coffee House in Ottawa, Ontario, Canada, playing to rave reviews in anticipation of her debut album, Song To A Seagull, which was set for release just a few days later on Reprise. Not long before Mitchell was scheduled to take the stage, Jimi Hendrix was just finishing his second sold-out show of the night at the Capitol Theater a few blocks away. Earlier in the day, Hendrix had spoken to Mitchell and noted his plans to record her in his diary entry for that day:
"talked with Joni Mitchell on the phone. I think I'll record her tonight with my excellent tape recorder (knock on wood) . . . hmmm . . . can't find any wood . . . everything's plastic"
Following his two performances on that night, Hendrix rolled in to Le Hibou with his reel-to-reel recorder as promised and kneeled in front of the stage, unnoticed by most, and recorded Mitchell's two sets that evening. As he also noted in his diary, Hendrix, like many others at the time, was mesmerized by Mitchell: "fantastic girl with heaven words."
Hendrix's tape from that night was stolen a few days later, with the recording thought to be lost forever. The recording was recently discovered in a private collection that was donated to the Library and Archives Canada (LAC) and returned to Mitchell. Now, over 50 years later, the "heaven words" spoken of by Hendrix will be released on October 29 as part of JONI MITCHELL ARCHIVES VOL. 2: THE REPRISE YEARS (1968-1971). As a preview of the recording, Mitchell's performance of "The Dawntreader" from that night is available today digitally.
Mitchell reflects back on that night in her conversation with Cameron Crowe from ARCHIVES VOL. 2 liner notes: "They came and told me, 'Jimi Hendrix is here, and he's at the front door.' I went to meet him. He had a large box. He said to me, 'My name is Jimi Hendrix. I'm on the same label as you. Reprise Records.' We were both signed about the same time. He said, 'I'd like to record your show. Do you mind?' I said, 'no, not at all.' There was a large reel-to-reel tape recorder in the box." "The stage was only about a foot off the ground. He knelt at edge of the stage, with a microphone, at my feet. All during the show, he kept twisting knobs. He was engineering it, I don't know what he was controlling, volume? He was watching the needles or something, messing with knobs. He beautifully recorded this tape. Of course I played part of the show to him. He was right below me."
JONI MITCHELL ARCHIVES VOL. 2: THE REPRISE YEARS (1968-1971) will be released as a 5-CD set ($64.98) as well as digitally. The music will also be available exclusively at www.JoniMitchell.com as a 10-LP set ($249.98) on 180-gram vinyl, limited to 4,000 copies. All orders on the official Joni Mitchell store come with an exclusive 7"x7" art print featuring a never-before-seen illustration by Mitchell from the era.
The tracks on ARCHIVES VOL. 2 have been sequenced chronologically to follow Mitchell in real time through one of the most creative periods of her career. The collection uncovers several unreleased Mitchell originals, including "Jesus" recorded in 1969 at her friend Jane Lurie's New York apartment in Chelsea, which also served as the setting for the song "Chelsea Morning."
Other highlights include five Blue outtakes that were released digitally last month as Blue 50 (Demos & Outtakes) including early demos of "A Case Of You" and California," a version of "River" that adds French horns, an alternate take of "Urge For Going," and the unreleased song "Hunter." Also featured is a concert at the Paris Theatre in London on October 29, 1970, that was broadcast on the BBC, in which singer-songwriter James Taylor joins Mitchell for the second half of the show.
Among the other treasures on ARCHIVES VOL. 2 is Mitchell's complete Carnegie Hall debut, recorded on February 1, 1969, a few months before the release of her second album, Clouds, which would win Mitchell her first of nine Grammy Awards. In addition to its inclusion on ARCHIVES VOL. 2, the concert will also be released separately on October 29 as a 3-LP set on 180-gram vinyl for $59.98, with an exclusive 180-gram, white vinyl version, limited to 3,000 copies, available at www.JoniMitchell.com.
Like its predecessor, ARCHIVES VOL. 2 includes a booklet illustrated with many unseen photos from Mitchell's personal collection, as well as new liner notes reflecting conversations about the time period between Crowe and Mitchell.
ARCHIVES VOL. 2 serves as a companion to recently released boxed set The Reprise Albums (1968-1971), which is available now in 4-CD, 4-LP, and digital versions. It includes newly remastered versions of Song To A Seagull (1968), Clouds (1969), Blue (1971) and Ladies Of The Canyon (1970).