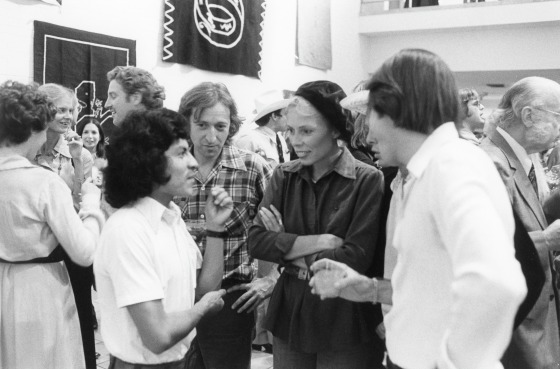 Many leading Fort Worth artists and others, including Boyd Elder, designer of The Eagles album covers, have submitted paintings and designs for Everlasting Production rugs.
Undoubtedly the famous of this artist group is Joni Mitchell, who has had several rugs made from her sketches. She has been so pleased with the reproduction that she and her record company have purchased the final product.
Miss Mitchell's rugs are on display with 35 other works which will be hanging at the Dallas Museum of Fine Arts through Oct. 17.
This exhibit is the fourth major show since the company first began in 1974.
Miss Mitchell has managed to slip into most of the exhibits, creating quite a fanfare when she comes with guitar in hand to entertain a party after the main opening.
From the DMA website:
Begin Date: 1976-09-15, End Date: 1976-10-27
Artists:
Avila, Karen
Bevan, Lionel
Burnett, T -Bone
Elder, Boyd
Fleming, John
Ganzer, Jim
Gentling, Scott
Gill, Pete
Jenkins, Bill
Jenkins, Sheila
Lamb, Nancy
Mitchell, Joni
Price, Ken
Scholder, Larry
Wade, Robert
West, Roscoe