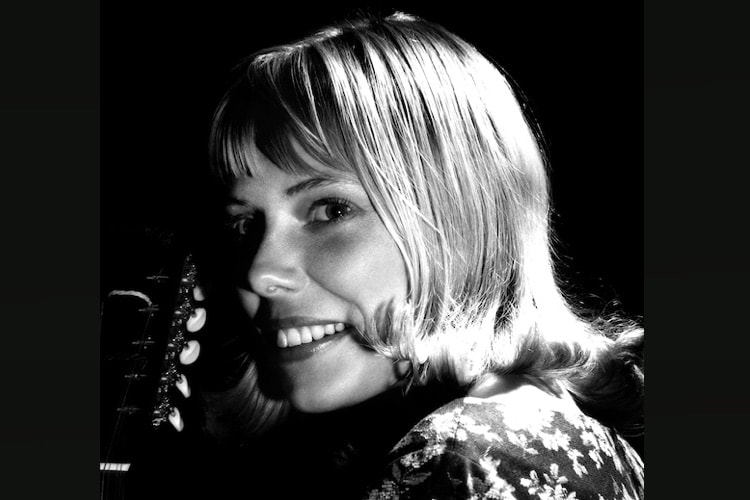 Despite being regarded as one of her generation's greatest singer-songwriters, Joni Mitchell labored in relative obscurity for years before Reprise released her debut album, Songs to a Seagull (1968). Prior to that, she was writing and performing prolifically, while her songs were more famously covered by other artists (Judy Collins, Tom Rush). Rhino has just released the first of what we hope will be a series of archival volumes, The Early Years (1963-1967). Richie Unterberger speaks with Rhino's Patrick Milligan about the genesis of this project.
"I've written a couple of new songs since you wrote, and I think you'll like this one especially," says Joni Mitchell on a tape she made for her mother's birthday in 1965. Then she sings "Urge for Going," her first truly outstanding composition, accompanying herself on acoustic guitar. The performance is a bit more tremulous than the one that would land on a non-LP B-side seven years later. But it's obvious this is a singer-songwriter of enormous talent, about three years before her debut album would hit the stores.
"Urge for Going" wouldn't be on that debut LP. Nor would literally dozens of other songs she wrote and performed before Song to a Seagull finally made her music available on disc. Some have circulated on tapes of live shows and radio broadcasts, but few had heard most of them until Rhino's five-CD Archives Vol. 1: The Early Years (1963-1967) box was released in late 2020. With nearly a hundred performances from folk clubs, radio and TV programs, and home tapes, it's an astonishing trove of material, all previously unreleased.
This is more than just another dive into the vault of a major artist's rarities, as welcome as those are. No other performer of Mitchell's stature wrote and performed such a rich and impressive wealth of music before making their vinyl debut. It fills in a missing, major chapter of her oeuvre, tracing her evolution from a ukulele-strumming traditional folkie to an innovator on the cusp of taking her place among the finest singer-songwriters of the late 1960s.
It also allows us to follow her rapid growth as a vocalist and guitarist. Even on cuts taped just a few months apart, her rise in skill and confidence is striking as she refines the arrangements and delivery. And while most of the songs wouldn't find a place on her studio releases, there are earlier versions about a dozen songs that would surface on her first four albums, including six that would show up on her debut LP alone. You could construct something of an alternate Mitchell debut from these different versions, but the set's value runs far deeper than offering previews of well-known classics like "Both Sides Now," "Chelsea Morning," and "Night in the City."
Archives Vol. 1: The Beginnings
Archives Vol. 1 was co-produced for release by Mitchell with Rhino A&R director Patrick Milligan. Shortly after the box came out, I talked with Milligan about how the collection was conceived and assembled. As Joni's never dug into her past for official product before, what got this project off the ground?
Rhino's management, Milligan explains, was in discussion with Mitchell's longtime manager Elliot Roberts (who died in 2019) "on making a new deal to remaster Joni's catalog. I started looking at what we could do, and sort of looked at the standard way of adding bonus material to albums. I'm not sure that really fits Joni very well. I don't think she would like that. Her albums are such complete works, and completely thought out, that adding stuff to it is not the right approach...or would "make people buy [the] records again. I started thinking, maybe there's just a companion series to the records that's all this extra material. A lot of it came from Joni that was at her house. During a previous project, some of the Rhino people had talked her into getting these things out of her house and putting them in the Warner vault, having them transferred.
"A little before that, I guess, Joni had been contacted by Barry Bowman, who had that 1963 tape from Saskatoon" - nine songs from which lead off the set. "Elliot sent that to me, and when we met to talk about this idea of doing an archive series, I said, 'Well, look, because there's so much early stuff before the first album, maybe just start this off with a set that is all the early material.' He really liked that, and said, 'It's kind of like the Neil Young Archives thing, which is a great model, and we love that.' So he really ended up selling Joni on it."
The Barry Bowman tape, originally broadcast on Saskatoon's CFQC-AM, features Mitchell performing traditional folk songs like "House of the Rising Sun," "John Hardy," and "Nancy Whiskey," in a style not dissimilar from early Judy Collins. (In fact, Collins herself featured another tune from this tape, "Anathea," on her third album, which was recorded around the same time.) She accompanied herself not on guitar, but with a $36 four-string ukulele. As rudimentary as it is compared to the original material dominating the next four discs, it played a key role in fanning Mitchell's enthusiasm for a deeper dive.
"That early tape, she really liked a lot," Milligan elaborates. "I think it really kind of opened her ears to her early years, stuff that she'd kind of written off before. That got her kind of excited, and at one point, she said, 'I want this to be my next album.' That's why we put that out as a separate LP release, too."
Mitchell even sketched a self-portrait for the cover (also used as the art for disc one of the box), issued on vinyl as Early Joni 1963. Had that actually come out back in 1963, it would have been a highly respectable traditional folk album, as her high crystalline vocals and firm grasp of the style were well in evidence. But it wouldn't have stood out all that much from numerous other releases in the folk boom, including quite a few from other woman singers with a devout delivery and pristine upper register.
As a full box was assembled, "it over time built into this thing that she, as it came more into focus, got more excited about," says Milligan. "She was very involved and engaged in it, and really loved talking with Cameron [Crowe]," resulting in a lengthy Q&A featured in the 36-page booklet. Joni "seems to be really happy about the whole thing."
As for how the final batch was determined, "She listened to a lot of stuff and got back with comments. She's listened to every test pressing, every master. It's really nice, 'cause she'll call and say, 'Well, I listened to this. It's like, you know, yeah, this is pretty good! I wasn't a bad guitar player!'" he laughs.
"It was just getting a little bit overwhelming. I suggested, well, let me go through what you've already commented on, and sort of put something together to see if we can trim this down to something that works. I sent her that, she listened, and she liked it."
From Traditional Folk to First Compositions
After kicking off with the Barry Bowman tape, there's more traditional folk on disc one, with ten songs from a set at Toronto's Half Beat club in October 1964. Three others are from a home tape in February 1965, highlighted by her strong rendition of the Weavers' "Seven Daffodils," her best straight folk interpretation. Mitchell never abandoned outside material entirely, offering a decent cover of John Phillips's "Me and My Uncle" on a 1965 TV broadcast and an a cappella version of the traditional number "The Dowie Dens of Yarrow" at an October 1967 show at Ann Arbor's Canterbury House.
But it was as a composer, not an interpreter, that Mitchell would make her mark. The "Urge for Going" on the birthday tape for her mom makes that clear, though the other early efforts from that source are more derivative tail-end folk boom fodder, like the ramblin' road ode "Born to Take the Highway." When she taped a demo in Detroit on August 24, 1965 that she sent to Elektra Records chief Jac Holzman, everything was from her pen. None of the songs it featured would make her studio albums, though the pensive "Day After Day" - her first original composition - is one of the best on this set that wouldn't join her official catalog.
Since only the date and location of the Elektra demos are noted on the box, I asked Milligan if there was any back story to these. "I don't have a ton of details," he remarks. "I know that it's something that Joni recorded at home, and sent to Jac. I don't believe it was a solicited thing. This was just a tape Joni made and sent." She wasn't the only future star trying to get on Elektra with a simple demo at the time. In December 1965, Neil Young recorded a handful of solo acoustic tracks at Elektra in New York, including early versions of "Sugar Mountain" and "Nowadays Clancy Can't Even Sing." Elektra passed on both artists, and it's not even clear how seriously the demos were evaluated, or if Holzman himself heard them.
The actual tape box of Mitchell's Elektra demo is reproduced on the cover of disc two in Archives Vol. 1, and lists eight songs, though only five are included in the set. (Three of these, however - "Urge for Going," "Born to Take the Highway," and "Here Today and Gone Tomorrow" - are represented elsewhere in the collection in different versions from the same era.)
"You can see the last song on there is just a question mark, 'cause it was untitled," adds Milligan. "We had that listed as 'Untitled.' And it occurred to me, we can't do that. This is Joni's set, she can title the song. So she listened to it and said oh yeah, it's 'Like the Lonely Swallow'" - one of numerous songs on the box that hadn't previously circulated in any form.
The exclusion of a few Elektra demos does lead to the question of whether much other material exists that didn't make the cut. "Her repertoire was pretty consistent at the time, so from one show to the next, she was doing a lot of the same songs," Milligan observes. "I didn't want to repeat them too many times. Even as it is, there's several versions of [some] songs."
So Patrick alternated radio, home, and live performances "so it wasn't a bunch of one thing. And to sort of keep the significant things in, like the 'Urge for Going' tape [to] her mom. Then her doing 'Both Sides Now' on Folklore," in March 1967 on a Philadelphia radio show, "where at the end Gene Shay asks her, 'When did you write that?' She goes, 'Oh, about three days ago.' Those performances really seemed historically significant. And they're beautiful performances, too."
Emergence as Major Singer-Songwriter
If there's a juncture where Mitchell emerges as not just a promising talent but a significant one, it's found in the half-dozen songs from November 1966 at Philadelphia's small Second Fret club, where she often played in her early career. Alongside "Urge for Going" and relatively callow early compositions like "Brandy Eyes" and "What's the Story Mr. Blue" are "Night in the City," which would be a highlight of her first album, and "The Circle Game," held back for her third LP, 1970's Ladies of the Canyon. Also drawn from that show, the superbly bittersweet "Eastern Rain" rates as the best song on the entire box that wouldn't find a place on her studio releases, though Fairport Convention did an excellent version (with Sandy Denny on lead vocals) on their second album.
Just four months later, her craft was accelerating at a yet higher pace. On the March 12, 1967 Folklore radio program, she reports having written a dozen new songs since she was "here last." In her introduction to "Both Sides Now," she exclaims, "I'm really glad that somebody requested that. Because that's a very new song, and I've been driving everybody crazy by playing it twice and three times a night." Compare her November 1966 and March 1967 arrangements of "Eastern Rain," and there's a palpable rise in the dexterous sophistication of the guitar work and assured polish of her vocals, though the song remains the same.
"That's one of the things that was really exciting about this set, is that you see that development," agrees Milligan. "It's real interesting too, just from disc to disc, that each one is another chapter in the story. That first disc is all her in Canada doing folk songs. By the second disc, she's in Detroit writing her own songs. The whole first part of this first disc and through the Jac Holzman [demos], she's playing standard tuning, and then you start hearing her using her own. All of that stuff unfolds as you go. I think that's true of her performing too. You hear her confidence build, and her rapport with the audience - the funny stories that she tells while she's tuning, and all that."
None are more interesting and amusing than the one preceding "Cactus Tree," where she asserts, "I haven't, I don't think, really been influenced by Mr. Dylan. I could never quite understand a lot of things about him." After seeing Don't Look Back, she adds, "It all made sense...I found out that Eric Andersen is Dylan's sense of humor." Blatantly Dylan-esque David Blue, on the other hand, "is sort of his philosophical grouchy side. So if you put David Blue and Eric Andersen together, if you've known them for a while, suddenly there's this person on the screen...it's just like a tennis match between Eric and David," she giggles.
By 1967, Mitchell was gaining some renown in the music business as a songwriter, if not yet as a recording artist. "Urge for Going" was covered by Tom Rush, and then for a country hit by George Hamilton IV. Fellow Canadians Buffy Sainte-Marie and Ian & Sylvia did "The Circle Game." Most famously, Judy Collins put "Both Sides Now" on her 1967 album Wildflowers, though it wasn't until a year later that became a Top Ten hit. Why did it take so long for Mitchell to land a recording deal of her own?
In part this was because she wanted far more artistic control over her product than most newly signed musicians, even to the extent of designing her own album covers. In part it might have been because, unlike almost every other singer-songwriter to emerge from the folk circuit, Mitchell didn't move from acoustic accompaniment to electric rock. In fact, she wouldn't do so on record until after she had a few albums under her belt in the early '70s. "In some ways, maybe a lot of people didn't stop to realize Joni's songwriting," feels Patrick Milligan. "Which is odd, since she was having hits [via covers of her compositions by others] before she was signed. But I think to some extent it's like, 'Eh, this is a crowded market that's on its way out.' That was a bit of what was going on."
As Tom Rush told me in an interview nearly twenty years ago, "I took some of her stuff to Jac [Holzman], and he said she sounded too much like Judy Collins, which in fact she probably did. But so what?! C'mon, Jac! Listen to the songs! I thought the songwriting was so strong that it didn't matter. Then I tried to get Judy to do some of her stuff, and Judy wasn't biting either until 'Both Sides Now.'"
Archives Oddities
From a selfish twenty-first century perspective, that peculiar lag might have made this archival box more interesting. For Mitchell had more time to write and perform, filling her sets with quite a few songs that would have been lost to time had not some tapes been running. Among the surfeit of material were some intriguing oddities, like "Dr. Junk," which uses a bona fide Bo Diddley beat (and generated one of the most obscure Joni covers when the Ian Campbell Group did it on a 1968 UK album). "Songs to Aging Children Come" has a plain folk backing, though the version on her second LP would use extensive multi-track vocals. On a May 1967 recording simply referred to as sourced from "Michael's birthday tape," an instrumental improvisation hints at jazzier directions with her wordless scat vocals and fetching, unpredictably shifting melody.
Most unexpected of all is a May 1967 radio performance of Neil Young's "Sugar Mountain," before Young had released it on disc. "This is a great song," she tells the host. "The only thing was that I didn't agree with the philosophy" of "I'm washed up at twenty." But as she hastens to add, "Even if you don't believe that, it's a great song." Mitchell's own "The Circle Game," she clarifies, "is exactly the opposite."
In Milligan's view, "Dr. Junk," "Free Darling," and "some things like that are kind of more playful, just lighthearted, and not serious songs. 'Free Darling' is sort of almost swirly psychedelic-y. So they're very of their time too, which makes them kind of interesting. I think she sort of considered those throwaway things." Along the same lines, she puts a Coke jingle into "Ballerina Valerie," and "Gift of the Magi" is introduced as a "Christmas carol, and it's too late in the year to record it...kind of a Christmas operetta."
According to Milligan, "When she ended up talking to Cameron, those are things he brought up. He said, 'Wow, these songs are great. They're gems.' Her second conversation with him, she said, 'You know, you're my best editor. Because all these things that I was thinking about not using, you said are gems.' Cameron said, 'Well, I might have overused the word gems.' And she said, 'No you don't.'"
As interesting as all of these leftovers are to hear, they're definitely not, with a couple of exceptions like "Eastern Rain" and "Urge for Going," on par with what she'd soon select for her official albums. And as enjoyable and accomplished as some of these rarely heard compositions are, they sometimes sound similar to, and not as distinct as, the ones that did pass muster. Milligan has some insights as to why some of this work never found its way onto record, and why even some of the classics didn't make her first one or two LPs.
"It's interesting that so many of the songs that did end up on later albums go all the way through Blue," he points out, though just one from Blue ("Little Green") is heard on the box. "You think about her first album and all these great songs that she had, and songs that were already hits, 'Urge for Going' and 'Both Sides Now.' [But] she had an idea for the first album of what she wanted that to be. Kind of like every record she's made, there's sort of a concept to it, and each side [of the LP]. There's demos of her basically laying out that record, so it was a very sort of determined thing.
"So to her it was like, 'I have these big songs, but they don't fit the record. So I'm not using them' - that's me saying that, that's not her saying that. That's kind of what it feels like when you see that first record. It's like wow, you would have expected immediately 'Urge for Going,' 'Circle Game,' and 'Both Sides Now' would have been on that."
Continues Patrick, "To some extent obviously any songwriter, you're constantly writing. So you have new material, and you tend to be more interested in that. With Joni - not just on this set, but through the arc of her entire career - she's constantly moving from one thing to the next. It's maybe just she loses interest in that stuff. There were things that she did revisit; 'Little Green' ended up on Blue" in 1971. By her second album, 1969's Clouds, "She did come back to at least 'Both Sides Now,' 'I Don't Know Where I Stand, and things like that. I think again, those just sort of fit those albums at the time, and that's why they ended up where they did."
"I think some of that has to do with, if the song has a place, and it fits the narrative of what she's doing, then she'll use it. The albums, they're conceived as fully self-contained works that sort of tell a story and narrative. You hear that a lot, I think, in the shows. How she strings songs together, to sort of go from one to the next, and tell a story on how they're interrelated. That's always been kind of an approach for her."
Future Joni Mitchell Archives Volumes?
For all Archives Vol. 1's size and scope, there are some unreleased tapes known to exist that aren't represented. She occasionally performed in a duo with her first husband, Chuck Mitchell, in the mid-1960s. Probably between a year or two before her debut album, she recorded demos of "Night in the City" and "The Circle Game" that were produced by Corky Siegel and Jim Schwall of the Siegel-Schwall Band, an electric blues group similar in style to the Paul Butterfield Blues Band. "The Circle Game" had a squeaky trumpet fanfare and no guitar presence of note. "Night in the City" was yet weirder, with violin, cello, mandolin, and a chorus whose beats fell someplace between polka and square dance call.
As to why these left-field detours aren't on the box, says Milligan, "We had some of it, but she didn't want to use it. The Chuck stuff I've heard for the most part is them doing their own songs. It seems they don't really do a lot of duets. She wasn't interested in using any of Chuck's, and the Siegel-Schwall stuff, she didn't really care for. It seems to me that the idea for doing those was just to kind of make song demos, to put them in a context that people could hear those fully arranged songs. Her first few albums didn't have that approach with that kind of instrumentation. That's just kind of not how she envisioned herself."
There's such a wealth of music on Archives Vol. 1 that it's unlikely many fans will notice omissions, let alone complain about them. Yet the use of "volume one" in the title - as well as the enthusiastic reception for archival series like the Neil Young Archives and Bob Dylan's Bootleg Series - naturally stokes our curiosity as to how much more might be on the way.
Just in 1969, for instance, it's known that Mitchell's concerts on February 1 at Carnegie Hall and February 14 at UC Berkeley were recorded for a possible live album. It was even reported as being ready for release in the May 17, 1969 issue of Rolling Stone, but never came out, though some between-song rap was used on the sampler The 1969 Warner/Reprise Record Show.
On the studio front, session sheets confirm that there are outtakes of at least three songs recorded for, but not appearing on, her debut album. Live versions of all them ("Conversation," "Go Tell the Drummer Man," and "Come to the Sunshine") do appear on Archives Vol. 1, all from her October 27, 1967 performance at the Canterbury House in Ann Arbor.
Could, say, a second Archives volume feature unreleased material from 1968-1970, when she issued her first three albums? It's premature for anyone to say, though as Milligan notes, "Joni herself says, 'I didn't really leave a lot of stuff behind.' I think when she's doing records, she thinks of them as fully realized things. So I don't think she really does leave a lot behind. I don't know how open to studio stuff she's going to be, 'cause those records are pretty perfectly realized works in their own."
Whatever the plans for a Mitchell archive series, this first volume leaves us with plenty to enjoy and discuss in the meantime. Had she recorded nothing else, it would stand as a notable body of work, even if there's a gap in quality between the highlights and the songs that were almost wholly lost to time. Fortunately, she did record a lot more in the years to come, at times deviating almost unrecognizably from her folk origins, yet almost always rooted in the directions she forged in these first five years.