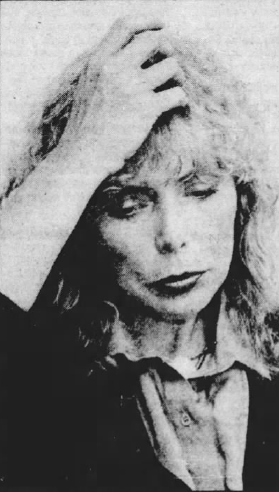 BACKSTAGE at her Coliseum show Sunday, Joni Mitchell was beaming over a collection of her paintings in a book to be published this fall.
The book is the work of a former Vancouver photographer, Debbie Chesher, who freelanced here before going to Los Angeles 3 1/2 years ago.
Chesher found the L.A. grind too much so came up with her own project: Starart, featuring original art by Mitchell, the Rolling Stones' Ron Wood, former Beatle sideman Klaus Voormann, British bluesman John Mayall, folksinger Cat Stevens, and country rocker Commander Cody.
You'd think a 25-year-old Calgary-born woman wouldn't have a chance in luring such company. But she pulled it off. "Getting to see the artists was the hardest. Once I talked to them it didn't take long to get permission."
Mitchell is grateful. Pre-Chesher, she'd had a deal for three years with another publisher. "But they wouldn't do it the way I wanted it."
Spectator also chatted with Mitchell about her legendary retreat on Sechelt. Well, Mitchell says, the problem that it's not so secret. "A lot of people keep coming to visit me up there. If it were a real retreat, I might use it more often."
Undeterred, she was heading there for a few days following Sunday's concert.
The Coliseum show was a family affair for the former Joan Anderson of Macleod, Alta. The audience included mom and dad in from Saskatchewan, plus other family and friends from the past, including "the butcher's daughter from the town I grew up in."
Mitchell, who is 36 and now lives in Los Angeles, mused about roots and old friends and said: "The words take on a different connotation when you know the butcher's daughter from 20 years ago is out there."