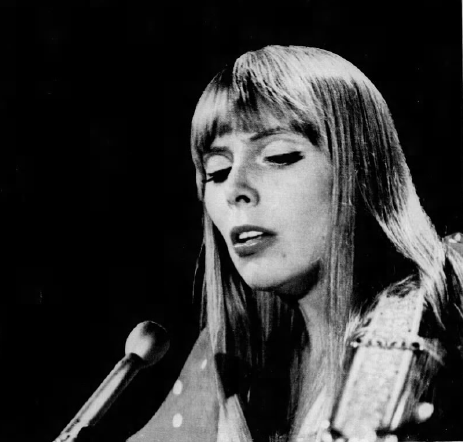 Joni Mitchell, who may well be just about everybody's visual idea of the perfect folk singer, with her waist-length blonde hair, dramatic bone structure and subtle sensuality, has come a long way since her early days as a song writer and performer.
A native of McLeod, Alberta, she attended public school in Saskatoon, Saskatchewan, as Roberta Joan Anderson. Bent on a career as a commercial artist, she enrolled in the Albert College of Art in Calgary.
Just to pass the time, she took along a ukelele and, after mastering a few chords and traditional ballads, was able to earn extra money singing. She got her first job in a coffee house called The Depression.
As time went on, singing dominated her life, and she made off for the Mariposa Folk Festival in Ontario, a three-day trip during which she wrote her first song. Day After Day.
Joni didn't return to Alberta, instead found work in half-a-dozen Toronto coffee houses and continued to write songs. She soon earned a reputation, in fact, as one of the best young composers in the business, although her tunes and lyrics primarily evoke moods, emotions and changes of scenery instead of proclaiming social messages of political protest. They are songs about love or about a country girl's cool-eyed reaction to urban life.
While in Toronto, she met and married another folk singer named Chuck Mitchell. A year later they moved to Detroit, but the marriage ended in divorce soon after.
Joni continued appearing in clubs in Detroit, then went to New York where she was discovered and signed by a record company.
Since then she has moved steadily into the front rank of American folk performers - the unquestioned hit of numerous Pop Festivals, a best selling recording star, and a frequent guest on Canadian and United States television programs.
Her songs are heard everywhere - Frank Sinatra, Andy Williams and Judy Collins have all recorded the plaintive Both Sides Now; The Circle Game (sung by Buffy St. Marie) is used over the credits of the film The Strawberry Statement; both Michael from Mountains and I Had a King found their way into revues.
Although she now makes her home in California, in a ramshackle house in Los Angeles' Laurel Canyon, Joni Mitchell is still regarded as Canada's foremost folk singer.