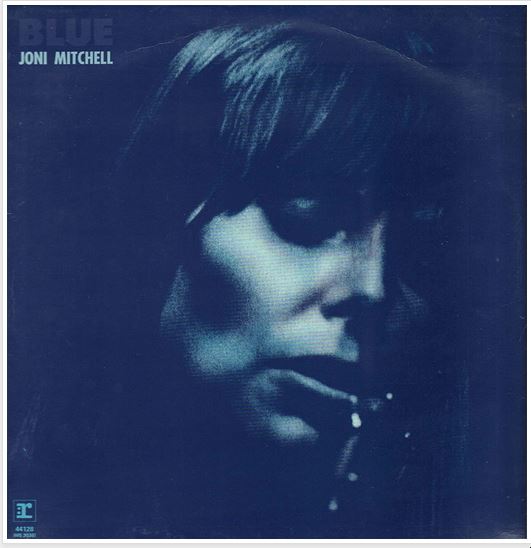 It's coming on Christmas,
They're cutting down trees.
Putting up reindeer
Singing songs of joy and peace,
Oh, I wish I had a river I could skate away on.
Two years ago, I was getting on a bus to go see "Remember My Name", the David Crosby documentary. The person I was sharing my seat with was starting to put in some earbuds to listen to something. He stopped, looked at me, and asked if I knew the song River, by Joni Mitchell. That led to a fifteen-minute conversation about Joni, her music and some of the other musicians from that era.
In a more than four-decade career that encompassed nineteen studio albums, River is the song that may be most associated with Joni. It certainly is her most discussed. Is it a Christmas song? Is it a song about the despair of a broken romance? Yes and yes...it's both. The song has become so popular that in the last fifty years, it's been covered more than two-hundred times.
The album River is on, BLUE, is full of these types of songs. It's ten songs full of Mitchell's angst due to ended relationships, a daughter she gave up at birth, her disillusionment with the music business, her need to get away from California and her need to come back to her California home. When you finished listening to BLUE, you felt you knew the 1970 version of Joni Mitchell's life. She didn't leave much out. When asked about BLUE in 1979, Mitchell said:
"The BLUE album, there's hardly a dishonest note in the vocals. At that period of my life, I had no personal defenses. I felt like a cellophane wrapper on a pack of cigarettes. I felt like I had absolutely no secrets from the world and I couldn't pretend in my life to be strong. Or to be happy. But the advantage of it in the music was that there were no defenses there either."
As painful as BLUE was to make, that's why it's acclaimed as one of the best albums ever made. The original reviews show nothing less than five-stars. I found fifteen different polls that have it in their top ten greatest albums of all-time. The album's sales were great, too. BLUE was certified as platinum for having sold more than one million albums.
How does BLUE hold up fifty years after its release? When Rolling Stone magazine revisited their list of The 500 Greatest of All-Time, they moved BLUE up twenty-seven spots to number three. The pain that you felt for Joni in 1971 can still be felt when you listen to the album in 2021. Maybe that's why when you get on a bus, a stranger wants to discuss River, BLUE, Joni Mitchell and her music. Fifty years later, it's still relevant. I'm sure it still will be fifty years from now.
I'm so hard to handle
I'm selfish and I'm sad
Now I've gone and lost the best baby
That I ever had
I wish I had a river I could skate away on