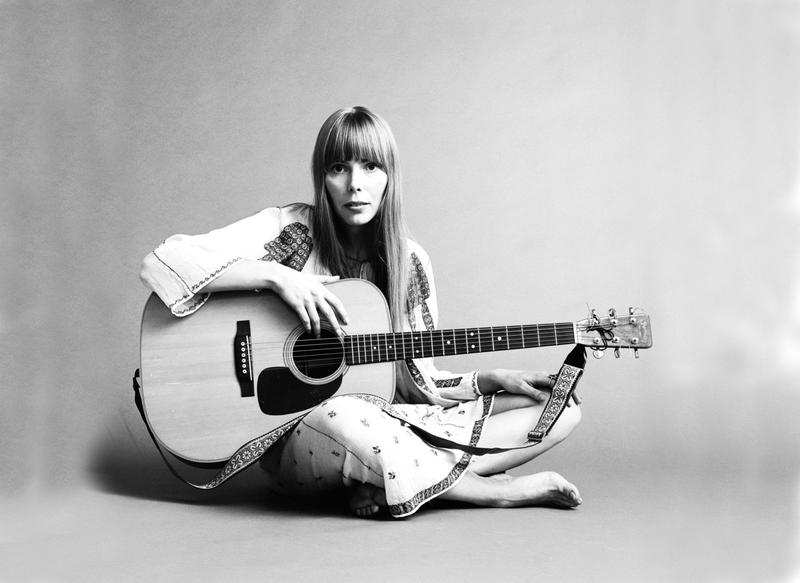 Don't call Joni Mitchell a confessional songwriter. "The point is not to confess," she once explained. "I've always used the song-writing process as a self-analysis of sorts. Like the Blue album - people were kind of shocked at the intimacy. It was peculiar in the pop arena at that time, because you were supposed to portray yourself as bigger than life. I remember thinking, 'Well, if they're going to worship me, they should know who they're worshipping'."
Confessional or not, artists like Morrissey, Mary Black, Bob Dylan, Neil Young, Prince, Elvis Costello and Bjork have fallen in love with the music, and, in some cases, recorded the songs of Joni Mitchell down through the years. Blue remains one of the most moving and melancholic albums ever recorded. It is almost set in stone to never criticise it, or Mitchell, possibly because no one else sings quite like her.
In 1985, Prince said Mitchell's 1975 record The Hissing of Summer Lawns was "the last album I loved all the way through". Lorde said in 2017: "I want to be Joni Mitchell."
Now, fans and fellow artists can trace how Mitchell developed as an artist. She has released Archives 1: The Early Years (1963-1967), a five-CD box set of her earliest recordings that capture her before she became a star: it is six hours of material from the years prior to her 1968 debut album, Song to a Seagull.
The singer-songwriter from Fort MacLeod, Canada, has huge artistic credibility, but her records have never sold in big numbers. What might have held her back was a misogynist music industry not fond of - or used to - a female artist speaking her mind.
When Judy Collins, in 1967, and Frank Sinatra, in 1968, covered her classic Both Sides Now, Mitchell described Collins's version as "pretty lightweight" before adding that Ol' Blue Eyes's take on the song "wasn't his bag and the arrangement was just a really bad copy of Judy Collins's arrangement".
In 2002, she eviscerated Madonna ("She has knocked the importance of talent out of the arena; she's manufactured") and, in 2010, denounced godhead himself, Dylan. ("Bob is not authentic at all. He's a plagiarist, and his name and voice are fake. Everything about Bob is a deception." She mustn't have liked his cover of Big Yellow Taxi on his 1970 LP Self Portrait.)
In a moment of career madness, she also tore into the host of America's biggest TV show in 2001. "Letterman treats musicians like the armpit of the [entertainment] industry. He tags you on at the end, never talks to you - while he talks to the dimmest actress."
Her one-time boyfriend David Crosby remarked a few years ago: "Joni is about as humble as Mussolini." Her ex-manager and label boss, David Geffen, said of her: "If I didn't talk to her for the rest of my life, I wouldn't miss her for a minute."
"David is almost like my mother," Mitchell told W magazine in 2002. "With him, I'll always be a little girl. David seems to have an inability to see me fresh."
Mitchell seemed to hate practically every aspect of the male-dominated music industry. She said that women can't use the "patriarchal device" and say 'you'. "Dylan uses it all the time, but I used 'you' on The Hissing of Summer Lawns and everything rained down on me."
In 2002, she announced her retirement from the record business to paint. She said her album Travelogue that year would be her last. In 2007, she came back with Shine.
On CD 1 of Archives Vol 1, House of the Rising Sun, along with a cover of Molly Malone and Nancy Whiskey, is the first time she was ever recorded, circa 1963, on Radio Station CFQC AM in Canada.
There is also her first demo, Day After Day, plus early versions of Michael From Mountains and I had a King (that would appear on Song to a Seagull); Chelsea Morning and Both Sides Now (songs that would appear on her 1969 album Clouds); and The Circle Game, which ended up on her 1970 album Ladies of the Canyon. It was inspired by her pal Neil Young's Sugar Mountain - of which there is also a basic version by Mitchell here, on the radio in Philadelphia in May 1967.
On disc 5, the listener is treated to Mitchell singing Little Green live in October 1967. The song would turn up four years later on the Blue album.
In 1965, when she was 21, Mitchell had a daughter, after a brief liaison with a classmate at art school in Calgary. Putting the baby up for adoption, she kept the child a secret for three decades.
"The time of her birth really was traumatic for me," she told Hot Press in 2002. "That's why I could identify with the women who were sent to Magdalene Laundries in Ireland."
Little Green was her nickname for the baby she gave up. To hear the song here in such a rough and ready form is haunting; with its heartbreaking resonance; with Mitchell's voice at its most simple, commanding and intimate.
"Child with a child pretending/ Weary of lies you are sending home/So you sign all the papers in the family name/ You're sad and you're sorry but you're not ashamed, Little Green," she sings of the child, who would have been two-and-a-half years old.
Not confessional, merely timelessly powerful.