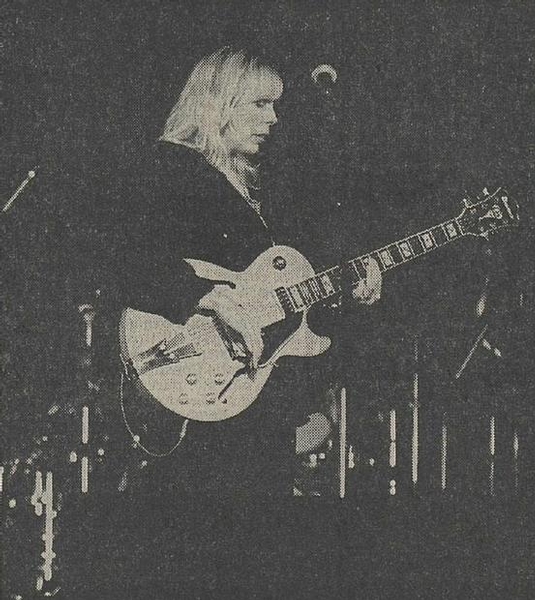 Translated to English by Vincenzo Mancini
THE GODDESS IN THE ARENA
Real stars in the music world are rare. Joni Mitchell is one. She does not, however, have an eccentric personality, nor spectacular hits. Her records sell by millions, however, and the best jazz, rock and pop musicians have, or would like to, play with this Canadian singer. The concert of this swing goddess on Saturday in the Arena of Verona made twenty thousand Romeo and Juliet cry with emotion.
SEE JONI MITCHELL AND DIE IN VERONA
See Joni Mitchell in Verona and die, if only for pleasure: it was a bit of our credo by going this weekend to this majestic Italian arena. No doubt the same desire as that of some twenty thousand Romeo and Juliet present, who lived, on Saturday evening, a fabulous love story. And if we did not leave the arena with our feet in a coffin, they had no less trouble, at the end of the evening, to regain the ground... Heart patients hold off, sensitive people hold on: is there any physician in the arena? For us in any case, it was the most moving concert ever seen. Because the shock far exceeded anything one could hope for, even the most extreme one: meeting Joni Mitchell, for example. To tell her in the first place how much the cancellation of her concert in Lausanne (Switzerland, she was to sing there on April 29) was sorely received: we had been waiting for it since 1972. Tenaciously, we left in her pursuit.
THE SWING OF THE GODDESS IN THE ARENA
Saturday, 3 pm, the deluge that accompanied us throughout the trip has just stopped. As if the gods of heaven wanted to honor the gods of the stadium. In this ancestral and luxurious hotel - where walking on the marble floor already seems like a sacrilege, we await the appearance of the great goddess with blond hair. We remember to ourselves in extremis that we wanted to make an offering to the goddess, as a wink: a box of Swiss chocolate! In a pastry shop, the miracle object will be found, bought, packaged. A few moments later, it will be on the reception desk. Suspense...
turday, 7 pm. The chocolate box is gone. The goddess took it personally, as did the little note that warned her of our respectful but nevertheless feverish presence. And the miracle takes place: the goddess appears. In front of the hotel, our exclusive four-minute interview begins! Wings are growing behind us, I'm sure ...
"I'M SORRY FOR LAUSANNE"
"Did you do this?" "Joni Mitchell tells us immediately, visibly touched by the gesture. She will unfortunately be adamant about extending our interview. "No, I can't give a longer interview. I have to spare myself. It was also because of this overly heavy program that I had to cancel the concert in Lausanne, like other dates. I'm really sorry about that, but we are all quite tired. (She puts her hand around her neck and mimics a feeling of suffocation). Our European tour started on April 9 and ends on May 15. We have visited more than ten countries. After a short break, we will also tour the United States for six weeks. Not to mention the concerts in Japan and New Zealand. She might want to tell us more, but her new husband, bassist Larry Klein, is pushing her away. Bassist or bodyguard, Mr. Klein? The tour manager's assistant will give additional information: "Joni Mitchell usually likes to talk. But in London, the journalists' questions were too stupid". His manager will specify about the planned concert in Switzerland: "Joni Mitchell would have had to make a very difficult Paris-Lausanne-Paris round trip. It must also be said that in the (commercial) balance, the Swiss market and the two thousand Lausanne residents of Beaulieu did not weight a lot...
Saturday, 8 pm. Verona in the spring. A strange calm even if the arena is sold out... But what a décor! A hundred times more magical than a football stadium.
The public? 25-30 years old, as an average, from all backgrounds. The good dress taste of Italians, since their youth, is no stereotype. A few hippies in the mix, nostalgic of the beautiful "Californian" period of fifteen years ago. But, to hell with symbols, it is more today a sort of a mass in tribute to Music.
Saturday, 9 pm sharp. Go-ahead signal. Tension is at its climax. "Free man in Paris" Russell Ferrante (keyboards), Michael Landau (guitar), Larry Klein (bass) and Winnie Colaiuta (drums) surround Joni Mitchell, all dressed in black, blond hair in the wind. The sound is crystal clear and precise for such a frame. High fidelity in the arena. "Coyote", "Cotton Avenue", and it's already a frenzy. A frenzy just a little bit on hold as the public is in a commendable listening. Introducing the fourth song, "Edith", Joni Mitchell will say: "This is a song for those who drove a long way here this evening». Our wings have grown by twenty centimeters ... It will follow, among others, "Boogie man" (sic) before Joni Mitchell settles, alone, at the piano for "For free". Always alone, on guitar this time - a "simple" but unique playing, never copied because impossible to do - "Big yellow taxi". Go back in time, alone at the dulcimer - in an arena, you have to dare! - "A case of you". Finally, a hymn to freedom, "Amelia", of an incredible emotional power. End of the first part.
How can Joni Mitchell achieve such fullness in music, such harmony, such complicity, with musicians who, for ten years, all belong to music high society? Forty years in November, her flexible voice flying away and playing melodies like surfing on waves, the swing of a swaying softness but of an implacable regularity, Joni Mitchell plays music, from pop to rock, from soul to jazz, with a striking intelligence. And all this with humor at times, with, above all, a relaxed mastery, a sign of a flawless professionalism.
"Wild things" (sic) opens the second part of this non pretentious gig, with no tricks to seduce the crowd. "Ladies man", "Raised on robbery", "Refugee" (sic), and the audience staggers, moved. Before that "Solid love", "Chinese Café", "Help me" and "Both sides now" end the mass, which will find in two bis, a tune by Marvin Gaye, and the legendary "Woodstock" (alone on guitar), a final extension.
"We love you, come back!" (in English in the text), screams the crowd, standing. Others cry with happiness. Painter, poet, author, composer, performer: each time the same taste for perfection, warm, fraternal, original.
"THANK YOU" "SEE YOU SOON"
Saturday, midnight. Back at the hotel, the singer (born in Toronto -sic-), after a dress change, finds back her breath, before going to eat. In thirty seconds, we will have the opportunity to shake her hand and say, "Thank you". Joni Mitchell will appreciate it, and will go and get lost in the alleys after having launched a "See you soon!" full of hope.
Sunday noon. In the car, we listen to a part of the concert recorded on a mini-cassette. The sound is once again surprisingly precise. The proof that a good sound is always possible. Some chords, from "Woodstock" ("The birth of imagination", says Joni Mitchell), a voice, a timbre with a breathtaking phrasing, and the sun, on the horizon, which is also setting on listening...