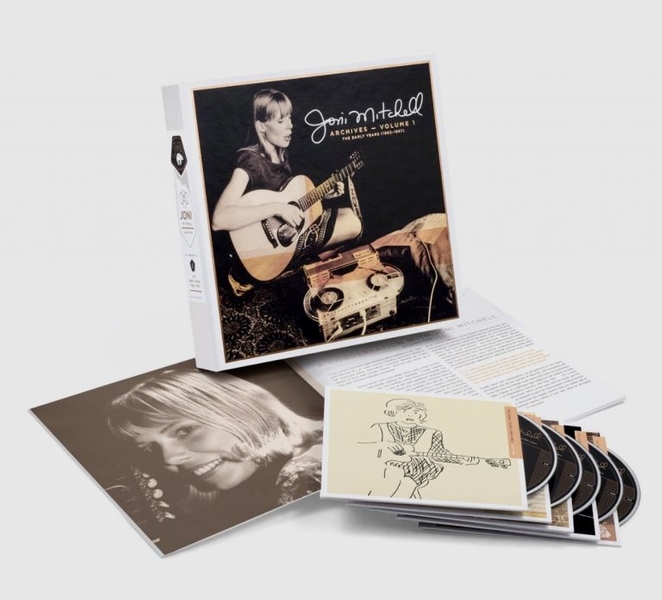 English translation via Google; let us know if you can improve upon it. (original text below)
New: a Joni Mitchell box set containing more than ninety recordings prior to her first career album.
It is well known that a significant amount of unreleased recordings are circulating among fans of this Canadian artist. Some have even managed to sneak seriously into the underworld market. Indeed, in recent decades, the reissues of Mitchell's important discography have never been enhanced with new material, leaving fans forced to unearth some buried pearls themselves... This desolate situation is now officially over. On October 30, 2020, the launch of a set of five CDs: Archives Volume 1: The Early Years 1963-1967.
Rhino Records, which specializes in the reissue of music archives, had the will to design this first box set in an upcoming series. Dizzying discoveries in perspective. Patrick Milligan, director of the label, signed with Mitchell to carry out this project. After much thought to be given to how to proceed with the unpublished archive, and wishing to remain in correlation with discography, Milligan decided that the opus should still and always remain without additions, intact - untouchable - as are the numbered classical works... After a few exchanges with Elliot Roberts, Mitchell's late manager, he concludes to draw inspiration from Neil Young's recent archival boxes for the creation of Joni's...
Saskatoon, summer 1963. Nineteen-year-old Joni was invited by radio host Barry Bowman (a recent friend) to make a first recording of her young career. During two evenings at the CFQC AM studios, Bowman (using two microphones) captures Joni singing nine traditional folk pieces. These fascinating sessions have the particularity of allowing us to hear Joni accompanied by no less than three different string instruments. In fact, Joni had as her first string instrument a Harmony baritone ukulele (4 nylon strings/DGBE). Subsequently, she acquired a very strange instrument, which she probably tuned in the same way as her ukulele. The mandolin-like instrument features double strings for both sets at each end of the handle and triple strings for the other two string sets in the central part of the handle (10 metal strings/DGBE): the instrument is a Tiple, the Martin American Tiple T-18. The third instrument is the one that will become her favorite: the guitar, probably a Espana, the SL-11 nylon strings. This succession of stringed instruments, at the dawn of the young woman's musical journey, is per possibility the reason that has led her to rarely tune her guitar in a conventional way during her career. To this end, it would not be wrong to say that Joni was guided by a quest: to regain the sound sensation of her ukulele, while having to compose with six strings rather than four...
After the sessions, Bowman is inscribed on the edge of the cardboard case that contains the soundcraft-branded magnetic tape: Joni Anderson - Audition tape. He gave Joni a copy so she could use it to promote herself. As for the master band, Bowman leaves with her under her arm - she will sleep in his ex-wife's basement until 2005, when her daughter decided to save her in extremis from the garbage... This recording of about half an hour (tracks 1 to 9) is found at the opening of this box with an imposing duration: five and a half hours. In addition, Rhino released a vinyl album of this recording, entitled: Early Joni - 1963. The album sets the tone for the dawn of Joni's artistic career - a performer with stunning accuracy...
The box also contains an unexpected recording of a 1964 show. Despite the fact that the recording is rudimentary, it is nevertheless surprisingly clear sound. This intimate performance takes place in the Half Beat café in Toronto's Yorkville neighbourhood (tracks 10 to 23). Joni is accompanied by her Tiple, as well as her classical guitar. The microphone doesn't just pick up Joni; you can hear the coffee machine brewing, spoons wandering around in cups, cracking chairs moving on the floor and, muted, cars coming and going outside. In the second part of this show is a poignant a cappela interpretation of a traditional Scottish song, "Yallow" ...
This was followed by two recordings of three songs each (tracks 24 to 29). First, a mock-up made at Joni's parents' home, and a second one made in Detroit and which will be given as a gift to her mother on her birthday. Joni presents two of her own songs - a crucial and transitory step in her journey. Also, it is accompanied by her guitar, probably the Espana. But the sound has changed: the nylon strings seem to have been replaced by others, nickel or bronze, the same ones found on acoustic guitars. This renewal led Joni to want to present her work in a formal way. She created an impressive five-song mock-up in Detroit for Jac Holzman, co-founder of Elektra Records (tracks 30-34). On this recording, we find the mythical and unpublished first song written by Joni, "Day After Day" ...
The least relevant moment in the box set is the retrieval of audio from two separate performances of two songs each from CBC television programs in 1965 and 1966. It is still interesting to hear Joni perform with confidence on the sets of this national broadcaster. These two performances were interspersed with an unfinished 1966 demo, "Sad Winds Blowin" (tracks 35 to 49). In addition, excerpts from a show at the Second Freight in Philadelphia, recorded in November 1966 by a university radio station. We can perceive the acoustic guitar of Joni, probably her Martin OO-21: guitar designed with a sound box less voluminous than that of regular acoustic guitars. This show is probably the bootleg of the most commercialized artist of her career...
March 1967. Joni's in Philadelphia. She's going back to the Second Freight. The show is captured for a radio broadcast on WHAT-FM. Joni also made a few appearances in the studios of the same station (tracks 50 to 64). Notoriously, you can hear a brand new Joni sound on guitar - the most iconic of her career. In fact, Joni acquired a remarkable Martin D-28 from 1956. She obtained it earlier this year from a Navy captain resident in Fayetteville, North Carolina.
Another demo was made, this time recorded in North Carolina in May 1967 (tracks 65 to 70). One piece attracts attention: a guitar improvisation with a vocal melody without words. This seems to lay the groundwork for a song clearly related to "Night Ride Home", a remarkable piece that will only be released in 1989. Another appearance was made at WHAT FM in Philadelphia in May 1967 (tracks 71 and 72), unfortunately of poor sound quality.
Following her separation from her husband, Chuck Mitchell, Joni moved to New York. It is a new beginning marked by total independence, allowing him to indulge intensely in her art. In June 1967, she recorded a demo of a dozen of her compositions (tracks 73 to 82). This corpus clearly shows that Mitchell's writing has reached a level of interiority and imagery of intense depth. Also, her melodic explorations become more complex, her works becoming more and more singular. Half of these songs are archetypes of her artistic style: "I Had a King," "Conversation," "Morning Morgantown," "Chelsea Morning" and "Michael From Mountains"...
Ann Arbor is a Michigan city of less than one hundred thousand people, located 45 miles west of Detroit. In 1967, Reverend Burke tried to rally the new generation to religion while wanting to be in on it. Divine mission, if any; mystery of faith... He will undoubtedly have managed to keep up with trends, or even outpace them, by producing shows in a café near the University of Michigan: Canterbury House can accommodate some two hundred spectators. The artists the priest hires come from the folk revival movement: Neil Young, Dave Van Ronk and Joni Mitchell, to name one. With the permission of the artists, these shows are recorded from the mixer. In addition, the Reverend hosts a program on local radio. To do this, it has recordings of impressive quality. Joni Mitchell is hired in August: a contract stipulates a fee of four hundred dollars for three consecutive shows that will take place from November 27 to 29, 1967. At her first concert, the three parts she presents are captured on a quarter-inch ribbon. As is often the case with this type of recording, these tapes were almost lost. They slept in a private collection for an indeterminate period to be completely declared missing - nothing less. Until it was found by the Michigan History Project during the 2000s, and this, with a musician having surprisingly in her possession ... Fortunately, these recordings were able to reach its obvious destination, namely the final - if not in quintessence - of this box set (tracks 83 to 119) marked by Joni's intense performance and the proper sound quality. In addition, Rhino released a triple vinyl album of this recording, entitled: Live at Canterbury House - 1967. This show is the perfect witness to Joni's artistic aplomb at the time. It is in a way a clear visualization of the immense talent that the singer is about to deliver to a large Western audience, which, as we now know, was viscerally touched by her art...
---
Original French text
Nouveau : un coffret de Joni Mitchell contenant plus de quatre-vingt-dix enregistrements antérieurs à son premier album en carrière. C'est bien connu : une quantité importante d'enregistrements inédits circule chez les admirateurs de cette artiste canadienne. Certains ont même réussi à se faufiler sérieusement sur le marché interlope. En effet, au cours des dernières décennies, les rééditions de l'importante discographie de Mitchell n'ont jamais été bonifiées de matériel inédit, laissant ainsi les fans contraints de dénicher eux-mêmes certaines perles ensevelies... Cette situation désolante est maintenant officiellement révolue. Le 30 octobre 2020, en effet, marque le lancement d'un coffret de cinq CD's : Archives Volume 1 : The Early Years 1963-1967.
C'est Rhino Records, spécialisé dans la réédition d'archives musicales, qui a eu la volonté de concevoir ce premier coffret d'une série à venir. Vertigineuses découvertes en perspective. Patrick Milligan, directeur du label, signe avec Mitchell la réalisation de ce projet. Après avoir longuement réfléchi à la façon de procéder avec le corpus d'archives inédites, et souhaitant demeurer en corrélation avec la discographie, Milligan décida que les opus devaient encore et toujours rester sans ajouts, intacts - intouchables - comme le sont les œuvres classiques numérotées... Après quelques échanges avec Elliot Roberts, le regretté gérant de Mitchell, il conclut de s'inspirer des récents coffrets d'archives de Neil Young pour la création de ceux de Joni...
Saskatoon, été 1963. Joni, dix-neuf ans, est conviée par l'animateur de radio Barry Bowman (un récent ami) à réaliser un premier enregistrement de sa jeune carrière. Lors de deux soirées aux studios de la station CFQC AM, Bowman (au moyen de deux microphones) capture Joni chantant neuf pièces de folk traditionnelles. Ces fascinantes sessions ont la particularité de nous permettre d'entendre Joni s'accompagnant avec pas moins de trois différents instruments à cordes. De fait, Joni a eu comme premier instrument à cordes un ukulélé baryton de marque Harmony (4 cordes de nylons/DGBE). Par la suite, elle a fait l'acquisition d'un instrument très étrange, qu'elle accordait vraisemblablement de la même façon que son ukulélé. L'instrument, ressemblant à une mandoline, présente la particularité de cordes doubles pour les deux ensembles à chaque extrémité du manche et de cordes triples pour les deux autres ensembles de cordes de la partie centrale du manche (10 cordes de métal/DGBE) : l'instrument est un Tiple, soit le Martin American Tiple T-18. Le troisième instrument est celui qui deviendra son préféré : la guitare, sans doute une Espana, la SL-11 à cordes de nylon. Cette succession d'instruments à cordes, à l'aube du parcours musical de la jeune femme, est possiblement la raison qui l'a poussée à rarement accorder sa guitare de manière conventionnelle au cours de sa carrière. À cet effet, il ne serait pas faux d'affirmer que Joni a été guidée par une quête : retrouver la sensation sonore de son ukulélé, tout en devant composer avec six cordes plutôt que quatre...
Les sessions terminées, Bowman inscrit sur la tranche du boîtier cartonné qui contient le ruban magnétique (d'un quart de pouce de marque Soundcraft) : Joni Anderson - Audition tape. Il remet à Joni un exemplaire pour qu'elle puisse s'en servir pour faire sa promotion. Quant à la bande maîtresse, Bowman repart avec elle sous le bras - elle sommeillera dans le sous-sol de son ex-épouse jusqu'en 2005, moment où sa fille décida de la sauver in extremis des ordures... Cet enregistrement d'environ une demi-heure (pistes 1 à 9) se retrouve en ouverture de ce coffret à la durée imposante : cinq heures et demie. De plus, Rhino fit paraître un album vinyle de cet enregistrement, intitulé : Early Joni - 1963. L'album donne le ton de l'aurore du parcours artistique de Joni - une interprète à la justesse renversante...
Le coffret contient également une captation inespérée d'un spectacle de 1964. Malgré le fait que l'enregistrement soit rudimentaire, il est néanmoins d'une sonorité étonnamment claire. Cette performance intimiste se déroule dans le café Half Beat du quartier Yorkville à Toronto (pistes 10 à 23). Joni s'accompagne de son Tiple, ainsi que de sa guitare classique. Le micro ne capte pas seulement Joni ; on peut entendre la machine à café infuser, les cuillères se balader dans les tasses, les craquements de chaises se déplaçant sur le sol et, en sourdine, les voitures qui vont et viennent à l'extérieur. Dans la deuxième partie de ce spectacle se trouve une poignante interprétation a cappela d'une chanson traditionnelle écossaise, Yallow ...
S'ensuivent deux enregistrements de trois chansons chacun (pistes 24 à 29). Premièrement, une maquette réalisée dans le domicile des parents de Joni, et une deuxième effectuée à Détroit et qui sera offerte en cadeau à sa mère à l'occasion de son anniversaire. Joni y présente deux de ses propres chansons - étape cruciale et transitoire dans son cheminement. Aussi, elle s'accompagne de sa guitare, probablement l'Espana. Mais la sonorité a changé : les cordes de nylon semblent avoir été remplacées par d'autres, en nickel ou en bronze, celles-là mêmes qu'on retrouve sur les guitares acoustiques. Ce renouveau amène Joni à vouloir présenter son travail de façon formelle. Elle crée à Détroit une impressionnante maquette de cinq chansons, destinée à Jac Holzman, cofondateur du label Elektra Records (pistes 30 à 34). Sur cet enregistrement, on retrouve la mythique et inédite première chanson écrite par Joni, Day After Day...
Le moment le moins pertinent du coffret est la récupération de l'audio de deux performances distinctes de deux chansons chacune tirées d'émissions télévisées de la CBC, en 1965 et 1966. Il est tout de même intéressant d'entendre Joni performer avec assurance sur les plateaux de ce diffuseur national. On a entrecoupé ces deux exécutions d'un demo inédit et inachevé de 1966, Sad Winds Blowin (pistes 35 à 49). À cela s'ajoutent des extraits d'un spectacle au Second Fret à Philadelphie, enregistré en novembre 1966 par une radio universitaire. On peut percevoir la guitare acoustique de Joni, sans doute sa Martin OO-21 : guitare conçue avec une caisse de résonnance moins volumineuse que celle des guitares acoustiques régulières. Ce spectacle est probablement le bootleg de l'artiste le plus commercialisé de sa carrière...
Mars 1967. Joni est à Philadelphie. Elle retourne au Second Fret. Le spectacle est capté pour une diffusion radio à WHAT-FM. Joni fait aussi quelques apparitions dans les studios de cette même station (pistes 50 à 64). Fait notoire, on peut entendre une toute nouvelle sonorité de Joni à la guitare - la plus emblématique de sa carrière. En fait, Joni a acquis une remarquable Martin D-28 datant de 1956. Elle l'a obtenue en début d'année, d'un capitaine de la marine résident à Fayetteville en Caroline du Nord.
Un autre demo est réalisé, cette fois enregistré en Caroline du Nord en mai 1967 (pistes 65 à 70). Une pièce attire l'attention : une improvisation à la guitare avec une mélodie vocale sans paroles. Cela semble tracer les bases d'une chanson nettement apparentée à « Night Ride Home », une remarquable pièce qui verra le jour seulement en 1989. S'ensuit une autre apparition à WHAT FM de Philadelphie en mai 1967 (pistes 71 et 72), malheureusement d'une piètre qualité sonore.
À la suite de sa séparation avec son mari, Chuck Mitchell, Joni s'installe à New York. C'est un nouveau départ marqué par une totale indépendance, lui permettant de se livrer intensément à son art. En juin 1967, elle enregistre un demo d'une dizaine de ses compositions (pistes 73 à 82). Ce corpus montre sans conteste que l'écriture de Mitchell a atteint un niveau d'intériorité et d'imagerie d'une profondeur intense. Aussi, ses explorations mélodiques se complexifient, ses œuvres devenant de plus en plus singulières. La moitié de ces chansons s'inscrivent comme des archétypes de son style artistique : I Had a King, Conversation, Morning Morgantown, Chelsea Morning et Michael From Mountains.
Ann Arbor est une ville du Michigan de moins de cent mille habitants, située à 45 milles à l'ouest de Détroit. En 1967, le révérend Burke tente de rallier la nouvelle génération à la religion tout en voulant être dans le coup. Mission divine, s'il en est ; mystère de la foi... Il aura indubitablement réussi à se poser au diapason des tendances, voire même à les devancer, et ce, en produisant des spectacles dans un café près de l'Université du Michigan : le Canterbury House peut accueillir quelque deux cents spectateurs. Les artistes que le prêtre engage viennent du mouvement folk revival : Neil Young, Dave Van Ronk et Joni Mitchell, pour nommer que ceux-là. Avec l'autorisation des artistes, on enregistre ces spectacles à même la table de mixage. De plus, le révérend anime une émission diffusée à la radio locale. Pour ce faire, il dispose d'enregistrements d'une qualité impressionnante. Joni Mitchell est engagée en août : un contrat stipule un cachet de quatre cents dollars pour trois spectacles consécutifs qui auront lieu du 27 au 29 novembre 1967. Lors de son premier concert, on capte sur des rubans d'un quart de pouce les trois parties qu'elle présente. Comme c'est souvent - bizarrement - le cas avec ce type d'enregistrement, ces bandes furent quasiment perdues. Elles ont dormi dans une collection privée pendant une période indéterminée pour être tout compte fait déclarées disparues - rien de moins. Jusqu'à ce qu'elle soit retrouvée par le Michigan History Project au cours des années deux mille, et ce, auprès d'un musicien les ayant étonnamment en sa possession... Heureusement, ces enregistrements purent se rendre jusqu'à sa destination manifeste, à savoir en finale - sinon en quintessence - de ce coffret (pistes 83 à 119) marqué par l'intense performance de Joni et la convenable qualité sonore. De plus, Rhino fit paraître un album triple vinyle de cet enregistrement, intitulé : Live at Canterbury House - 1967. Ce spectacle est le témoin parfait de l'aplomb artistique acquis par Joni à ce moment. Il est en quelque sorte une visualisation claire de l'immense talent que la chanteuse s'apprête à livrer à un vaste public occidental, lequel - nous le savons maintenant - fut viscéralement touché par son art...