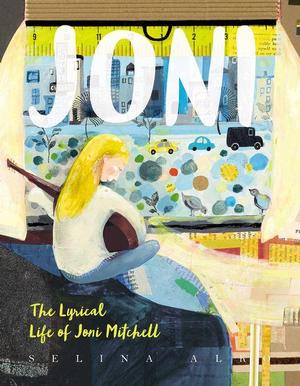 Selina Alko invites readers young and old to learn about Joni Mitchell in a book that's sure to get you singing.
Joni's many fans who have grown up with her music know her to be an inspiration. Her lyrics and music have captivated generations of listeners, and her story as a woman starting out on her own, forging a musical path for herself and others continues to resonate. Selina Alko now brings Mitchell's story -- alongside some of her most enduring lyrics -- to a new medium: a picture book biography.
Drawing from existing interviews with Mitchell, Selina Alko's 'Joni: The Lyrical Life of Joni Mitchell' (HarperCollins Publishers, 2020) introduces a new generation to the singular songwriter and singer. Alko has adorned every page with beautifully designed mixed-media collages inspired by Joni. They illustrate her life, the inspirations behind her best-known early songs, and her lasting influence on music.
'Joni' strikes a pleasing balance throughout-- never too heavy in biography, but never feeling too light. It's an inviting read, richly illustrated for any child (or adult) to get lost in, and a perfect way to introduce a new generation to what makes Joni Mitchell an important figure in music.