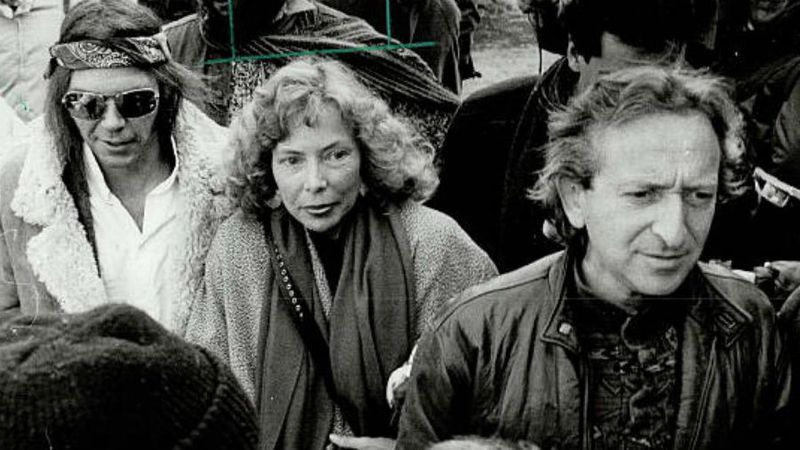 Veteran music executive and talent manager Elliot Roberts, who shepherded the careers of Neil Young, Joni Mitchell, Bob Dylan, Tom Petty and numerous others for more than half a century, died Friday, a longtime associate confirmed to The Times. He was 76.
A cause of death was not immediately known.
"Elliot was a funny, brilliant friend and devoted manager," said English musician Graham Nash, who worked with Roberts when he managed Crosby, Stills, Nash & Young. "His life touched many people, and he brought forth the best in people. He was the glue that kept CSNY together in our early years and I will certainly miss him with sadness in my heart."
A maverick who rarely pulled punches, Roberts spoke to The Times last week about a blockbuster report on long-suppressed devastation to as many as 500,000 master recordings destroyed by fire in 2008 that gutted a storage vault at Universal Studios Hollywood.
It was representative of his fiercely protective attitude toward his artists and their music. He was widely regarded for safeguarding the integrity of his clients' artistry.
"It's a crime that [the original masters of] Billie Holiday or Buddy Holly or all those artists of the '40s and '50s are gone," said Roberts, in what turned out to be his final interview. "When the music business took a downturn about 15 years ago, people were very reticent to make copies of things, because it costs money. It costs about $2,500 to $3,000 to take an analog master and convert it to high-resolution digital audio. They didn't want to spend the money.... This is a tragedy."
It was Roberts' interest in helping to guide Mitchell's career, after first seeing her perform in New York in 1966, that led him to move to Los Angeles, where both settled in Laurel Canyon when the community was rife with music talent.
Roberts is perhaps best known for his longtime friendship and business partnership with Young, going back to Young's first brush with stardom in the mid-1960s as a member of Buffalo Springfield.
Young famously fired Roberts as the group's manager, then promptly turned around and hired him to manage Young's nascent solo career after Buffalo Springfield disbanded barely 18 months after it formed.
Roberts also partnered with talent agent turned record mogul David Geffen, whom he met while both were working at the William Morris Agency. They formed Geffen-Roberts Management, and then Asylum Records in 1971.
From the outset, Asylum became a haven for esteemed singer-songwriters, most of them L.A.-based, including Mitchell, Jackson Browne, Warren Zevon, Laura Nyro, John David Souther, Tom Waits, the Eagles and, its biggest coup, Bob Dylan, who left his home at Columbia to sign with Asylum, where he recorded two albums, "Planet Waves" and "Before the Flood," before returning to Columbia.
Roberts and Geffen parted ways after the Eagles decided to throw in with a young upstart manager named Irving Azoff who was working at Geffen-Roberts, which caused a falling out between the partners.
Roberts then shifted his focus primarily to management, forming Lookout Management, the firm he continued to run until his death.
Over the years, Roberts also worked with artists as varied as Talking Heads, Devo, Tracy Chapman, Spiritualized, Mazzy Star, Devendra Banhart and the Alarm.
Roberts' attitude toward his clients sometimes put him at odds with executives at their record labels. Following Petty's death in 2017 from an accidental overdose of several painkillers, he told The Times that it was vital that musicians' surround themselves with people who would put their health and well-being first and foremost.
Petty had recently completed a 40th anniversary tour with his band, the Heartbreakers, which he insisted on doing despite having fractured his hip just before the tour began.
"The most important thing is taking care of your health," said Roberts, who was once part of Petty's management team. "If you need to take six months or a year off until you're ready to go out again, then take the time off."
Roberts was not just Young's manager but a creative collaborator with him as well. Using the name Elliot Rabinowitz he was given at birth on Feb. 22, 1943, in the Bronx, N.Y., Roberts worked side-by-side with Young, who used the name Bernard Shakey, on most of Young's film and video projects under the company they called Shakey Pictures.
"There have been other infamous artist/manager teams in rock 'n' roll - Dylan and Albert Grossman. Ray Charles and Joe Adams, Bruce Springsteen and Jon Landau - and, of course, Elvis and Colonel Tom Parker," author Jimmy McDonough wrote in his 2002 biography of Young, "Shakey." "Elliot Roberts definitely resides in that hall of infamy - and is the only human capable of guiding Neil Young's career."
In that book, McDonough quoted Roberts' explanation of their long friendship.
"Neil likes quirky people around him. I think having quirky people around him lessens - in his mind - his own quirkiness. 'Yes, I am standing on my head, but look at these two other guys nude standing on their head.'"
He also colorfully characterized the role Roberts played for Young during a moment while on tour with Young, taking care of business as he always did.
"His mane of gray hair flying, Roberts was on his 96th phone call of the day, either chewing out some record-company underling or closing a million-dollar deal," McDonough wrote. "Not far away, a bearded, sunglassed David Briggs - Young's producer - prowled the stage, palming a cigarette...and looking like the devil himself.
"Briggs and Roberts were the twin engines that powered the Neil Young hot rod," he continued. "Feared, at times hated, both men possessed killer instincts and had been with Neil almost from the beginning. Roberts was a genius at pushing Young's career, Briggs at pushing his art. It's an understatement to say the two didn't always see eye to eye.
"Roberts and Briggs were two of the quirkiest characters around - difficult, complicated men - but then so was just about everybody and everything in Young's world," he wrote. "'Let's look at Neil's whole trip - the ranch, the people he plays with,' said computer wizard Bryan Bell, who worked extensively with Young in the late '80s. '"Easy" isn't in the vocabulary.'"
In addition to overseeing the business details in various album releases, film projects, Young's failed venture with his own high-resolution music store and streaming service Pono, Roberts also staunchly supported Young's political and philanthropic activities.
Jeff Pollack, CEO of Pollack Music and Media, visited with Roberts last week at his home in Calabasas to interview him for a documentary on the Laurel Canyon music scene Pollack is working on.
"Elliot, along with David Geffen, changed the game for musicians," Pollack said Friday, "allowing their artists to pursue their music unimpeded by business concerns, and changing the business model with labels so that it became more fair.
"Elliot was a real music man," Pollack said. "He became an elite manager because his artists knew what he cared about most: them."