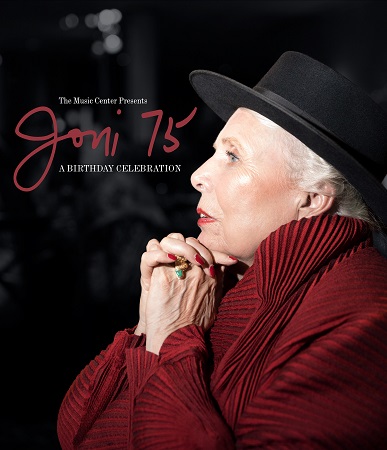 THE MUSIC CENTER PRESENTS JONI 75: A BIRTHDAY CELEBRATION AVAILABLE ON DVD FROM RHINO ON MARCH 29, 2019
Star-Studded Concert Honoring Joni Mitchell On Her 75th Birthday Includes Performances By Brandi Carlile; Glen Hansard; Emmylou Harris; Norah Jones; Chaka Khan; Diana Krall; Kris Kristofferson; Los Lobos With La Marisoul, Cesar Castro, And Xochi Flores; Graham Nash; Seal; James Taylor; And Rufus Wainwright
LOS ANGELES - Joni Mitchell - one of the world's most-remarkable artists - turned 75 November 7, 2018. To celebrate this milestone, The Music Center, Los Angeles' premiere performing arts center, assembled an incredible group of singers and musicians at The Music Center's Dorothy Chandler Pavilion to perform Mitchell's songs at a pair of sold-out shows that garnered rave reviews by those in attendance. THE MUSIC CENTER PRESENTS JONI 75: A BIRTHDAY CELEBRATION, a DVD compilation of 21 of those standout performances, will be available on March 29, 2019, from Rhino for $19.98.
The star-studded list of performers represents a vast cross-section of genres, a true testament to the influence Mitchell's music has had since her 1968 debut. Performers include Brandi Carlile; Glen Hansard; Emmylou Harris; Norah Jones; Chaka Khan; Diana Krall; Kris Kristofferson; Los Lobos with La Marisoul, Cesar Castro, and Xochi Flores; Graham Nash; Seal; James Taylor; and Rufus Wainwright. The concerts were led by co-musical directors and Mitchell collaborators Brian Blade and Jon Cowherd.
Rachel Moore, president and CEO of The Music Center, said, "We were so fortunate to be able to produce two concerts that honored one of the world's most inspirational and dynamic artists, Joni Mitchell; they were once-in-a-lifetime experiences for all those able to attend and celebrate her. Now, thanks to our partners at Rhino, so many more people will see and experience Joni's extraordinary talents expressed by other incredible music legends whose lives and music were deeply impacted by her artistry."
The performances highlight songs from all stages of Mitchell's career and touch upon many of her most-treasured albums. Seal delivered a standout moment with his tender version of "Both Sides, Now," a song from Mitchell's second album, Clouds (1969), which earned her the first of eight career Grammy® Awards.
Jones spanned 20 years of Mitchell's music with two songs: the title track from Court and Spark (1974) and "Borderline" from Turbulent Indigo (1994), which won the Grammy for Best Pop Album. Wainwright, however, took a different approach and focused instead on a single album with performances of "All I Want" and the title track from Blue (1971), an album that's widely regarded as one of the greatest of all time.
Throughout the show, performers delivered personal takes on some of their favorites from Mitchell's songbook. Taylor sang "River" from Blue and "Woodstock" from Ladies of the Canyon (1970), albums that Mitchell recorded around the time the two were dating. The lone exception was Nash, who performed "Our House," a song he wrote about living with Mitchell in Laurel Canyon. To close the show, all the performers returned to the stage for a group singalong to Mitchell's best-known song, "Big Yellow Taxi."
A CD version of THE MUSIC CENTER PRESNTS JONI 75: A BIRTHDAY CELEBRATION will be available separately on March 8, 2019.
THE MUSIC CENTER PRESENTS JONI 75: A BIRTHDAY CELEBRATION
DVD Track Listing
1. "Court And Spark" - Norah Jones
2. "Coyote" - Glen Hansard
3. "For The Roses" - Diana Krall
4. "Blue" - Rufus Wainwright
5. "The Magdalene Laundries" - Emmylou Harris
6. "Help Me" - Chaka Khan
7. "Dreamland" - Los Lobos with La Marisoul, Xochi Flores & Cesar Castro
8. "Nothing Can Be Done" - Los Lobos with La Marisoul, Xochi Flores & Cesar Castro
9. "River" - James Taylor
10. "Both Sides, Now" - Seal
11. "Our House" - Graham Nash
12. "A Strange Boy" - Seal
13. "All I Want" - Rufus Wainwright
14. "Borderline" - Norah Jones
15. "Amelia" - Diana Krall
16. "The Boho Dance" - Glen Hansard
17. "A Case Of You" - Kris Kristofferson & Brandi Carlile
18. "Down To You" - Brandi Carlile
19. "Two Grey Rooms" - Chaka Khan
20. "Woodstock" - James Taylor
21. "Big Yellow Taxi" - Full Cast