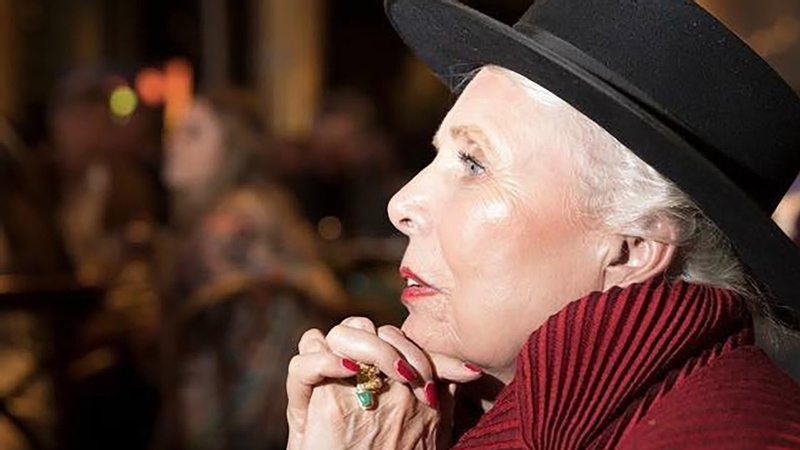 As far as legendary musicians go, Joni Mitchell is undeniably one of the most important and influential female artists of all time. Known for writing songs that express her social and environmental principles, in addition to lyrics that explore romance, heartache, disappointment, and happiness.
Mitchell's sound collectively vacillates somewhere between folk, pop, rock, and jazz which has garnered her a diverse variety of fans and followers over the five-plus decades that she has been gracing the world with her musical creations.
Although Mitchell has not released an album since 2007, she is still widely celebrated as one of the greatest musical artists of the late 20th century, a notion that is evidenced by the outpouring of love from friends and families who turned up to celebrate her recent 75th birthday!
A Celebratory Concert
To celebrate the iconic singer's milestone birthday, a wide-array of celebrities and friends turned up at the Dorothy Chandler Pavilion in Los Angeles on the night of November 7th and were treated not only to dinner and birthday cake, but also a star-studded concert including performances by Emmylou Harris, Norah Jones, Chaka Khan, Diana Krall, Kris Kristofferson, Los Lobos, Seal, Brandi Carlile, and Rufus Wainwright who each performed different Mitchell covers.
As each performer took the stage, many had heartfelt sentiments to share about Mitchell, with Emmylou Harris calling Mitchell, "an inspiration for any woman who wanted to pick up a guitar," and Peter Gabriel joking about Mitchell's incredible songs via video message, "I pity the poor bastards who have to try and sing them in front of you tonight."
Cameron Crowe shared a beautiful speech with the birthday girl, perfectly summing up the immense impact that Mitchell's music has had on so many people, saying, "For every dark and light thought we thought might not be understandable or relatable, for every time we wondered whether anyone understood, there was a Joni song or painting or story or performance to whisper in our ear, 'You're not alone. I've been there. I am there. Let's be brave.'"
Other personalized birthday wishes were featured in the concert program from friends like Meryl Streep, Anjelica Huston, Warren Beatty and Annette Bening, David Geffen, and Rosanna Arquette, with Streep writing a particularly touching sentiment saying that Mitchell's music is "entwined in my personal history. Her music defined the feeling of being alive for me, for oh these many years."
The crowd included friends and fans of Mitchell such as Lily Tomlin, Tom Hanks and Rita Wilson, Angela Bassett, Mandy Moore, Jon Hamm, and Jake Gyllenhaal, among many other.
Needless to say, it was quite the star-studded affair - but somehow, it was quite different than your average bougie, celebrity-filled, Hollywood party. The genuine respect, love, and adoration for Mitchell and her contribution to the music and art community was quite tangible and very visible in every performance, every toast, and every heartfelt message.
Tom Hanks described Mitchell's music to Closer magazine, saying, "Her music was this big, warm quilt that fit over all of us," which is exactly what her birthday celebration felt like - like the entire evening was covered with a warm Joni Mitchell quilt.
The concert concluded with all of the party's performers filling the stage to sing Mitchell's "Big Yellow Taxi", for which Mitchell joined them, inspiring a deafening standing ovation from the crowd. Following the momentous final song, guests moved upstairs for a magical dinner set amidst a nature-inspired, bohemian-decorated oasis that featured a grass-covered floor, rustic throw blankets, earthy tablescapes, twinkle lights, and a large backdrop screen featuring the Pacific Ocean. The entire atmosphere seemed to encapsulate everything that Joni Mitchell both loves and represents.
The wonderous evening concluded with Mitchell being presented with a beautiful art piece that had been created using her very own paintbrushes, another elaborate cake, and one final "Happy Birthday" song.
A truly enchanting evening celebrating a truly legendary woman. Congratulations Joni Mitchell on your milestone birthday; we send our sincerest (belated) birthday wishes to you!