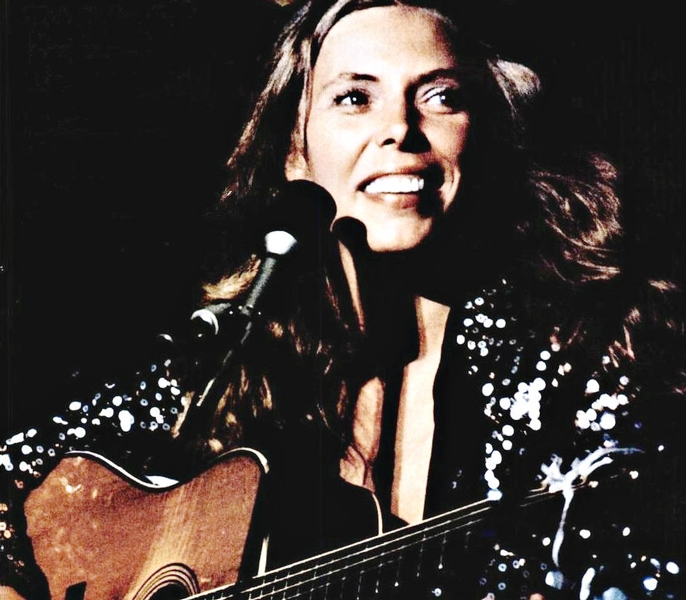 Can it be? My favorite female songwriter - and one of my favorite songwriters, period - is about to turn 75.
I'm not the only one enamored by Joni Mitchell's timeless music and unique singing, of course. A group of her fellow musicians, singers and songwriters are getting together to honor Joni on Nov. 6 and on her Nov. 7 birthday at the Music Center's Dorothy Chandler Pavilion in Los Angeles.
Special guests for the concerts include artists who have loved Mitchell's music and/or have been associated with her in the past, including Graham Nash, Nora Jones, Emmylou Harris, Kris Kristofferson, Chaka Khan, Seal, Rufus Wainwright and others.
While I like Kristofferson's gravely-voiced renditions of his own songs, I can't wait to hear which one of Joni's he tries. I hope they make an album.
Joni's upcoming honors reminds me of one of the greatest musical surprises of my life.
It happened during a fantastic concert featuring Bob Dylan and the Rolling Thunder Review - a loose, ramshackle, but great group consisting of Dylan and some of his old and new friends from Greenwich Village.
Somehow, in the huge Tarrant County Convention Center in Fort Worth, my Texas friends managed to score seats that were third row, center! Even better, soprano extraordinaire Joan Baez joined Dylan on the tour and in addition to her solo set, joined him for several duets.
Those onstage included Roger McGuinn, formerly of the Byrds - who also had his own set, which included a magnificent version of his song "Jolly Roger" from his solo album "Cardiff Rose." Texas singer Kinky Friedman, who joined the southern leg of the Rolling Thunder Review tour, added to the fun.
Other members of the Rolling Thunder Review included the swirling gypsy violinist Scarlet Rivera, who had been a key part of Dylan's number one album "Desire," and multi-instrumentalist David Mansfield. He mainly added steel guitar layers to the music, but occasionally switched to a mandolin or fiddle.
Even David Bowie guitarist Mick Ronson joined the crowded stage - and somehow meshed perfectly with the mostly-folkie group. T Bone Burnett - who would go on to produce the soundtrack to "O Brother, Where Art Thou" - stood onstage with a guitar. Bassist Rob Stoner and drummer Howie Wyeth added to the rhythmic undertow.
Unfortunately, one of Dylan's cohorts from his village days, Ramblin' Jack Elliott, wasn't along for the Rolling Thunder Review's jaunt down south, although he'd been along for the gigs up north. I also hoped poet Allen Ginsberg, who'd been on the northern part of the tour, would come to Texas. He didn't.
However, Dylan was about to make up for their absence, with the addition of an unannounced special guest.
Already euphoric at watching and hearing Dylan, Baez and McGuinn - who are still three of my favorite musicians of all time - from my third row, center seat, I remember thinking there's no way this concert can get any better.
It did.
Suddenly, in the midst of the musical cacophony (and I mean that in the best sense) another musician strode onstage, a lithesome blonde strumming an acoustic guitar. Could it be? It was!
Joni Mitchell - whom I'd never seen in concert at this point - suddenly stood before me. She hadn't been on the bill and, I would later learn, only joined the tour for two stops. This one in Fort Worth and another in Gatesville.
As I recall, Joni said something about how she'd been driving cross-country and wanted to drop in and see her friends. I - and everyone else in the auditorium - let her know we were glad she did.
As soon as Joni began playing, I felt mesmerized by the music. I didn't recognize any of the songs in her brief two or three-song set - no rendition of "Big Yellow Taxi" here - but they were completely enthralling. Joni said something about being on the road and writing songs. I wondered if the songs she sang were a preview of coming attractions.
As much as I loved all the musical performances at the concert, I've always remembered Joni's surprise. How sweet it was.
Fast-forward to six months later. I was thumbing through the album bin at a local record store when I spotted a new album by Joni Mitchell, titled "Hejira." Since I considered her previous album, "Court and Spark" - which included her top-10 hit "Help Me" - a bonafide masterpiece, I grabbed up "Hejira" with no trepidation.
Even the cover proved beguiling. It featured a stark black and white photo of Joni, dressed in a black coat and beret, with an ever-present cigarette dangling from her fingers. An image of a desert highway, with clouds in the distance, is superimposed over the front of the coat, with an image of an icy, foggy lake in the upper right-hand corner.
And the songs! While "Blue" is considered by many to be Joni's greatest album, it will always be "Hejira" for me. The one-two-three punch of the album's first three songs: "Coyote," "Amelia" and "Furry Sings the Blues" were enough to hook me. I especially liked "Amelia," in which Joni compares her romantic wanderings to the flights of the lost aviator Amelia Earhart. By the way, David Crosby does a great rendition of "Amelia" on his recent album, "Sky Trails."
Another favorite is "Black Crow," where Joni sings of seeing a ragged black crow, flying from tree-to-tree. "He's black as the highway that's leading me," she sings. "Now he's diving down to pick up a shiny thing. I feel like that black crow, flying in a blue sky."
"Hejira" marked the beginnings of Joni's jazz flirtations, featuring outstanding work by fretless bass player Jaco Pastorius. It's some of the greatest bass-playing to ever adorn a rock-related album.
As I listened to the album, something about a few of the songs seemed familiar - then I realized it sounded similar to what I'd heard Joni sing in Fort Worth.
I would later learn the songs from "Heijra" were written during a certain time period while Joni traveled cross-country - one that correlated to when she pulled in off the road for that quick performance with the Rolling Thunder Review in Texas.
Thanks again, Joni - and happy birthday!