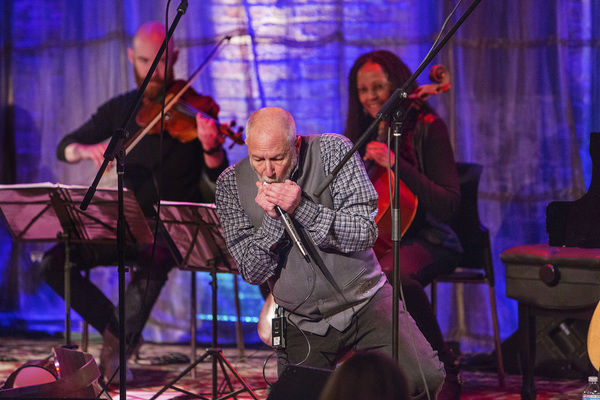 THREE OAKS - Corky Siegel's Chamber Blues Surprise 75th Birthday Bash on Saturday at The Acorn Theater won't be your typical surprise party.
No one will be hiding behind a couch in a darkened room waiting to jump out at an unsuspecting Siegel to yell "surprise!" In fact, the harmonica whiz is in on the joke because he says he's already surprised that he's closing in on the milestone birthday.
"Wouldn't anybody be?" he says, laughing, by phone from his home in Chicago. "My birthday is actually on the 24th (Wednesday) so it's close enough. I just have to make sure those last four days I am really careful and look both ways when I'm crossing the street."
In many ways, Saturday's concert will be a journey through Siegel's storied career, which began in the blues clubs of Chicago alongside giants Howlin' Wolf, Muddy Waters and Junior Wells, led to his own blues outfit, The Siegel-Schwall Band, with guitarist Jim Schwall, and eventually to Chamber Blues, his ensemble that weaves the seemingly disparate forces of classical music and the blues.
Siegel, and his ensemble of Jaime Gorgojo (violin), Chihsuan Yang (violin and erhu), Dave Moss (viola), Jocelyn Butler-Shoulders (cello) and Kaylan Pathak (tabla, percussion), will play some "old warhorses" from the Chamber Blues catalog as well as several tunes off 2017's "Different Voices," which featured a number of guest artists.
Among them were two-time Grammy-winning jazz saxophonist Ernie Watts on the opening track, "Missing Persons Blues Op 26"; vocalist Marcy Levy, in a reimagined version of Eric Clapton's "Lay Down Sally," which she cowrote; The Sons of the Never Wrong joining the ensemble for Albert Brumley's folk hymn, "I'll Fly Away"; Chicago blues legend and Rock and Roll Hall of Fame inductee Sam Lay on the Siegel original "Italian Shuffle," based on the jump blues song "Flip Flop & Fly"; and singer-songwriter and beat-boxer Mathew Santos, who contributes his vocals on four different tracks.
Siegel still credits Seiji Ozawa, the former conductor for the Chicago Symphony Orchestra, for coming up with the idea for Chamber Blues in 1966. Ozawa approached Siegel in between sets at the blues haunt Big John's, inviting him to play with the orchestra. Two years later, Siegel did just that, performing "Three Pieces for Blues Band and Symphony Orchestra" - a commissioned piece written by William Russo - at the 1968 Ravinia Festival. Since then, Siegel has continued his pursuit of the unlikely pairing.
After releasing two solo albums, he enlisted the West End String Quartet to form Corky Siegel's Chamber Blues. The ensemble released its self-titled debut album on Chicago's Alligator Records in 1994 followed by 1998's "Complementary Colors" and 2005's "Corky Siegel's Traveling Chamber Blues Show Live."
"(For as long as I can remember) I would always try to look at the other side of an argument or a statement or a fact," Siegel says. "I would always think, 'OK, what's another way of looking at this and does that work?' I just applied that to my music and it was inspiring."
For Saturday, Siegel is also planning to tell a number of stories from his colorful career and showing some images between songs.
"It is really filled with pretty outrageous opportunities that just fell into my lap," Siegel says. "I've been credited with helping launch Joni Mitchell's career. I was managed by Chet Helms, who is known as the father of San Francisco's 'Summer of Love.' I've toured with Bob Hope. Tennessee Williams asked to help on a play I was working on with James Lee Stanley. It's just mind boggling."
Mitchell, in fact, does credit Siegel and Schwall with helping her get her start. She and her husband, Chuck Mitchell, often opened for The Siegel-Schwall Band in Detroit.
"They were big fans of Siegel-Schwall and we were big fans of them," Siegel says. "She wanted a record deal, but she knew to get a record deal she had to have a demo tape. So she asked Jim and I to produce a demo for her. She came to Chicago and we did this demo with 'The Circle Game' on it. ... On Joni Mitchell's website she credits Jim and I for starting her career, which really isn't true at all, we were just involved in the inception of her getting her record deal."
Other stories include getting advice on playing to the crowd in the back of Bob Hope's limo, and befriending Jesse Colin Young, the lead singer of the 1960s group the Youngbloods, among others.
With each tale, Siegel seems more surprised that these tales are actually his own to tell. The one thing he isn't surprised about is that he is still performing and creating music all these years later with no plans to retire.
"When I started playing music and getting paid for it I was retired 100 percent from college," Siegel says. "Jim and I just left. So that was a retirement. When we learned what the music business was about, we retired from that immediately. It's been a continuation of retirements from the music business so we can just play music and have fun. And that's what we have both done since. So why would anyone want to retire from having fun?"