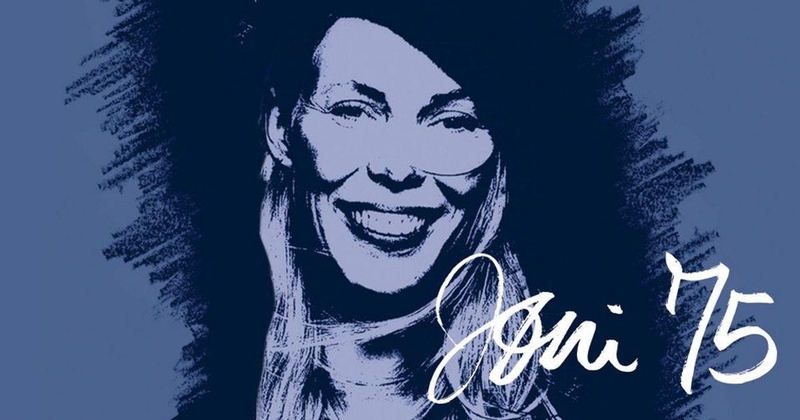 The great Joni Mitchell turns 75 next month and her adopted hometown is throwing a doozy of a soiree. Over two nights at the Dorothy Chandler Pavilion in Los Angeles on November 6 and 7 (Mitchell's actual birthday), "JONI 75: A Birthday Celebration Live" brings together a big-name lineup of troubadours, harmonizers and singer-songwriters to pay tribute to the Canadian-born musical legend. Mitchell is expected be among the crowd for at least one night.
In fact, Mitchell herself helped develop the roster of talent and asked some of the performers to participate.
"To be invited by the person who's being honored and who had such a major influence on my life and career already makes this celebration one of the highlights of my life," says Seal, one of more than a dozen major acts taking the stage on both nights. He and Mitchell have been friends since they met in the early 1990s, he tells me, but her influence began much earlier. "It's not an exaggeration to say Joni's music has been the soundtrack to my highest highs and lowest lows, and provided in many ways the score for my existence."
Seal, along with James Taylor, Rufus Wainwright, Norah Jones, Glen Hansard, Emmylou Harris, Chaka Khan, Diana Krall, Kris Kristofferson, Los Lobos, and Graham Nash will perform songs from Mitchell's catalog of 19 studio albums. Seal plans to sing Mitchell's A Strange Boy and Both Sides Now.
The concert is a homecoming of sorts. Mitchell's greatest albums were recorded in or inspired by Los Angeles, including Blue, Ladies of the Canyon, The Hissing of Summer Lawns, and Mingus. The house in Laurel Canyon that Mitchell shared with Nash -- and two cats -- was the basis for the Crosby, Still, Nash & Young classic, Our House. She now lives in Bel Air.
Mitchell first performed on the Dorothy Chandler Pavilion stage in 1972 and 1974. The Los Angeles Times described likened the first show to "Joni Mitchell in a giant living room," and that's the mood likely to define this set of concerts.
"Everybody who's getting on stage is special to Joni, and like family," says Rachel Moore, The Music Center's president and CEO. "The outpouring of love and support has been overwhelming, both from the artists and the excited concert attendees. When I talk to people, they all are so effusive about how much Joni's music has touched their lives."
Mitchell has nine Grammy awards and a body of work that had deep influences on performers as diverse as Prince and Katy Perry. Says Seal, "Nobody sings like Joni. The voice, the style, the interpretation--it's storytelling in the most convincing way. She draws on experience and is not afraid to be vulnerable, and above all is honest in what she does. She's just plain gifted."
The Music Center's Jorn Weisbrodt created the program, and Danny Kapilian is the music producer. Longtime Mitchell drummer Brian Blade, who recorded three studio albums and toured extensively with Mitchell, is co-music director, along with pianist, composer, arranger producer Jon Cowherd.
"JONI 75: A Birthday Celebration Live" takes place at the Dorothy Chandler Pavilion on November 6 and 7, 2018. Tickets start at $45 and are available at The Music Center's Dorothy Chandler Pavilion Box Office, and online at musiccenter.org/joni. Special packages are available that include prime seats for the November 7, 2018 concert and gala dinner, are available by calling (213) 972-4322 and online at musiccenter.org/joni75soiree.