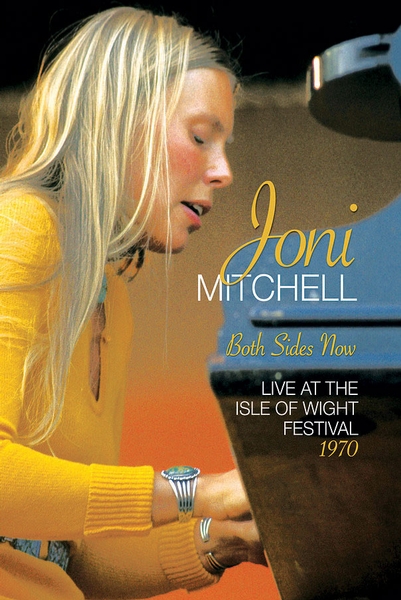 JONI MITCHELL BOTH SIDES NOW (click for purchase details)
EAGLEVISION
7/10
AMONG the hundreds of thousands who'd gathered for the Isle Of Wight Festival on August 29,1970, the vibe was not good. As the festival entered its fourth day, tensions mounted between promoters and radical-minded attendees who wanted to rid the event of its capitalist stain by tearing down the perimeter walls and making the performances free for all to enjoy.
The musicians on the bill were not immune to this febrile atmosphere. As Joni Mitchell reflects on one of the most tumultuous days in her career,"There seemed to be a time when the artists and the people were equals. And suddenly everyone was displaying an inequity." Though she could sense the increasingly hostile mood, Mitchell acquiesced to the promoters desperate request to shift her solo acoustic performance from the evening to the afternoon in hopes of alleviating the heavy scene. As she puts it,"They fed me to the beast."
All this fostered a moment of such high drama, it's surprising that filmmaker Murray Lerner waited until the end of his long career to portray these events in full. Completed shortly before Lerner's death last year at the age of 90, Both Sides Now: Live At The Isle Of Wight caps off along series of documentaries Lerner crafted from the invaluable trove of 16mm footage he shot at the festival. After finally finishing and releasing Message To Love:The Isle Of Wight Festival in 1995, Lerner followed up with films that zeroed in on the Isle Of Wight performances by The Who, Jimi Hendrix, Jethro Tull, Leonard Cohen and Miles Davis. Both Sides Now integrates previously unseen footage of Mitchell's performance with an interview with the singer that Lerner shot in 2003 and previously excerpted in Miles Electric: A Diferent Kind Of Blue (2004).
The result is an often riveting display of grace under pressure. That's not to suggest Mitchell looks entirely confident as she walks on stage in a long yellow dress and beholds the sea of sweaty humanity before her. "It looks like they're making Ben Hur or something," she marvels before beginning "That Song About The Midway", the first song in a set largely comprised of songs from Clouds and Ladies Of The Canyon.(Three more new songs here would soon appear on Blue - a fourth, "Hunter", failed to make the cut and would go officially unreleased in any version until 2009.)
She seems increasingly rattled during "Chelsea Morning" and, after her shift to piano, the ironically titled "For Free". She then implores the crowd to stop distracting her with their shouting: "Gimme a little help, will ya?" Instead, an audience member's drug-induced freakout near the front causes a wave of negativity to wash over the whole crowd. Mitchell perseveres with a performance of "Woodstock", but its refrain of "We are stardust, we are golden" seems hopelessly naive on this day, the utopian idealism of the 60s counterculture having clearly been superseded by uglier, angrier energies.
Whatever order existed on the stage is broken when a would-be spokesperson for the radicals (who turns out to be even more stoned than you'd expect) asks Mitchell to cede her microphone before being roughly escorted away. Yet the singer weathers the chaos and resumes her set - she later notes that once she calmed the first five rows, the rest of the beast mellowed too. Though some viewers may miss the dramatic tension of the performance's first half, free-flowing renditions of "California" and "Both Sides Now" proceed without incident. She finishes with a somewhat hurried but still fine preview of "A Case Of You". Even her older self seems a little astonished by her courage - says Mitchell with a laugh, "I had come through it without cowardice, which was the natural instinct!"
Though Lerner keeps the film's focus on her set, snippets of footage shot backstage and other locations on the site suggest how much Mitchell's ordeal was symptomatic of wider issues. (In a frank moment caught on camera directly after coming off stage, she tells manager Elliot Roberts, "I got kinda railroaded.") In the 2003 interview, Mitchell also sticks to her impressions of the day, albeit with a few choice digressions about her wariness about applause ("it's a hard drug", she warns) and her songs' signature use of unresolved suspensions, which she calls her "chords of enquiry".
Hopefully, Lerner's passing will not prevent more nuggets - and yet more full performances from the festival - from emerging from the formidable archive the filmmaker leaves behind. In the meantime, viewers will be grateful for such a vivid demonstration of both Mitchell's artistry and her steely resolve.
Extras:7/10. The DVD and Blu-ray also includes a separate featurette with the complete performance.