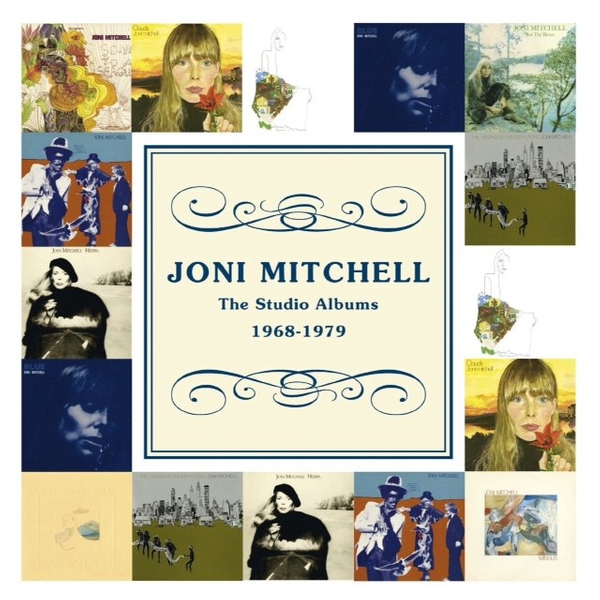 Joni Mitchell paintings enrich the majority of her album covers. So they are the most-seen and easily the most widely-owned artworks by any rock musician/painter.
Joni Mitchell paintings have probably been seen by more people than the artwork of the other leading rock musician/artists - Bob Dylan, Leonard Cohen, Don Van Vliet (aka Captain Beefheart), Miles Davis and John Lennon - combined.
And while some of her peers might be described as hobby painters, Joni Mitchell takes her art very seriously indeed: "I'm a painter first, and a musician second" (1998)... "I have always thought of myself as a painter derailed by circumstances" (2000).
The early albums
The album covers of the first three Joni Mitchell releases all feature impressive paintings, heralding a fresh young talent, visually as well as musically.
Song to a Seagull (1968)'s bright flowers evoke a hippy era of unwarranted optimism; the wrap-round album cover stakes Joni's claim as a botanical artist.
Clouds (1969) has an accomplished self-portrait - it's probably the most familiar of all Joni Mitchell paintings, as well as one of the most exquisite.
Ladies Of The Canyon (1970) has a masterful, minimal line-drawn self-portrait plus an idealised fragment of leafy LA suburbia. It's one of my favourite Joni Mitchell paintings.
The Joni Mitchell paintings on these first three album covers are as impressive as most of the music within.
The peak period albums
Only three of the 1970s LPs - widely regarded as the Canadian musician's peak recordings - employ Joni Mitchell paintings as album covers.
Court And Spark (1974) has a little semi-abstract work on the front cover. The Hissing of Summer Lawns (1975) has an altogether more impressive surrealist tableau, appearing to document a "primitive" civilisation rubbing up against the edge of a modern city.
The lesser-known artworks which illustrate Mingus (1979) are among my favourite artworks by Joni Mitchell. The CD has two memorable paintings, the abstract front cover, with its subtle blend of colour, plus the back cover rear view portrait of an ailing Charles Mingus, seated in in a wheelchair.
The original LP cover also has a stunning large-scale portrait of Mingus. You can feel the pain of an old man slowly slipping into the next world. And you sense that Joni Mitchell painted it out of reverence. It's probably the most arresting Joni Mitchell painting of all.
The remaining releases from the singer's 1970s peak - Blue (1971), For The Roses (1972), Hejira (1976) and Don Juan's Reckless Daughter (1977) - don't use Joni Mitchell paintings, though Mitchell was involved in the design of the album covers.
The Geffen albums
Two of the four (unfairly derided) Geffen albums use Joni Mitchell paintings. Wild Things Run Fast (1982) has one of the most comprehensive collections of her artwork. The CD's front/back wrap-round cover, showing Mitchell leaning on a television set with wild white horses galloping through water (the Camargue in France's Bouches-du-Rhone?) confirms Mitchell's technical prowess as a draughtswoman. No need for Joni Mitchell to hide limited technique behind an Expressionist style!
The three artworks inside the CD booklet - a two-shot portrait of Mitchell and friend, a close-up of the white horses and a still life incorporating Matisse's The Dance - strengthen Joni Mitchell's claim to be regarded as the finest painter from rock music.
The claim is supported by the wrap-round cover of Dog Eat Dog (1985), with Mitchell's threatening wild canines superimposed on an expressive photograph of the singer, clearly unsettled by their presence.
The later albums
The later albums have strong Joni Mitchell paintings. Turbulent Indigo (1994) has the witty spoof of Mitchell as Van Gogh, ear bandaged, on the front cover. The CD booklet has five more paintings, mainly dramatic landscapes with one domestic scene, of a dining table in a sunlit garden.
Taming The Tiger (1998)'s front cover self-portrait of Mitchell with cat, is complemented by a back cover with a cat plus a framed landscape. The CD booklet has eight varied canvases - self-portrait, people, cats, deer and landscapes. It would feature among my favourite collections of Joni Mitchell paintings - if I could overcome my allergy, nay aversion, to cats. The mere sight of the felines on this CD artwork gets me scratching imaginary itches and sneezing. Which, I suppose, indicates that the art works!
Both Sides Now (2000) has another strong collection of Joni Mitchell paintings. The two self-portraits, the front view of Mitchell seated at a bar with cigarette and glass of wine and the back view of the same pose, are remarkable studies.
The CD booklet artwork depicts detail of cigarette smoke; Ms Mitchell and lover engaging in tongue-based sexual foreplay in front of an autumnal lake, framed by a rainbow; and a still life of flowers, plus a small framed picture of a male friend. I particularly like the humour of the additional back view shot, pulled out to reveal a NO SMOKING sign, being ignored, if not challenged, by Mitchell. A commendable independence of spirit, even in support of an ill-judged cause.
Critical views
Jonathan Jones, art critic of The Guardian, the influential London daily newspaper, after dismissing several other rock artists as celebrity show-offs, picks out Mitchell as one of the most accomplished, a creator of art with style - "paintings that are worth a second look... perhaps a third... making art that really matters to her...".
I concur. Joni Mitchell paintings are among the finest by any rock musician. Her paintings reveal an enviable talent. She is technically gifted. Her range is wide, encompassing portraits, self-portraits, landscapes, animals, still lifes as well as abstracts. Her subtle colour palette is engaging and pleasing. In sum, her painting has a unique style and worldview.
Some rock critics, generally less attuned to visual art, dismiss Joni Mitchell paintings. Here, for example, is Sean Nelson, in his generally laudable guide, Court and Spark (Continuum, 2007): "... self-portraiture that bedevilled her cover art in the 90s and beyond... increasingly humorless, wincingly self-involved paintings that adorn the booklets of Taming the Tiger, Both Sides Now, Travelogue, The Beginning of Survival, and Dreamland... ."
The studio albums - conclusions
If you consider Joni Mitchell paintings to be near the front of the rock art pack; if you also believe that her lyrics are bettered by very few (only Bob Dylan and Leonard Cohen in my book); and if you judge her as one of the most gifted musicians of her era, then you have to conclude that Joni Mitchell is rather more than "a leading female singer-songwriter": she numbers among the elite of twentieth century creatives.
Mitchell's all-round artistic control of all aspects of her album releases, unusual in popular music, elevates Joni Mitchell's creative achievement well above that of any other rock musician; you could argue that it earns here a place alongside polymaths like Richard Wagner, the nineteenth century opera composer.