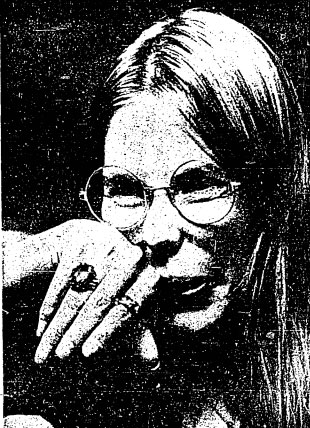 Joni Mitchell: For The Roses. Asylum (WEA) SD 5057.
For The Roses is actually Alberta native Joni Mitchell's second album since the poignant Blue. The other was a recording of her Feb. 23 Carnegie Hall concert but it was never released - she didn't like it. Joni should like For The Roses - it's a masterful collection of original songs - but its appeal doesn't stem from the known things that have made her a folk hero.
She had been known for beauty of voice and lyric, smoothness of styling. For The Roses is utterly unsettling, even disturbing. It's not for unsympathetic ears seeking melodic bliss. The album jangles the nerves with its sadness and undercurrent of strife.
Tension ripples through the 11 songs, not so much in the sharp words but in her phrasing, in the subtle harshness of her moods. She's more sophisticated but paradoxically her development has fractured her sense of direction, her grasp on freedom, reflecting a society that's losing its sanity. The moving lyrics of Banquet reflect that, while Cold Blue Steel and Sweet Fire explores in rich images the lure and trap of drug addiction.
Three pieces including the title song are witty yet bitter comments on the transience of both love and the vicious music world where idols are built in weeks, smashed in days.
Joni is a mirror reflection of the contradictions of writer Alvin Toffler's Future Shock world. She delves into problems yet is unable to answer questions - even while she seeks permanence and security she yearns for freedom. For The Roses is not a pleasing album but it's an important stimulating one.