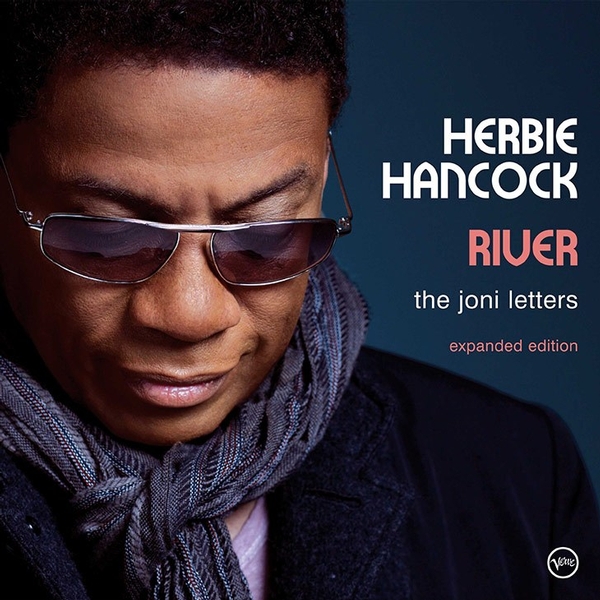 A decade ago, Herbie Hancock's latest surprised both jazz enthusiasts and mainstream audiences - and now, it's available in a new expanded edition.
Verve and UMe will reissue Hancock's River: The Joni Letters for its 10th anniversary this Friday, December 15. The original album, mostly featuring songs of Joni Mitchell, will be paired with a bonus EP of four additional recordings from the sessions. Two of them - covers of "A Case of You" and "All I Want" - were previously only available on an Amazon-exclusive pressing of the album, while the other pair, "Harlem In Havana" and "I Had a King," were exclusive to iTunes and are available on CD for the first time.
While Hancock and Mitchell were no strangers to each other's work - both had collaborated on Mitchell's 1979 album Mingus (alongside saxophonist Wayne Shorter, also part of the band on River) - it was the album's eventual critical and commercial reception that seemed to stun even Hancock himself. No greater was this surprise on display than in 2008, when Hancock took the stage at the 50th Annual Grammy Awards to accept a trophy for Album of the Year. It was only the second time a jazz LP received this honor, and that year's competition was stiff, including Kanye West's Graduation and Amy Winehouse's Back to Black. (The late Winehouse dominated that year's ceremony, picking up awards for Record of the Year, Song of the Year and Best New Artist and performing live via satellite in her native England after a performance visa was denied.) With that public display, the album shot to No. 5 on the Billboard 200.
With 10 years' hindsight, the album effortlessly transcends mere "tribute album" status and highlights more than Mitchell's folk roots, offering robust songs from across her diverse discography, performed both instrumentally and with a handful of guest vocalists (Norah Jones, Tina Turner, Leonard Cohen). Two non-Mitchell compositions that were crucial to her musical development are included: Duke Ellington's "Solitude" and Shorter's own "Nefertiti," written for Miles Davis. (Mitchell herself cameos on a new version of "The Tea Leaf Prophecy," from 1988's Chalk Mark In a Rain Storm.)
River: The Joni Letters - Expanded Edition (Verve/UMe B0027430-02, 2017)
Disc 1: Original album (released as Verve B0009791-02, 2007)
Court and Spark (feat. Norah Jones)
Edith and The Kingpin (feat. Tina Turner)
Both Sides Now
River (feat. Corinne Bailey Rae)
Sweet Bird
Tea Leaf Prophecy (feat. Joni Mitchell)
Solitude
Amelia (feat. Luciana Souz
Nefertiti
The Jungle Line (feat. Leonard Cohen)
Disc 2: Bonus material (Tracks 1-2 released on Amazon edition - Verve B0010063-02; Tracks 3-4 released on iTunes edition)
A Case of You
All I Want (feat. Sonya Kitchell)
Harlem In Havana
I Had a King