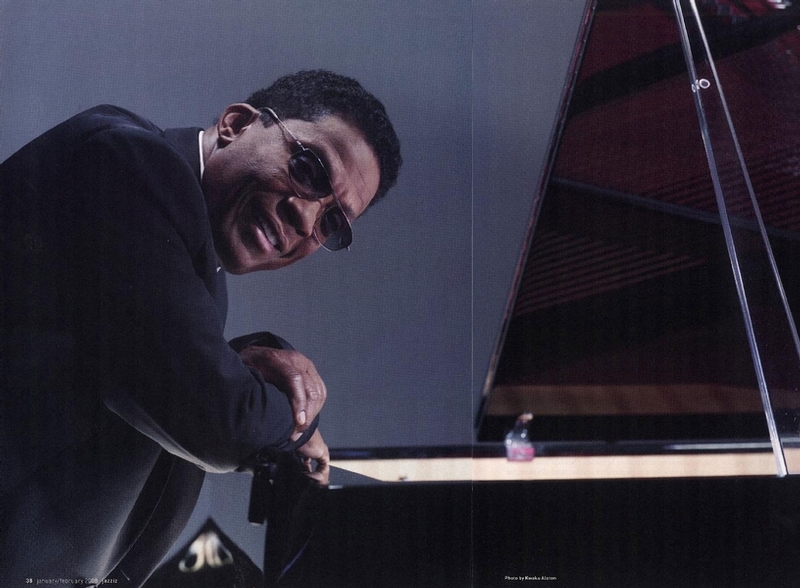 The scene has been enacted countless times in coffee shops and dorm rooms: Folks sitting around and listening to or, maybe, just reading Joni Mitchell lyrics, digging for biographical facts, mulling over meanings, exclaiming "ooh" or "ahh" at an unexpected image drawn with words. But in May 2007, these were no college students on study break, no latte-sipping dilettantes kicking back, dissecting Mitchell's work. This was Herbie Hancock reading aloud the lyrics of "Court and Spark." And that was Wayne Shorter clapping his hands as he let out a deep sigh of recognition. It was the prelude to a session at Hollywood's Ocean Way Recording studio for Hancock's new album, "River: The Joni Letters" (Verve), which turned out to be not so much a tribute to Mitchell as an investment by a master musician in the power of exalted lyrics. Hancock and Mitchell's history together began on shaky ground. Not long after Hancock established himself as a leading force in modern jazz - initially through his work in Miles Davis' quintet, then through his own recordings - Mitchell rose to unparalleled stature as a singer and songwriter, a poet and painter, a Renaissance woman the likes of which popular music had never before known.
But Hancock was largely unaware of Mitchell's artistry back then. "I remember hearing about her," he says from his Los Angeles studio. "And I heard some of her songs on the radio. But my focus back then was on jazz and classical music. I wasn't really paying attention to any pop or rock or folk music at the time."
Hancock was eventually drawn into Mitchell's orbit by a 1979 call from bassist Jaco Pastorius, who invited the pianist to work on "Mingus", the album Mitchell developed with Charles Mingus during the legendary bassist's final days. Shorter was also involved in that project, and had previously worked on Mitchell's 1977 album, "Don Juan's Reckless Daughter." Hancock recalls: "Wayne had told me that Joni was willing to go out there, to not worry, to just be creative." Still, the pianist figured that he and the other jazz musicians in Mitchell's company would be "restricting themselves to play in a certain way." Instead, he was pleasantly surprised at how free the musical environment was, and at some inherent qualities in Mitchell's songs. "It wasn't jazz, you know, but the DNA of it was there." During the Mingus sessions, a friendship bloomed between Hancock and Mitchell that would grow richer through the years. Hancock would occasionally perform with Mitchell, sometimes at benefits thrown by the San Francisco-based Bread and Roses organization. He played on another Mitchell album, the 2000 orchestral collection "Both Sides Now."
The relationship among these musicians and their spouses grew throughout the 1980s, with much of the socializing taking place at a now-defunct restaurant on Melrose Avenue in West Hollywood called the Nucleus Nuance. "We'd all hang out there," says Larry Klein, Mitchell's ex-husband and close musical collaborator, who was Hancock's partner in arranging and producing the new CD. "And every New Year's we'd be the band - Herbie, Wayne, Joni, myself, and assorted characters."
When Verve Records executive Dahlia Ambach-Caplin approached Hancock with the idea of tackling Joni Mitchell tunes, Klein was the natural choice for collaboration. "And the next call," says Hancock, "went to Wayne." A devastatingly accomplished core band was assembled: Hancock, Shorter, bassist Dave Holland, guitarist Lionel Loueke, and drummer Vinnie Colaiuta. Guest vocalists were enlisted: Norah Jones, who sings "Court and Spark" with casual ease; Tina Turner, whose worldly wise and proudly funky "Edith and the Kingpin" is among the album's highpoints [sic]; Corinne Bailey Rae, who purrs and croons through "River"; and Luciana Souza, who elegantly mines the meditative core of "Amelia." The gravelly bass voice of Leonard Cohan speaks "The Jungle Line" to Hancock's accompaniment and, on "The Tea Leaf Prophecy (Lay Down Your Arms)," Mitchell herself provides a vocal so agile in phrasing and cold that it nearly steals the show.
Yet Hancock's River is hardly a showcase for singers. There are four instrumentals among the 10 tracks, including two songs that were early obsessions for Mitchell: Duke Ellington's "Solitude," which she experienced as a child through the Billie Holiday recording her mother favored, and Shorter's "Nefertiti," which she listened to again and again on Miles Davis' 1967 album of the same name. More to the point, the arrangements and playing here are woven so well with the words that they turn the tunes into seamless tone poems.
Time and again, Hancock and Shorter seem to complete a sung phrase. Over and over, the rhythm section adds perfect punctuation. And though this is ostensibly an album of Hancock considering Mitchell's art, it is as much about the pianist's relationship with Shorter, whose tenor-and-soprano-sax playing turns out to be the most human voice in the cast. Shorter whittles "Court and Spark" into a five-note mantra, tosses out a delicate lullaby-like figure near the end of "River," and during an instrumental version of "Both Sides Now," lands eventually on just breath.
For Hancock, the approach to this recording was both a revelation and a challenge. As Klein explains, "The big overview was that the record should emanate from the words and everything should be subservient to the poetry."
"I'm just not used to looking at words," says Hancock. "We just don't pay attention to them. We're dazzled by textures and timbres and colors and chords." Klein was Hancock's guide to Mitchell's lyrics. "Her imagery is incredible," Hancock continues, "and some of it is pretty deep and hard to get into. I"d have to ask Larry. 'What does she mean by this?' And for the most part, he knew the connections."
"It was great watching him discover," Klein says, "just like it is when you turn someone on to a great book and watch it set off sparks."
Before each session, Klein would play Mitchell's original version of a song. He'd pass out the lyrics, and the band would discuss them. "To one degree or another, I'd give my synopsis," says Klein, "and people would have questions of their own about what this or that meant."
Hancock was fascinated by the story behind "The Tea Leaf Prophecy," which foretold Mitchell's parents' marriage. Mitchell sang the tune for Hancock's album just one month after her mother's death, adding new drama to the lyric. He was blown away by the powerful imagery of "Amelia" - how, for instance, Mitchell conflated the vapor trails from six jet planes with the strings of her guitar. And, according to Klein, when Shorter heard the narrative of "Edith and the Kingpin," about a small-time pimp and his minions at a club, he lit up with inspiration and said, "I'm going to be the guy at the end of the bar, taking this all in."
There's a line in "Edith and the Kingpin" when Mitchell's narrator, describing the club's "sophomore jazz," says "The band sounds like typewriters." Maybe Klein and Hancock had that in mind at their earliest meetings, as something to avoid, when they decided together another rule of thumb for the recording: less is more. "The most typical thing that people in jazz do is that they reharmonize the hell out of everything with [chord] substitutions, and yank out all the main pillars of the structure," Klein explains. "Herbie knew that wasn't the right approach here. And Joni can't stand that sort of thing."
Sure enough, on "Court and Spark," the familiar four-chord pillar is intact. And there is a marvelous economy to nearly everything on River. Hancock and Shorter don't so much take solos as offer concise counterpoint to the vocals. On instrumental tunes, they seem to converse.
The one substantially reharmonized treatment is "Both Sides Now," the first tune that Hancock worked on, and one performed sans vocal. That was the only arrangement that he wrote out. (Klein did most of the others, which were more sketched than composed.) "I had all these chords in my head," says Hancock, "all these tonalities that the lyric suggested to me." When he played a fragment of his treatment at a meeting, Klein nodded. The song is about changing perceptions and evolution. With that in mind, Hancock reasoned, the chords could also change.
For Hancock, the recurring musical cycle of "Amelia" presented a particularly vexing challenge. "How do you make musical variety with six or seven verses, where each one has the same shape? Lyrically, Joni did it. Musically, I wasn't sure how."
Luciana Souza, who sang the tune, believes Hancock not only met the song's challenge, but also understood its essence. "I felt myself very calm, trusting that we were all telling that story together, all in the 23-measure cycle of her song," she says. "I felt like we were fishermen who trust the tide that rises and empties out." Souza, who has mined the poems of Pablo Neruda and Elizabeth Bishop for her own repertoire, appreciates River on a deep, extra-musical level. "Herbie's record translates Mitchell's music very well to a more abstract context. Even where you do have lyrics and a singer, things are implied and not literal, leaving room for the listener to complete the thoughts. In this way, it is the purest form of poetry."
When the album was completed, Klein played it for Mitchell, who loved it. "I told her we wanted to make a record that was a conversation about the poetry. She said, "That's what I was trying to do on Mingus."
Hancock, who's known Mitchell for decades and has long recognized the poetic qualities in even her everyday conversation, feels that through this newest project he's discovered his friend's art anew. "Now that I've had a chance to study these lyrics, to live with them, I have to ask myself: 'How could I have missed out on all this? Where was I when all this was happening?"