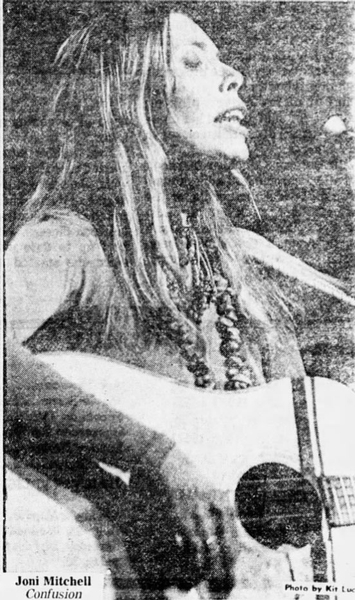 It's a little hard to know whether a Joni Mitchell concert is more a literary or a musical affair.
Not that she recites or tells anecdote after anecdote. It's just that she is far more conscious of writing good lyrics than most popular composers, and the audience has to pay close attention to what she's saying in order not to miss a good line.
Which means the listener doesn't "get into" a Mitchell concert in the usual sense; he sort of flows along beside as she throws up one image after another.
Biographical material on Joni is very scarce - her management doesn't send out promos, and the sum total of the information available in a "Who's Who" is that she was born November 7, 1943 in Ft. MacCloud, Alberta, Canada. And during her first live appearance here Thursday night in the new Opry House, she mentioned having grown up in the flat countries "where everyone is sky-oriented."
Which makes it that much harder to explain why her songs seem so very urban...they have either the swank hotel swing blues of Dorothy Parker or the numbing back alley yellows of "Prufrock."
Puzzlements aside, Joni's concert was a mixed bag of her own devices. Her back-up band, Tom Scott and the L. A. Express, played a few warm-up numbers that were much more jazz than anything they did for Joni. They had familiar credentials - one a former guitarist for Jimmy Witherspoon, another a "hot rat" from old Zappa days and another who toured with the Byrds in some reincarnation or other.
Scott himself plays several reed and woodwind instruments, including alto and tenor sax, flute, piccolo, recorder, and lends percussion and vocals as well.
While they were playing, and the audience was waiting, a vase of red roses stood prominently on the edge of the drum podium. And everytime after that Joni left the stage, the spotlight shut down to just the flowers. A little artsy, but the point was made.
A number of the songs she played are from the latest album, "Court and Spark," many of which are getting independent air play. They range from the high-stepping and delightful "Raised on Robberies [sic]" to the plaintive
Help me, I think I'm falling,
In love again;
When I get that crazy feeling
I know I'm in trouble again
I'm in trouble,
'Cause you're a...good-lookin' ladies man,
You love your lovin'
About like you love your freedom.
There was a gasp of pleasure when she began the first line of "Both Sides Now." It took the words for the audience to be sure that's what it was, since hers is a much more odd-tuning minor-sound version that the popular Judy Collins one. That was true as well of "Woodstock," popularly translated by Crosby, Stills, Nash and Young.
So it was a confusing show. It was also clean - her performance as well as the acoustics in that huge building - and impressive. It was just not the kind of thing you can put your finger on, and quite probably her elusiveness is one of her greatest attractions.
It could be that you ought to own her albums and know the lyrics first so you could lay back and enjoy her. She's too complex for comfort some times otherwise.