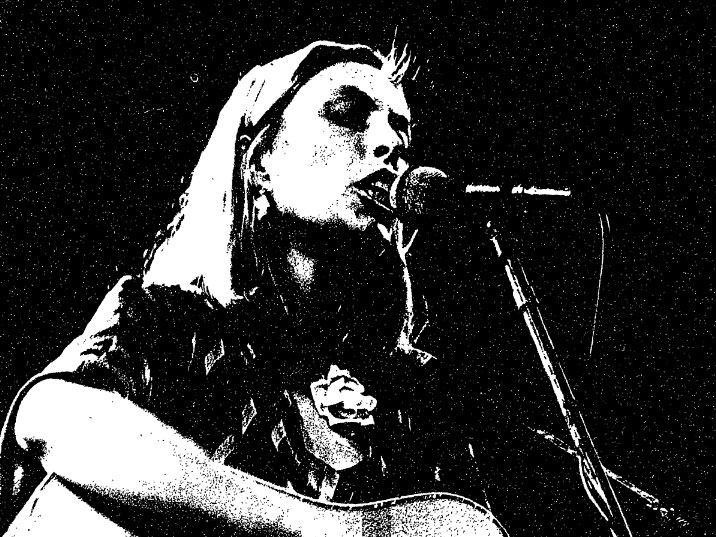 Quietly and unassumingly, Joni Mitchell has matured to become the leading female artist in rock music at a point in her career when her music transcends, even avoids, the rock label.
Though she now leans more toward jazz in her songwriting and performing, a near-capacity crowd in the Charlotte Coliseum Saturday didn't seem to mind.
From the opening notes of "Help Me," the audience was with her all the way, and no one was disappointed. Mitchell presented a remarkable concert, showcasing varied material mostly from the past four years.
The technical competence of her back up band the L.A. Express, especially guitarist Robben Ford and keyboardist Victor Feldman, overcame its slick, emotionless playing.
A Joni Mitchell concert is an emotional experience which generates feelings in many of her fans too deep for words. In Charlotte, her stage presence and music combined to produce a deeply moving performance.
Clad in a red velour pant suit, she performed a few songs playing either solo piano or guitar, but more than half of the concert found the L.A. Express behind her.
Solo versions of "For the Roses," "For Free," "Harry's House - Centerpiece," "Shades of Scarlet Conquering," and especially "Cold Blue Steel and Sweet Fire" (with scant saxophone and flute accompaniment) were the highlights of the concert.
Her beautifully pure voice was matured and carried strong and weak material alike for her entire two-and-a-half-hour performance.
In general, the material she performed with the band, a solid, unspectacular jazz-rock outfit which has backed her on her last three albums, paled in comparison with her unaccompanied numbers.
But "Don't Interrupt the Sorrow," "Help Me," "Just Like This Train," and especially "Trouble Child" showed the band at its unobtrusive best.
And the encore, Lambert, Hendrix and Ross's "Twisted," showed Mitchell and the band could respond to the idolizing crowd, which appeared a good deal older and more subdued than most concert crowds, reflecting Mitchell's more mature and intellectual constituency.
Most of the songs she played were first recorded on "For the Roses," "Court and Spark" and "The Hissing of Summer Lawns," her three newest original albums. However, she performed no songs from "Blue," perhaps her best recording.
The songs spanned the full range of her material, from classics like "Cold Blue Steel" and "Trouble Child" to admittedly less interesting material like "For Love or Money" and "Big Yellow Taxi."
Of course, not everything was perfect. Some of the songs from her new album lack especially interesting melodies. They contain her finest lyrics to date, but the words were sometimes obscured by the instrumentalists. And the four as yet unrecorded songs she performed evidenced a notable lack of melody, but without strong jazz arrangements to compensate.
Perhaps Mitchell's biggest weakness is the L.A. Express, which with some guidance could be one of her strengths. Unfortunately, their playing sometimes fails to convey the emotion in her songs.
Drummer John Guerin led the quintet, but the group needs a stronger sense of direction to make it on its own and a stronger guiding hand to provide Mitchell with the backing she deserves.