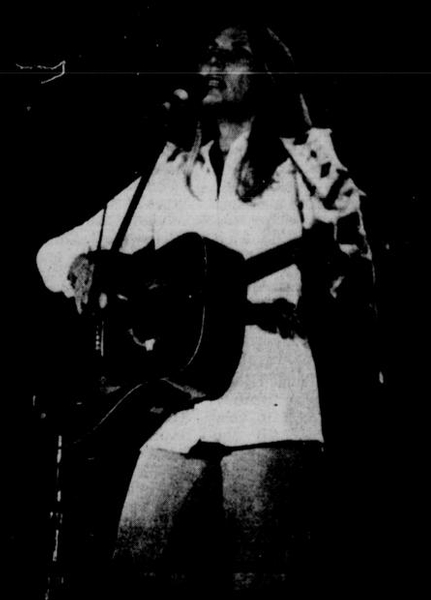 It's hard to write about Joni Mitchell.
Her songs are so intensely personal and her performances so intimately executed that any coldly typewritten review seems a betrayal of sorts - some kind of kiss-and-tell travesty.
But she's in the public eye. And, as her concert Sunday night in Hofheinz Pavilion proved, she can withstand the scrutiny, as well as the adulation, of several thousand fans in a single gathering.
With her thin face and sharply defined cheekbones, Mitchell strode unceremoniously on stage after a brief introductory set by her back-up band, Tom Scott and the L.A. Express. In her not-yet-faded jeans and frilly peasant-white blouse, she hardly looked the role of the superstar.
In fact, she looked downright fragile - pale and small and more than a little apprehensive in front of the massive crowd of admirers.
But the apprehension faded quickly after a few timidly-performed songs like "You Turn Me On (I'm a Radio)" and "Same Situation."
Loosening up, acclimating herself to the crowd, she eased smoothly through her repertoire of songs like the bouncy "Big Yellow Taxi" and the sardonic "For Free."
Mitchell's primary asset - besides her skill as a songwriter - is her remarkably versatile voice. Her sturdy soprano can soar over a crowd - lifting it high with pure lungpower - or settle down warmly like a soft, satin-lined blanket.
It can be harsh, as in her haunting rendition of "Woodstock" when she almost coughs the line, "I've come here to loose [sic] the smog" - or gently loving when in "Blue" she croons in a whispery vibrato, "Blue, I lo-o-o-ove you," stretching each word into long silky syllables.
She did it all Sunday night and the crowd belonged to her, responding to her rock 'n' rollin' "Raised on Robbery" with a standing ovation as respectful as it was enthusiastic.
Yet it hadn't been a night of "boogying." Far from it.
It was more thoughtful...more of a reflection. Mitchell had summed up the mood perfectly earlier when, in her classic "Both Sides Now," she subtly altered the lyrics, tailoring them to a more mature songwriter-performer and aiming them at a more mature audience.
"They tell me that I've changed...Yes, I have!" she sang affirmatively, then closed the song with a less pretentious statement on life, "I really don't know..."