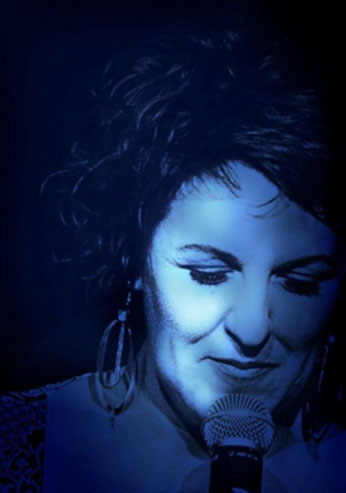 Thursday 3rd August 2017, 7:30pm, Hayes Theatre
Queenie van de Zandt returns to the cabaret stage with BLUE: THE SONGS OF Joni Mitchell. Attempting to channel the spirit of the now 73 year old Mitchell, van de Zandt gives the audience a glimpse into the iconic singer's life and career.
On a stage that includes an example of Mitchell's painting and a table complete with teapot and a pot of paint brushes, van de Zandt is joined by musical director Max Lambert on piano, bass player Hugh Fraser and guitarist Gary Vickery. The premise of the work that commences in an incense haze is that van de Zandt is stepping into Mitchell's story and presenting from a first-person point of view. The moments of 'Joni's' recollections are interspersed with music and archive recordings of the people in Joni's life.
Whilst the premise of the work sounds promising, the execution of the work fell short. With the archive recordings, naturally being presented with American and Canadian accents, van de Zandt's expression of Joni's thoughts from a first person point of view were presented in the Australian singer's normal voice making it initially difficult to determine whether van de Zandt was going to present the parallels between her own experiences and that of Mitchells. The arrangements of the works selected also did not showcase van de Zandt's voice, straining at the top and not allowing the emotional connection with the work to be conveyed to the audience in a meaningful manner. With music that has so much emotion that can be drawn out of it, supported from a variety of experiences, it was disappointing to not have this expressed, opting for unnecessary embellishment over honest connection between the singer, song and audience. Having seen van de Zandt's earlier work at the Adelaide Cabaret Festival a few years ago and enjoying her connection to her music and expression of emotion it was surprising to see such a difference in the quality, execution and connection to the music.
Given that the work has already been presented in Melbourne and Brisbane seasons it was also surprising that the scripted work wasn't as tight as one would expect from this type of performance with issues with cues, patter and sequences. Aside from technical issues which van de Zandt attributes to new equipment having been recently installed, van de Zandt also addressed fold back issues that should have been ironed out in technical rehearsal with a number of instructions to the sound desk delivered mid performance.