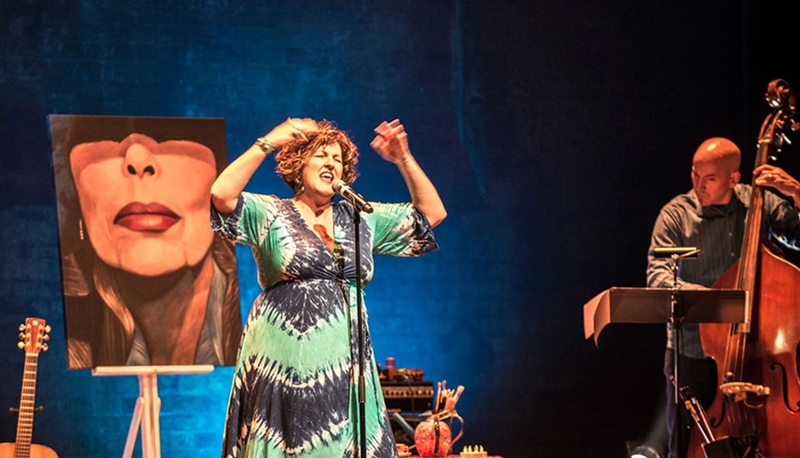 In an interview in the year 2000, legendary Canadian singer-songwriter Joni Mitchell said: "I sing my sorrow and I paint my joy."
In fact, Mitchell has always thought of herself as a painter first and a musician second, but it's her extraordinary catalogue of folk music that's influenced countless of other artists and made her one of the most admired artists of the last century.
It's also Mitchell's music that forms the basis for Australian performer Queenie van de Zandt's wonderfully moving, insightful and musically luminous new cabaret, Blue.
It would be difficult to leave van de Zandt's show and not believe Mitchell's assertion that she sings her sorrow: her greatest songs are all driven by a deep melancholy.
Mitchell is never maudlin, but even some of her more up-tempo material - including the mega-hit Big Yellow Taxi - is imbued with a sense of regret. And in spite of her professional successes, Mitchell's life has included plenty of struggle.
Thankfully van de Zandt brings a lightness of touch and a sensitivity to the material that ensures Blue is a consistently compelling piece of theatre. She tells Mitchell's story in first-person, and although she doesn't attempt any kind of impersonation, she inhabits the great songwriter beautifully.
There are plenty of tribute cabarets, but Blue is set apart by the great skill with which van de Zandt and her co-writer and musical director Max Lambert have interweaved some of Mitchell's best-known music with stories from significant chapters of the singer's life. Van de Zandt narrates Mitchell's story as if she lived it herself, while voiceovers of significant "characters" from Mitchell's life offer slightly different perspectives on events as they unfold.
River is interpolated into the story of how Mitchell contracted polio at the age of nine and was told she'd never be able to walk again. A Case of You appears when the narrative turns to the many loves of Mitchell's life, and how she channeled all of that love - and the heartbreak that sometimes arose - into her work. Little Green is used to punctuate the story of Mitchell's daughter, who was put up for adoption when the songwriter was just a young women in 1965. She didn't meet her daughter again until 1997.
It's the story of Mitchell's lost daughter that forms the backbone of this cabaret, and it's the part of her life that van de Zandt - who had her first child while writing this show - has clearly connected with most strongly.
Lambert's musical direction and piano accompaniment is superb, leading Hugh Fraser on Bass and Gary Vickery on guitar. Some of Lambert's arrangements are quite faithful to the original recordings, while others offer gentle updates or reinventions that remain true to the spirit of Mitchell's writing but allow van de Zandt's own vocal style to shine through.
A Case of You breaks away from the stricter rhythms of Mitchell's recording, while Woodstock is given a jazz and blues-influenced makeover, that in spirit sits somewhere between Mitchell's version and Crosby, Stills, Nash and Young's famous cover.
Van de Zandt has an extraordinary ease on stage and a rare ability to transfer that ease to the audience, but it's her vocal performance that really stands out most in this show. Musical theatre and cabaret fans know van de Zandt has a hugely powerful voice, but she delivers Mitchell's lyrics with a subtlety and integrity that puts the poetry front and centre, moving seamlessly through the often challenging tonal changes in Mitchell's vocal lines.
Blue has been put together with such love and admiration that it'll be entirely irresistible to fans of Mitchell. But those who've never dug too deeply into her oeuvre will find this a fascinating look into the life behind many of the greatest songs of the late 20th century.
Blue: The Songs of Joni Mitchell finishes its run at the Hayes Theatre, Sydney on August 6.
Photo by Greg Harm