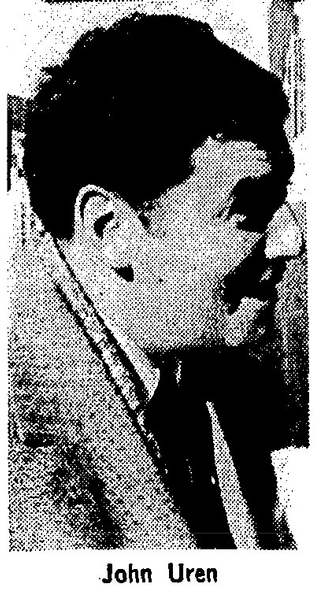 Pluck and Luck is a floppy eared 3-year-old gelding which has never won a thoroughbred horse race.
But until yesterday at Greenwood he was on the threshold of becoming a television personality with the CBC.
His record intrigued producer Bill Sheehan, who felt that the world always loves a loser and Pluck and Luck was the perfect subject for such a tribute.
In three of his four starts he finished last in fields of 13 and 14 horse and the closest he'd ever finished behind the winner was 28 lengths.
Also, Pluck and Luck's part-owner, personal companion and groom and unofficial trainer was John Uren.
Uren, a university graduate in economics and sociology, flirted with show business at Expo, Stratford, the O'Keefe Centre and a coffee house in Calgary where he featured Joni Mitchell before losing his life savings while co-producing Spring Thaw '70 Is A New Bag.
Broke but enamored with horse racing, Uren moved into a dingy tack room this past winter in an attempt to qualify as a trainer.
He worked for Mort Hardy as a groom, rubbing and attending to three or four horses each day, and also for rod Wright.
But Uren's application for a training licence was denied by the stewards. He had some uncomplimentary remarks about life in the backstretch printed in a magazine and it was felt he needed more practical experience on his hands and knees.
"It was probably a good decision," Uren remarked yesterday. "I know a lot more about this game today than I did last July."
It was during his apprenticeship with Wright that Uren became acquainted with Pluck and Luck. He was rubbing the gelding which was "crooked in front like a pretzel" and with curbed hocks.
"He had his problems in behind with this stifle but I figured I could get him for a price and you have to start somewhere. He was a bit kooky and high-strung as well as he was raised on a quarterhorse farm, which didn't help. He never did make it to the races as a 2-year-old.
"But I talked Fred Boright, a friend of mine I golf and play cards with, into investing in him. A little bit of care and time and he'd be okay, I figured."
Uren said yesterday that he perhaps ran his acquisition "too soon".
Last by 34 lengths while Uren was rubbing the gelding for A.J. Pongrantz of London, Ont., Pluck and Luck improved a length in his first start for his new owners.
The margin was reduced to 28 lengths next time out as Pluck and Luck dropped to the $2,500 claiming level at Woodbine.
It was about this time that Sheehan expressed an interest in filming a story on the consistent gelding.
However, another story conflicted with Pluck and Luck's plight and Sheehan postponed the filming date.
Perhaps aware that he may be compared with Francis the Talking Mule, Pluck and Luck finished sixth in a nine-horse field, 30 lengths back of the winner.
"I don't know if the CBC will still be interested in him," Uren commented after the Nov. 9 race.
Uren, who first enlisted Carl Chapman to act as Pluck and Luck's official trainer and then Tommy anderson, was unsuccessful in getting the gelding a race until yesterday.
"He'll never lose his amateur standing," moaned Uren. "He hasn't earned a dime and every time we enter him we wind up on the also eligible list."
But yesterday, He drew into a field of seven other maiden 3- and 4-year-olds going seven furlongs.
"Normie Leid and Ernie Wheeler both galloped him and they suggested we try using a tongue strap as he often got his tongue over the bit in the workouts. So Tommy put one on today."
After completing his daily chores for Anderson, Uren rushed home and put on a suit.
"After looking at the form of the other horses I figured we had a chance to finish fourth."
Pluck and Luck battled for the lead throughout the race with Jimmy Walford up and was beaten in the stretch as Sandy Hawley was able to shoot the favored Back In Town through along the rail to win by three lengths over Pluck and Luck.
Uren was ecstatic.
"I can't tell you how happy this makes me feel. People have been telling me to sell him, shoot him, etc. In fact Jimmy Boylen has been talking to me about making a dressage horse out of him.
"He's not much but it at least makes me feel good to see him improve the way he did today. The fun in this game is getting involved with a horse. The only thing is that I think he's blown his chance with the CBC."
Notes: The stewards yesterday announced that an owner and a hot-walker have been suspended and denied admission to the grounds because of narcotic convictions. They are the ninth and 10th suspended this season because of narcotic offenses.
Jockey Sandy Hawley continued to roll along as the hottest rider in North America. He rod a triple yesterday giving him 25 wins during the last eight days. During that span he has had seven triples and a four-win afternoon. He now has 319 for the season (299 in Ontario), tops in North America.