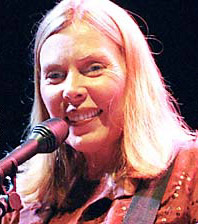 Van Morrison and Bob Dylan have been trading the headliner spot during their brief West Coast tour with Joni Mitchell, and both turned in scorching efforts Tuesday night, with Mitchell serving to give the crowd a more subdued change of pace between the two Rogaine rockers.

In a memorable night of music, the three 50-somethings mostly met the high expectations of the sold-out house at the San Jose Arena, with only the easy, inventive jazz stylings of Mitchell seeming a bit overwhelmed by the vastness of the venue. While Morrison and Dylan rocked out the walls, Mitchell's airier tone -- especially following Morrison's bring-down-the- house, horn-driven effort -- had many fans squirming in their seats or perusing the souvenir stands.

Morrison opened the show promptly at 7:30. Or rather, his back-up singer, Brian Kennedy, opened the show at 7:23, easing Morrison's band through a couple of tunes (including Van's "Sweet Thing," from "Astral Weeks"). This served two purposes: it allowed people to get to their seats without missing much, and it showed the fans, once Morrison grabbed the mike, the difference between a perfectly adequate singer and one of the most distinct vocal stylists of our time.

Van the Man -- looking more and more like actor Dennis Franz -- tore into "Burning Ground," his growling, emotion-drenched singing immediately taking over the auditorium. Counting Morrison and Kennedy, there were 10 people on stage, including one of the most funky and versatile horn sections to play these parts in a long while.

Morrison has always sounded like an old rhythm and blues man, even when he was in his early 20s. Now that he has grown into the part, his sound is so in sync with his band that you wonder if this is what Otis Redding might have sounding like had he taken the bus that fateful night.

Decked out in a buttoned-up suit, dark glasses and fedora, with the brim turned up all around, Morrison rarely moved around the stage, letting his voice do all the soaring for him. He went from "Days Like This" into "Cleaning Windows," leading his band with the subtlest hand gestures. Autocratic band leader James Brown would have been proud of how tight Morrison's bunch sounded, especially on the tunes like "Whenever God Shines His Light." so it was only fitting that Morrison paid tribute to "Soul Brother Number One, two, three, four five and six," by covering "It's a Man's World." Few people can attempt to cover James Brown in good conscience. Van Morrison is one of them.

After coming full circle and returning to "Burning Ground" after a lovely, haunting "Have I told You Lately That I Love You" -- one of the world's schmaltzyest songs done by almost anyone else, Morrison left the stage to a standing ovation after 75 minutes. People had already gotten their money's worth.

Mitchell came on accompanied by longtime collaborator Larry Klein on bass, a drummer and a second guitarist to augment her own electric guitar playing. Always a bit of the eccentric, Mitchell stuck to the more avant-garde jazz stylings she adopted several years ago, using her still strong voice to dip and swirl between the minimalist music around her.

The result was oftentimes beautiful, and the audience was obviously pleased to be seeing one of their heroines on stage. However, Mitchell herself seemed a bit nervous at times -- she tours infrequently. She also had a couple of onstage technical mishaps that hurt the pacing of the show. At one point she interrupted the beginning of "Big Yellow Taxi" -- one the the songs the hit-ready crowd was primed to hear -- to adjust her guitar strap.

Mitchell did some of her more obscure numbers, including a couple of the "misses" from her recent "Hits" and "Misses" double release, such as "Sex Kills" and "The Magdalene Laundries." Overall, however, the tone of her songs had a tendency to blend together, creating the impression that if you went out during her set to buy some french fries, she was playing the same song when you returned, whether she was or not. Still, her set-closing interpretation of "Woodstock" was proof enough that she belonged on the bill with the other greats.

And then there was Dylan. What's left to say about Dylan? Less than a week away from his 57th birthday, the man is simply incomparable. Tuesday night, he was totally engaged and into his music, smiling constantly and even doing little mashed potato dance steps across the stage. Wearing toreador pants and two-tone shoes, Dylan mixed reworked masterpieces with songs from his Grammy award winning album, "Time Out of Mind."

He played 13 songs in about an hour and a half, opening with "Absolutely Sweet Marie" and sending people home with "Rainy Day Women #12 and 35." Playing with the same band he has been touring with -- seemingly endlessly -- for years now, Bob was having a hell of a good time, and taking the people along for the ride. This group -- Bucky Baxter, Tony Garnier, Dave Kemper and Larry Campbell -- is his best since The Band, with Baxter's work on pedal steel guitar and mandolin especially creative to the overall mix. The night's high point may have been Dylan's acoustic set, which featured a stunning "Masters of War" followed immediately by a hypnotic, rollicking version of "Tangled Up in Blue." Dylan's harmonica solo at the end of the song was inspired in its beauty. As with most shows when he's on the bill, this one will be remembered as a Dylan concert.