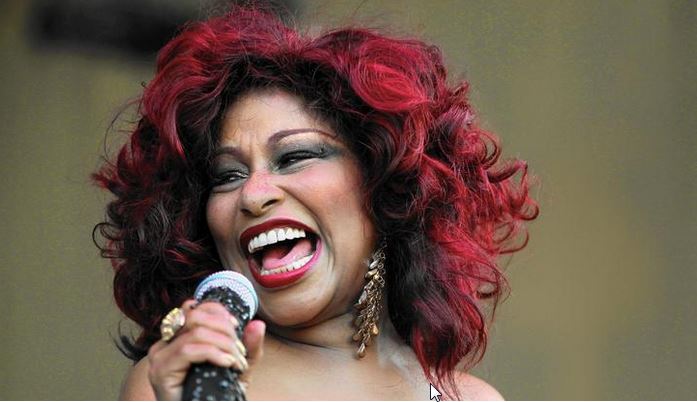 Arts & Entertainment / Music
---
For a minute, it looked like Chaka Khan was about to enter the Broadway phase of her singing career. It was 2008, and she was starring in a musical version of "The Color Purple" alongside gospel star BeBe Winans, in a long run. But it wasn't for her.
"I'm not cut out for that," says Khan, the 62-year-old Chicago-area native best known for funky-diva hits such as I Feel for You, Tell Me Something Good and Ain't Nobody. "It's very hard work for very little money. The workload is unbelievable. You have one day off a week. It's nuts. Your whole life is dedicated to that."
If any pop singer has earned a comfortable, no-frills life, it's Khan. She was one of the biggest R&B stars of the 1970s and '80s, a volcano-voiced soul singer more versatile than Diana Ross and more open to cutting-edge material than Aretha Franklin. And she's a nominee for the Rock and Roll Hall of Fame next year, along with Janet Jackson, N.W.A., Yes and others. It's not her first nomination — her early band Rufus didn't make it in 2011 — but she's "honored, as always, you know, to be nominated for anything.
"There are other people who are deserving of this wonderful thing and are not present," she adds, by phone from her Los Angeles home. "Without naming names."
Khan begins an 18-minute interview with a catalog of things she likes and doesn't like. Broadway is on the latter list. So is airplane travel for tours. ("One day takes a lot out of you — you're doing that three to four times a week, that's not pretty.") But she loves bus travel. ("Go in and do the gig, come back on the bus and get in your nightgown.")
"The most fun I have is the singing to people for the hour to the 95 minutes I'm on stage. That's it," she says. "Everything else is a grind. Getting up sometimes at 4 in the morning to make it to the next city in time for the gig at night — it's not cute."
Another thing she loves: Joni Mitchell. Khan, a longtime friend of the singer-songwriter, has recorded seven Mitchell covers (including Hejira and Man from Mars) for an album she plans to release by Valentine's Day. Mitchell, who was found unconscious in March after battling Morgellons, a disease that weakens the immune system, is "doing really well right now," Khan says. "I talk about her stuff and sometimes she says, 'Did I do that?' and I say, 'Yeah, you did that.' So it's funny like that. We're friends — we've gotten drunk together, we kicked up our heels, we had a lot of fun."
Born Yvette Stevens, Khan grew up on the South Side and formed her first band at age 11. While in high school, she joined the Affro-Arts Theater, a local group that specialized in African-American cultural displays from musical performances to health-food workshops. Motown star Mary Wells took the theater on tour, and Stevens was soon singing solo at clubs on Rush Street. Her mother, dance teacher Sandra Coleman, served as an early manager, making costumes and accompanying Yvette and her sister, Bonnie, to talent shows and rehearsals. "Very protective mom," Khan says. "She's an artist, a dancer, a painter, a singer. My mom and dad, God, they could do anything."
During a naming ceremony with the Affro-Arts Theater, she changed from Yvette to Chaka, which means Woman of Fire; at age 17, she took her last name upon marrying musician Hassan Khan. She joined Rufus in the early '70s, replacing singer Paulette McWilliams — her belting ability was immediately evident on disco-and-funk hits such as Once You Get Started, but she showed her range and flexibility in the hiccuping, scat-singing polyrhythms of At Midnight (My Love Will Lift You Up).
"Good set band and great original material," Khan says of Rufus, adding that her favorite album is C.K., because Miles Davis is on it. "I just stepped in. It was perfect for me."
With Khan, Rufus covered Stevie Wonder's Maybe Your Baby so well it impressed the singer himself — and he wrote a song for her to sing. "He played a couple other options that I didn't like," she recalls. "When he started playing Tell Me Something Good, I said, 'That sounds like the one.' "
After Khan split from Rufus in the early '80s, she recorded sporadically, then made a comeback with 2007's strong FUNK THIS in addition to her Broadway debut — but it didn't take. "I was totally shell-shocked from being with a record company and I totally was just not going to sign with another label, so that slowed things down a bit when it came to recording," she says. "But I was mostly on the road during those years."
Fortunately, of all the things that irritate her, singing Tell Me Something Good on stage is not one of them. "There are other songs that bother me far more," she says. "I don't want to tell you (which ones) — off the record, maybe. I don't want people to say, 'She hates that song. Why is she singing it?' But there are songs that play well forever."