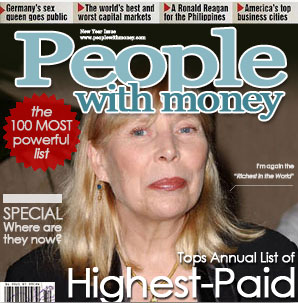 It's been a rough year for the singer, but at least she has her millions of dollars to ease the pain. 71-year-old Joni Mitchell has taken the No. 1 spot on People With Money's top 10 highest-paid singers for 2015 with an estimated $82 million in combined earnings.
Joni Mitchell tops annual list of highest-paid singers
In 2013 it looked like the singer's spectacular career was winding down. Suddenly, she was back on top. People With Money reports on Thursday (October 22) that Mitchell is the highest-paid singer in the world, pulling in an astonishing $82 million between September 2014 and September 2015, a nearly $50 million lead over her closest competition.
People With Money's factors
In compiling this yearly list, the magazine considers factors such as upfront pay, profit participation, residuals, endorsements and advertising work.
The Canadian singer-songwriter has an estimated net worth of $245 million. She owes her fortune to smart stock investments, substantial property holdings, lucrative endorsement deals with CoverGirl cosmetics. She also owns several restaurants (the "Fat Mitchell Burger" chain) in Ottawa, a Football Team (the "Fort Macleod Angels"), has launched her own brand of Vodka (Pure Wondermitchell - Canada), and is tackling the juniors market with a top-selling perfume (With Love from Joni) and a fashion line called "Joni Mitchell Seduction".
The ranking is significant for many Joni fans, who have been waiting for her triumphant return to the glory days for what seems like a lifetime.
UPDATE: This story seems to be false.
The Mediamass Project : Media criticism through satire
The name "Mediamass"
The project's name is an ironic reversal of portmanteau "mass-media" (media for the masses) in "media-mass" which here means "media en masse" as mass production and therefore mass consumption are the object of our criticism.
The website "mediamass.net"
The website mediamass.net is the medium of our satire to expose with humour, exaggeration and ridicule the contemporary mass production and mass consumption that we observe
Also it will not only mock the producers (mainstream media, journalists) as it is common when questioning and criticizing mass media, but also the consumers as one cannot exist without the other. Sensationalism, lack of verification of information, ethics and standards issues are only symptoms of the actual social and economic order. This is particularly obvious when observing the role of social networking sites in spreading rumours.
Our 'People' section
Our website is very new (launched back at the end of October 2012) and still under construction. The 'People' section the only active one.
The concept is to select the most typical, representative and recurrent articles across Gossip magazines and to make them available for all the celebrities in our database.
The 'People' section is a humorous parody of Gossip magazines, all stories are obviously not true.
Thus thousands of celebrities, Bill Gates in USA, Zhang Ziyi in China, Ranbir Kapoor in India, etc. all have a dog called "Spinee" recovering from successful surgery.
We won't change the world, but at least we'll laugh trying.
Our project is still in its early stages. If you have any questions, comments or ideas or want to join the team please feel free to contact us.