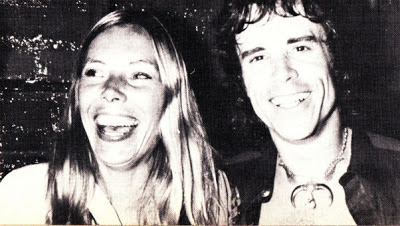 COURT AND SPARK:

Joni Mitchell began planning her next album, Court And Spark, which would include the three veiled songs about the Jackson-centered breakdown, as well as the baleful The Same Situation. The album's title song opened with some of the most arresting images she'd ever conceived, describing love as showing up like a scavenger on a porch, "with a sleeping roll and a madman's soul."

Joni started doing demo recordings in the summer of 1973. Russ Kunkel was signed on as drummer, but, with these new songs, something wasn't working. Russ said, "Joni, I can't play to this music. I think you should get yourself a jazz drummer." So Joni went around to jazz clubs and happened upon one of the best young jazz drummers in L.A., John Guerin. When it was proposed that he work with Joni, Guerin thought: What am I doing backing a folksinger? But when he listened to her songs, he was awestruck. "She was the whole orchestra in one guitar!"

Joni, he realized was no folksinger - or any kind of conventional singer or composer. You didn't go whistling Joni's tunes. They were much more complicated; not A-A-B-A form, not Gershwin. Joni's songs didn't have the usual hook; she would form the music to her lyrical thought and sometimes go across bars and in different time signatures - she didn't care." For Help Me and Free Man In Paris she marries her signature vocal bends to a jazzy, commercial feel. Raised on Robbery is a boogie-woogie-bugle-boy-tinged rocker. Car On A Hill has movie sound effects; "Make it sound like cars and traffic!" Joni had ordered.

JONI AND JOHN GUERIN ROMANCE:

John Guerin and Joni Mitchell began a romance during the making of Court And Spark. Joni was only half out of her depression when they met, and John's down-to-earth (and hell-raising) quality seemed to pull her the rest of the way out. As she later put it in Refuge Of The Roads (one of her favorite of her own songs), he was the "friend of spirit" who "mirrored me back, simplified." He, too, saw their fit that way; "Joan's a very complicated person and I'm a pretty straightahead guy. I think she lightened up a lot with me" - even though, as she put it in the song, their "perfection would always be denied." Says a close friend, "It was a turbulent, highly sexually charged relationship; they broke up six or seven times" over five years. John Guerin would be one of the great loves of her life. He was that rare lover "who she never said anything bad about," says another friend. "She was crazy about John." One of their first breakups occurred just after Court And Spark was finished. John was unfaithful, which she would document in Hejira's Blue Motel Room. She paid him back by having a six-week liaison with session guitarist (and sometime Leon Russell bandmate) Wayne Perkins, a handsome half-Cherokee Alabaman.

MILES OF AISLES:

Court And Spark was released in January 1974, and the pleading, scatty Help Me was released in March, becoming Joni's first-and-only Top 10 single. The critics were even more ecstatic than they'd been with For The Roses. Robert Hillburn called it "a virtually flawless album that may well contain the most finely honed collection of songs and most fully realized arrangements in the singer-songwriter's distinguished career." Court and Spark was Joni's first smash hit. It charted at # 2 and stayed there for four weeks, then went platinum, with over a million copies sold. It received Grammy nominations for Album of the Year and Record of the Year (Help Me), and Joni for Best Pop Female Vocalist. (When Olivia Newton-John won instead, there was audible dismay from the audience).

Joni and her boys went on a fifty-city tour, from which was produced a live album, Miles of Aisles, which, in November, also reached # 2. This rush of mainstream success was new for Joni, and road life had been grinding. By the end of 1974, she bought an elegant Spanish home built in 1929 atop a private Bel Air road. Its intricate wrought-iron gates opened into a fountained courtyard, and there was a pool, of course. John Guerin packed up his drums and jazz records and moved in with her.

HISSING OF THE SUMMER LAWNS:

Joni's next album, The Hissing of Summer Lawns, was released in November 1975. The awkward title (named for the sound of Bel Air sprinklers in the title song about a trophy wife) shouted "upper middle class." But like a conceptual artist, Joni played with this fact. The album's internal photo showed her submerged in her Bel Air pool, and the Joni-painted cover - a mirage-like downtown L.A. in the backdrop of a surreal pea-soup-green mega lawn on which African tribesmen are carrying a long, snakelike communal drum.

Joni was leaving behind the confessionalism that had intensely defined Blue, For The Roses, and Court and Spark. This new album, as Stephen Holden put it, was Joni doing "social philosophy." The intellectual substance Holden saw in Hissing (for which Guerin played drums) was small comfort to her bewildered fans, who had come to Joni to feel.

Although Hissing shot to # 4 - Court and Spark's wake was strong - the negative reviews (the Detroit News, for example, called it "sometimes so smug that it is downright irritating") upset her. "Joni was very self-involved and thin-skinned," John recalls. "Elliot would keep the bad reviews away from her, which I thought was really dumb - I thought it was abnormal; she should have been way past that. But Joan remembers everything any critic said about her."

JONI MITCHELL WRITES COYOTE:

At some point in 1975, Joni Mitchell and John Guerin became quietly engaged. "We had wedding rings made," he said. "Joan designed them - gold, with a kind of hieroglyphic that meant 'lasting relationship' in some Eastern language." In November 1975, Joni flew to the East Coast to join Bob Dylan's Rolling Thunder Revue, where she met a playwright, sometime musician, film actor, self-styled cowboy named Sam Shepard. Shepard and Joni were exactly two days apart in age; they both turned thirty-two during their time on the tour.

During the tour, a song started coming to her, and she wrote pieces of it during bus rides. Called Coyote, it would be one of the wittiest, sexiest, and most un-self-pitying songs, telling the story of a woman in a transient situation who meets a stranger from a beguiling different background: a cowboy. A brief, humorous but avariciously erotic affair seems to ensue in funky roadhouses and hotels with lots of "keyholes and numbered doors." For years, fans who loved the casual, devil-may-care abandon of the song have wondered who "Coyote" was. "Coyote" was Sam Shepard.

BROKE UP:

Joni and John and her band embarked on the Hissing tour in mid January 1976. Joni sang the deliciously suggestive Coyote on the tour and told audiences that it had come to her during Rolling Thunder. Before the end of the Hissing tour, for reasons that may or may not have had to do with the source of the song, Joni and John had such a big fight that the rest of the tour (including its international leg) was canceled. They broke up - this time (they thought) for good.