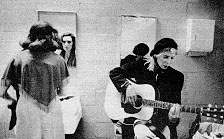 CLINTON, NEW JERSEY— (December 7, 1975) "Who are these people?" asked a young female inmate of the Correctional Institution for Women at Clinton as she entered the prison auditorium dressed in a white evening gown, walking confidently on glittery platform shoes.

"Don't know," answered her male companion, an inmate dressed slightly more conservatively, "but Roberta Flack will be here."

"These people" were Bob Dylan, Joan Baez, Joni Mitchell, Allen Ginsberg and the rest of the Rolling Thunder Revue. The night before playing at Madison Square Garden on behalf of Rubin "Hurricane" Carter, they had come to this almost pastoral medium security prison in the northwestern part of New Jersey to entertain Carter and his mostly black fellow inmates. The results were almost predictable: standing ovations for Roberta Flack and confusion over the uneasy meeting of Rolling Thunder and prison society.

Flack's fans were obviously familiar with the three songs she sang, moving comfortably to "Killing Me Softly," "This Time I'll Be Sweeter" and "Feel like Making Love." And Joan Baez, who seemed most at ease in dealing with the prisoners as captive human beings, sang and danced with a graceful casualness that got the audience cheering and clapping. When Baez invited 26-year-old Willie Rogers, one of the 100 male inmates housed separately from the 200 women at Clinton, to dance the Bump with her onstage, she broke completely through the invisible curtain that existed between those who could leave after the concert and those who could not. There was more applause when Baez thanked the authorities "for making it so easy for us to get in"— and then said, "I just wish they'd make it a little bit easier for you to get out."

Dylan was treated respectfully, but an apparent lack of familiarity with his songs and the lack of a danceable beat kept the prison audience seated and a bit inattentive. Only when he and the others sang "Hurricane" did the revue ensemble capture the attention of the inmates. "Hurricane" was also the only number during the entire concert that caused Rubin Carter to listen intently and tap his foot to the rhythm.

Later, Carter called Dylan's song about his "false imprisonment" a "masterpiece" and said that his "white brother" Dylan was "a musical genius." He praised the musicians for coming to Clinton and drawing attention to his case, but warned that "frames won't end with Rubin Carter and John Artis." (Artis is the other man convicted of murdering three people in Paterson, New Jersey, in 1966.)

"Hurricane" aside, the greatest response was reserved for Allen Ginsberg's poem, 'Kiss Ass." The prisoners clapped and cheered as Allen, dressed in a conservative brown suit and narrow Fifties-style tie, delivered the poem:

Kissass is the Part of Peace
America will have to Kissass Mother Earth
Whites will have to Kissass Blacks, for Peace and Pleasure,
Only Pathway to Peace, Kissass.

Joni Mitchell, on the other hand, was hooted for the softness and lack of spirit in her songs. When she replied, "We came here to give you love; if you can't handle it that's your problem," several prisoners traded looks of resignation.

After the show, one musician offered this assessment: "It was a pretty piss poor performance. We were uncomfortable, didn't know what to expect. After all, we've played to nothing but white middle-class audiences on the tour."

The next night, the revue went back to doing what it knows best.