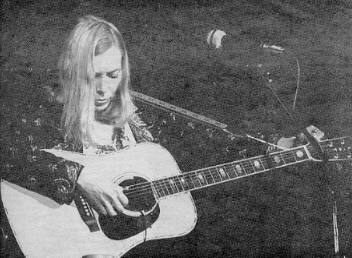 Miles of Aisles is a four-sided live album with a greatest-hits feel to it that collects 18 numbers from Mitchell's successful concert tour of last winter. It's a strong album of her best songs performed mostly informally, backed on sides one and four by reedman Tom Scott and his band - an interesting album because it displays an occasional awkwardness that provides a glimpse into the artist's mercurial character.

Although she constantly maintains a stunning professional control over her own performance, much of the pleasure of this record comes from the new band arrangements of songs we've heard often (one or two of which I've heard to death). Even "Woodstock," which is now something of a hoary hippy anthem, gets a clever revitalization through Robben Ford's biting guitar work that constructs a personality of its own as the concert builds.

Most of the new readings are superb. "Cactus Tree," "A Case of You," and "Blue" once again knock me out with the seriousness of their romantic vision. The opening bars of "Cold Blue Steel and Sweet Fire" and "Woman of Heart and Mind" both elicit surprised gasps from an adoring audience that approaches a cult following. These and the other songs from For the Roses blew minds when they were first released, and on Miles of Aisles they are reproduced in a rare way - live versions of important songs that approach the crackling intensity of the recording studio originals. The exuberance and high spirits of "You Turn Me On, I'm a Radio" and "Big Yellow Taxi" are preserved intact, and again the interaction of Joni with the tasteful Scott quintet must be praised.

Unfortunately the second record of this set doesn't fare as well as the first (the above mentioned songs are on the first two sides). Side three contains the excruciatingly banal "Circle Game" and "Both Sides Now." From her stage patter it's obvious that the artist feels obligated to sing them, but I'm bored stiff with both. "Real Good for Free" is a clever classic of rock & roll ambivalence, but it still has no true point to make about art or the motivation to create it.

Side four is something of a disaster. The great, lilting "Carey" is murdered by the well-meaning band, which provides a cocktail-ska setting for Mitchell's throwaway vocal. To their credit, the sprung rhythms of the original version would have been a bitch to recreate under any concert circumstance. "The Last Time I Saw Richard," one of her most serious and trenchant songs, is wasted by a gag line in the middle of the song that backfires: The tense audience laughs hard and, try as she might, Mitchell can't manage to reset the mood as she would like.

Two new songs struggle to complete the set. "Jericho" seems an unfinished outtake from Court and Spark while "Love or Money" is nice, somewhat plain and a little too busy as words set to music, although the printed lyrics make for excellent, feeling poetry. Part of the trouble with these two is that they don't sound right put to melody.

After a couple of hearings, the songs begin to blur into a sameness. Perhaps it is a sameness of mood and tone, and not of style and tangible content. In any case, much of the material here is beautiful, replete with the patented Mitchell tension. And a word for engineer Henry Lewy - the sound is terrific, the best reproduced concert album I've heard.

As usual with Joni Mitchell, Miles of Aisles is done with good taste, nothing in excess. And it will be appreciated most by those who are already hers.